What are the objectives of a business? A destination and planning method that enables a company to grow in the market over a specific length of time.
Any business's fundamental responsibility is to define its aims and objectives, after which implementation and execution become easier. In 2021, the growing business or start-ups ecosystem needs advanced technology. For the fast process today, many businesses have already implemented ERP technology. But what is ERP and how can it help you in growing your business? Here are some reasons why you should use ERP to fulfil your business goals.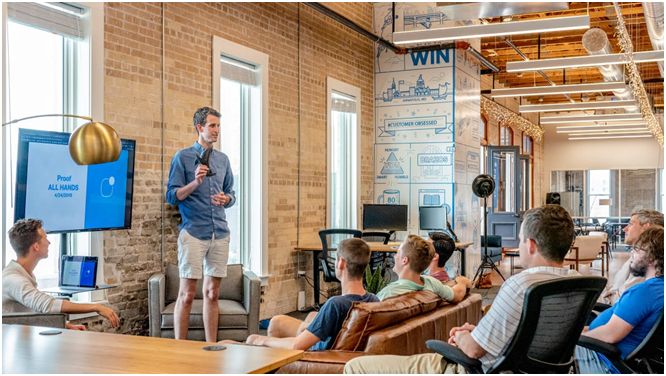 What is ERP?
ERP stands for Enterprise resource planning. Through an integrated software suite, the consolidated process of acquiring and organizing corporate data ERP software consists of systems that automate business processes such as production, sales quoting, and accounting, and many more.
Simply put, ERP streamlines your company's operations across all departments. ERP solutions help you manage your resources better, whether it's about staffing hours of your company by HR or any work by production. Today, ERP systems can help you with it and there are many ERP definitions, depending on whether they're for developers, suppliers, or the tech industry. Most people agree that ERP is designed to improve business processes in all departments of a corporation.
Benefits of using ERP for your business –
There are many reasons why you should use ERP for your organization but these few advantages can help you in understanding more about ERP :
● Visibility and Streamlining of Workflows
Earlier, Coordination between many worksites used to take a lot of time and effort before ERP systems. You had to contact or physically visit the location if you needed updates on a certain aspect of your business. Time zones were an issue for large organizations with national and international locations. And if you had a problem with one of your overseas production partners, it might put your entire company on hold while you made repeated phone calls and site visits. And visiting during the time of a pandemic is also a huge issue itself. So, in such a scenario, how can ERP help you?
ERP systems, fortunately, transformed workflow visibility. You may now view a shared database from your ERP suite from your office headquarters to get real-time facts about what's occurring at your manufacturing plants abroad and distribution centres right here at home.
● Data Analytics and Business Intelligence
To run a business, you must make decisions based on correct facts. Business intelligence (BI) technologies are used in ERP applications to provide data collecting, analytics, and reporting methods. There are even techniques to examine data in real-time so that you can make immediate modifications to your manufacturing operations. For business forecasting, you can also use historical data.
Alternatively, you can use your data to create custom reports. To keep everyone updated about key performance indicator (KPI) measures, present these reports to critical shareholders, business partners, or your team.
● Solutions for Scheduling
ERP solutions include extremely customizable scheduling capabilities. You can schedule when employees report for work, when merchandise is delivered, and when your factories are maintained. Then, to ensure that all of your departments and supply chain partners are on the same page, combine each schedule into a single calendar.
● Collaboration Across Departments
To avoid blunders, the more departments your firm has, the more crucial it is to control internal communication protocols. If your firm has offices all around the world, you'll need a way for everyone to communicate across time zones and languages. A misunderstanding between your raw material supplier and distribution centre can result in expensive inventory mistakes. Scanned documents, files, emails, texts, and phone call records are all organized using ERP communication capabilities. Internally, there are also private channels for immediate communication.
External customer interactions, such as quote follow-ups and lead monitoring, can also be scheduled using customer relationship management (CRM) technologies.
● Data Security and Risk Management
In the digital age, protecting your firm from fraudulent tactics is more critical than ever. You may be at risk if your company operates in any way on the internet. By executing automatic audits and fraud monitoring, real-time risk management technologies provide additional security to your firm.
Your business deals with a lot of confidential information. Using a single ERP system increases security by centralizing all of your key documents and communications. You can also reduce data duplication by consolidating all of your data into a single system.
● Solutions that can be customized
In their operations, every organization must account for some unique variables. Does your company do business with other countries? Do you have to present official paperwork to government agencies regularly? Is your marketing department using social media to target audiences? There's good news: ERP software may be customized to meet your specific business requirements.
ERP software' capabilities are changing as a result of new technology. Artificial intelligence computing and Internet of Things (IoT) solutions are two of the most recent advancements.
So, for your enhanced business today you can use these best software's which you can use for your business in 2021:
● SAP
SAP S/4HANA and SAP Business ByDesign are among the SAP systems mentioned in the research.
SAP systems can generally be deployed in a public or private cloud, as well as in a hybrid environment. Many of these systems have AI and machine learning capabilities.
While many SAP solutions can take a long time to implement, the vendor can offer out-of-the-box processes that are tailored to a company's requirements. These are primarily midmarket and enterprise-sized businesses.
● Oracle
Oracle ERP Cloud and Oracle NetSuite are two Oracle systems highlighted in our report.
Oracle offers a variety of core and industry-specific apps that can be used in both basic and complex ways. The company also offers a wide range of cloud alternatives, including public cloud, customer-owned cloud, and on-premises cloud.
Oracle bought NetSuite in 2016, a cloud-based program that caters to organizations of all sizes and sectors. Oracle provides you with constant support and great dedication toward future growth for the companies.
● Microsoft
Microsoft Dynamics 365 Finance and Microsoft Dynamics 365 Supply Chain Management are among the best systems in 2021 which you can use.
Microsoft's D365 solutions have been increasing market share, thanks to the vast range of pre-configured processes available. D365 Finance, for example, contains machine learning models that can be customized and embedded in specific finance processes.
Microsoft is constantly building additional data centres to support its cloud capabilities throughout its whole solution set, not just in D365. Your business can expand quickly with the help of Microsoft.
● Infor
Infor's CloudSuites are industry-specific Infosystems covered in our research.
Infor's most recent concentration has been on CloudSuites. They are constructed with pre-configured business processes and configurations for both enterprise and SMB enterprises.
These solutions provide a full ERP with integrated financials, procurement, HRM, payroll, labour management, and analytics.
● IFS
The IFS software is designed specifically for aerospace and defence, utilities and resources, building and infrastructure, manufacturing, and service industries. It lets consumers pick and choose the features they require and add more as needed. Everything from customer relationship management to finance to supply chain management is covered by IFS' key modules.
● EPICOR
Epicor was purchased by CD&R, a private equity group based in the United States, in October. Epicor intends to grow by developing cloud-based products based on a SaaS model. Epicor will be able to offer more advanced cloud services, such as embedded EDI and improved warehouse management. Epicor E10 and Epicor Prophet 21 are among the prominent Epicor products.
● Acumatica
Acumatica began as a cloud-based application. It's a cloud-based ERP system for small and medium-sized organizations. Acumatica's price strategy is flexible in terms of license and deployment options, and it can be readily scaled to meet the needs of a growing business. Accounting and financial management, customer relationship management, distribution and manufacturing planning management, retail, eCommerce, and field service are all included in the Acumatica ERP system.
● Syspro
SYSPRO is an independent global provider of industry-specific ERP software for manufacturers and distributors. The SYSPRO solution can be installed locally, in the cloud, or on a mobile device. Advanced functionality for outbound distribution control and inbound supply chain management is provided by the SYSPRO ERP system.
Accounting, inventory management, order management, planning and scheduling, supply chain management, warehouse management, production management, customer relationship management (CRM), business intelligence, self-service portal, and manufacturing operations management applications are all part of SYSPRO's end-to-end, fully integrated business solution.
● IQMS
IQMS is a single platform for managing and tracking the whole manufacturing process. It's perfect for manufacturers of discrete and processed goods. IQMS provides an integrated production execution system that can communicate with shop floor programmable logic controllers in addition to ERP. For the automotive, medical, aerospace and military, assembly, food and beverage, packaging, plastics, stamping and metals, and process-specific industries, IQMS offers integrated ERP and MES software.
● Salesforce
Salesforce offers cloud-based CRM software as well as a platform that serves as the foundation for other services such as FinancialForce and Rootstock. Rootstock is an ERP solution for manufacturers, distributors, and supply chain enterprises, while FinancialForce is an ERP package that automates professional services.
How to know if your business needs ERP?
Every company is different and confronts different issues at different times, so how do you know if and when investing in Enterprise Resource Planning is correct for you?
If you can check off the majority of the elements on this list, you can probably move on with researching ERP software suppliers and allocating the resources required for deployment:
Your employees are wasting too much time on processes that could easily be automated and optimised.
You don't have simple access to the information you need to make smart business decisions.
You collaborate with merchants and third-party applications from all around the world.
You've adopted and deployed several various software tools and processes for your organisation over the years, but they're not all connected.
You have no idea what your inventory levels are daily.
You're wasting too much time looking for information, trying to increase productivity and efficiency, and integrating new tools that are required for scaling. Your teams are unable to easily interact or share information.
When you're not on-site, you can't access critical company data and information.
You're having a hard time keeping up with regulatory compliance developments.
You're discovering or addressing issues after they've occurred; in other words, you're not as proactive as you'd like when it comes to identifying issues that need to be addressed to keep your operations going smoothly.
It's time to start looking for dealers if you can check off at least sixty or seventy per cent of the items on the list above.
Use the checklist provided above to justify the investment required to implement an ERP system at your company. Make a list of the specific issues you believe your company is facing, then talk to your decision-maker about how an ERP solution could help.
CONCLUSION
In today's business environment, you need tools that help you streamline activities, enhance productivity, and exploit data in real-time to establish a sustainable, scalable business. You can get on the right track with the correct ERP system.
Today Companies are gaining familiarity with ERP and how the system is not helping them with onboarding employees but also doing many things at one time. We have already talked about how the ERP system is beneficial and how it can help you today. Enterprise Resource Planning (ERP) software should cover as many parts of the business as feasible for businesses that are new to it.
ERP software for Enterprise organizations can be costly, therefore make it worthwhile by calculating the ROI as soon as possible. Calculate the cost and time of onboarding for each location, branch, or building as part of your investigation, and evaluate whether some branches may require a less robust regional ERP in addition to the umbrella company's software but this surely can boost your business in many ways.
Claire Mark is an aspiring entrepreneur, an industry specialist in stamod solutions, and a writer who shares her skills and expertise through reader-friendly writings. She has already been referenced on a few well-known websites. Claire writes a well-researched, data-driven, and in-depth blog on specialised themes that works well with niche websites.