Source: Pexel
Digital marketing isn't a cheap venture, primarily social media marketing. A little mistake could cost a business thousands of dollars in just a snap. But with the right planning and strategy, anyone can ace up their social media marketing efforts even with little to no budget.
Want to learn more about it? Here are five ways how:
1. Pick the right social media channels
Each social media channel has its unique sense of users and activities for engagement and interaction. If you want to make the most out of your budget, you have to be decisive on which social platform you want to put more focus on.
Consider the type of business you're running. Is it a B2B or B2C? Are your current customers/clients millennials or baby boomers?
According to Shane Barker, the top social media channels for B2C marketing is Facebook, Twitter, and Instagram. As for B2B, it's LinkedIn, Facebook, and Twitter. Remember that with social media, you want to socialize with your customers. To have them discover and reach you in the most convenient place the internet has to offer.
2. Define your goals
What do you want to achieve with your social media marketing efforts? You would probably answer "to get more revenue." That's what we call a business goal. Instead of thinking about the company's goal, consider what you want to achieve out of your social media marketing campaigns. Is it client reservations, website traffic, or social engagements?
Once you've established your goals, then that's the time that you create a social media strategy. Having a consistent and clear set of goals will make it easier for you to create content and a tone for your target audience.
3. Authentic & Engaging Content
You can't succeed on your social media marketing (however small or big your budget is) if your content is bland and unoriginal. In a world packed with donkeys, one has to be a unicorn to stand out from the competition and regularly get new engagements.
Remember that the content you post on your social media pages can either make or break the decision of whether a user will convert into a paying customer. The type of content you post on your social media page will depend on the platform you decided to market. The most versatile content formats for any platform are photos, videos, and user-generated content. But the actual challenge here is how you would make these work for your business.
Posts with open-ended questions have the most highly engaging statistics. You don't have to make it all about your business, alternate it once in a while to make your social page more natural and not too promotional. Keep in mind to produce promotional materials to a minimum since social media is all about engagements.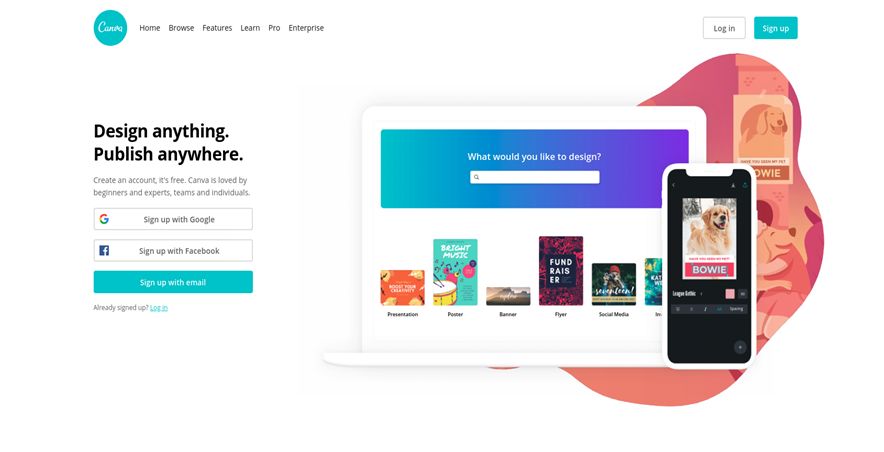 If writing or content creation is not your cup of tea, applications like Canva and Grammarly will be your saving grace. Canva is great for editing photos for basically any marketing material. Whether if it's infographics, Facebook/Twitter posts, magazines, blog article covers, and a whole lot more. Canva also has ready-made templates for much-needed efficiency.
4. Know your target audience if you'll be running ads
If you're thinking of going beyond organic social media reach, paid ads are a great option if used in the right way.
Probably the most important thing to research before running ads on any social platform is your target audience. As for someone who has a tight budget on social media marketing, you don't have any space on your funds to spend on audiences who don't convert. You only want to reach customers who are interested in or more likely to buy your products/services.
Once you've reached your target market, make sure to use the power that social media platforms have: to engage. Creating engagement is a critical part of social media management, where it would encourage participation and back-to-back conversations with followers.
For local Facebook marketing, why not try out polls and videos about your community with a unique feature of your products or services? The secret here is to niche down as possible with your audiences. But not too much, though. We still want to attract customers slightly outside the niche who are interested enough to try.
5. Formulate the right ad copies
When you're creating ad copies, always keep in mind if it would bring brand awareness and make customers consider your products or services and convert them.
Social media platforms like Facebook have multiple ad formats that would allow managers to effectively promote on social media. Here are some Facebook Ad formats which we would briefly discuss one-by-one:
● Image Ads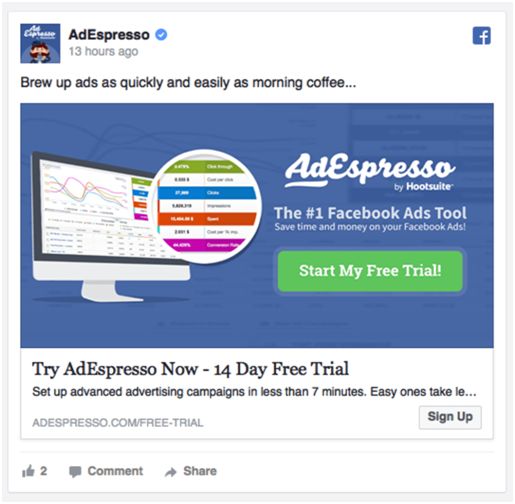 Source: AdEspresso
You want to showcase your products or services easily with a 125 character headline and a link. If you require, you may also include a call-to-action button going to your website or Facebook page.
● Video Ads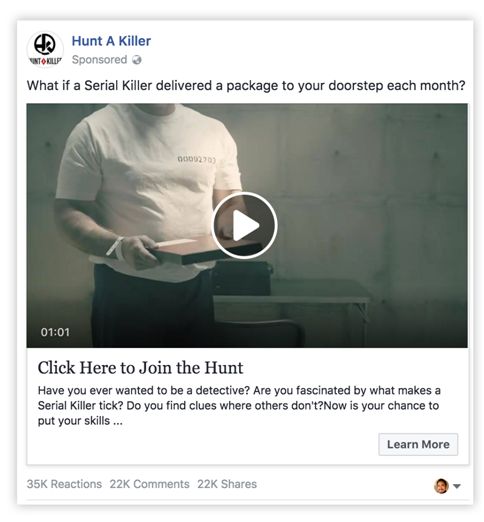 Source: Marketing Strategy
Video ads are great for catching your market's attention in the News Feed. But considering your target audience, it would be beneficial to research what type and how long your videos would be.
● Messenger Ads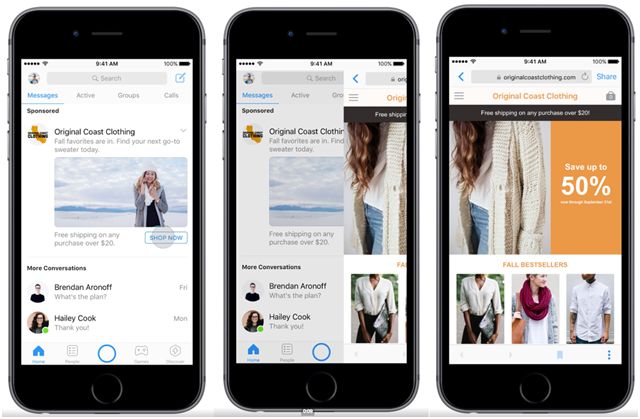 Source: Metric Theory
Video ads are great for catching your market's attention in the News Feed. But considering your target audience, it would be beneficial to research what type and how long your videos would be.
● Stories Ads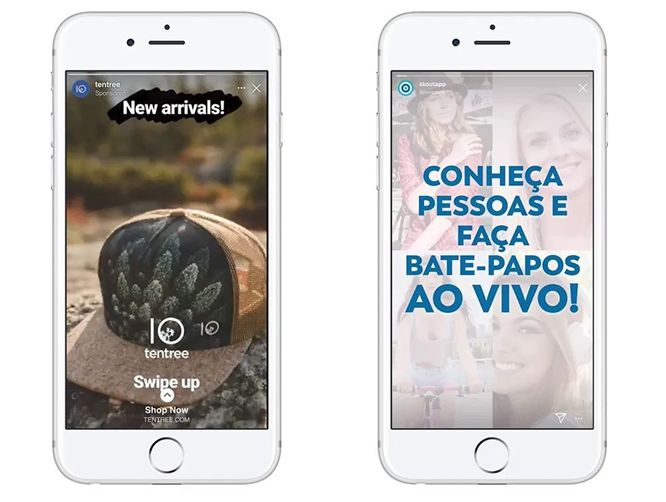 Source: WERSM.com
What's great about stories is it could show up anytime on your target audience and has a full-screen format. But tread lightly with your designs though, photos can only be displayed for six seconds, while videos could go up to fifteen.
● Carousel Ads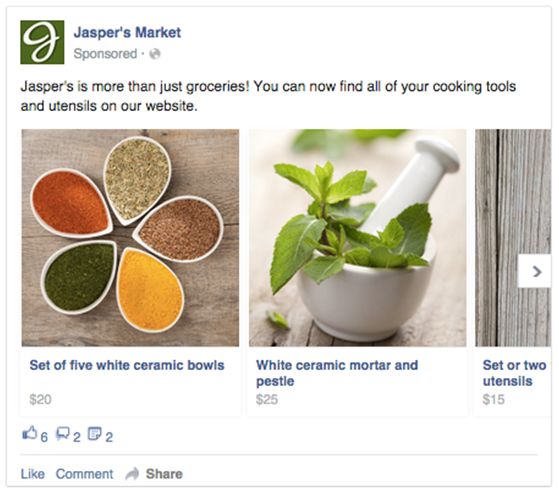 Source: ShopTab
Carousel Ads are perfect if you want to promote multiple products and services under one ad. You can add up to ten images and videos, each with a link of their own. Now that's efficient and smart.
● Instant Experience Ads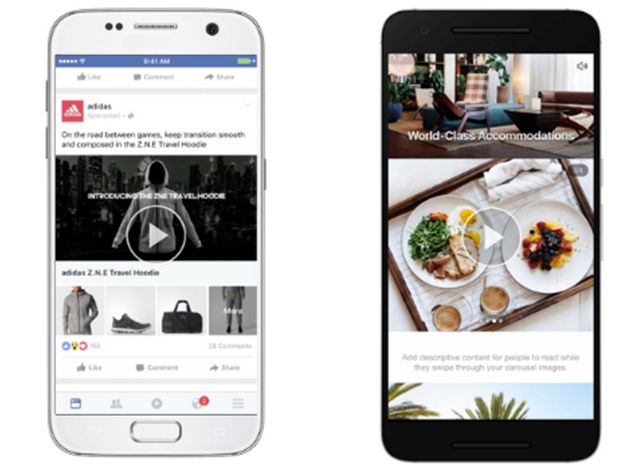 Source: Tinuiti.com
Instant Experience Ads are perfect if you're targeting mobile users. Instant Express is the fullscreen version of Carousel Ads. You can add a 30 character text, photos, videos, and a call-to-action button.
● Slideshow Ads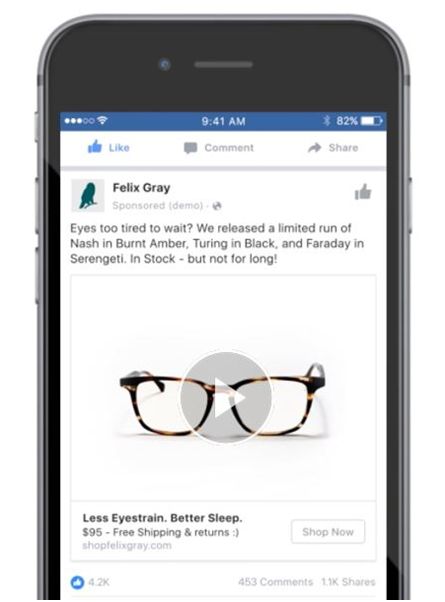 Source: Tinuiti.com
Slideshow Ads are a series of photos put together to create a video format. It is especially convenient if you want a video format, but don't have the time or resources to make one. Make sure your photos are eye-catching and go well together, then you're good to go.
Whichever format you decide to use, always keep in mind to test which one social promotion works best and shows promising results. With promotional marketing, you might think that Ad #1 would work best, but instead, Ad #2 with a different format has a higher conversion rate.
Summed Up Wisdom
Promoting a business on social media with little to no budget is just as challenging as having a huge one. Both scenarios will challenge your analytical, creative, and strategic skills to achieve that sweet conversion rate and ROAS every business owner wants. When it comes to social media, remember to make it less promotional and turn it into a more engaging strategy to maintain beautiful results.
Elizabeth is a Marketing Outreach Specialist at Meegle. Her role is to ensure that every campaign is running smoothly and that marketing strategies are future proof. She is currently based in Delaware and hopes to run her own digital marketing agency someday.