Entrepreneurs often leave their customers in the dark and money on the table by not driving traffic to their websites.
Small business owners need to come up with a creative content plan with an emphasis on dominating the local searches. If this isn't the case, there's the risk of content plans being either too general or not customized towards a specific audience.
Entrepreneurs will sometimes simply build a website hoping that visitors will stumble upon it. However, if you want to have an edge over your competitors, it is important to ensure that your content is optimized for unique local markets and you must build your website with mobile users in mind.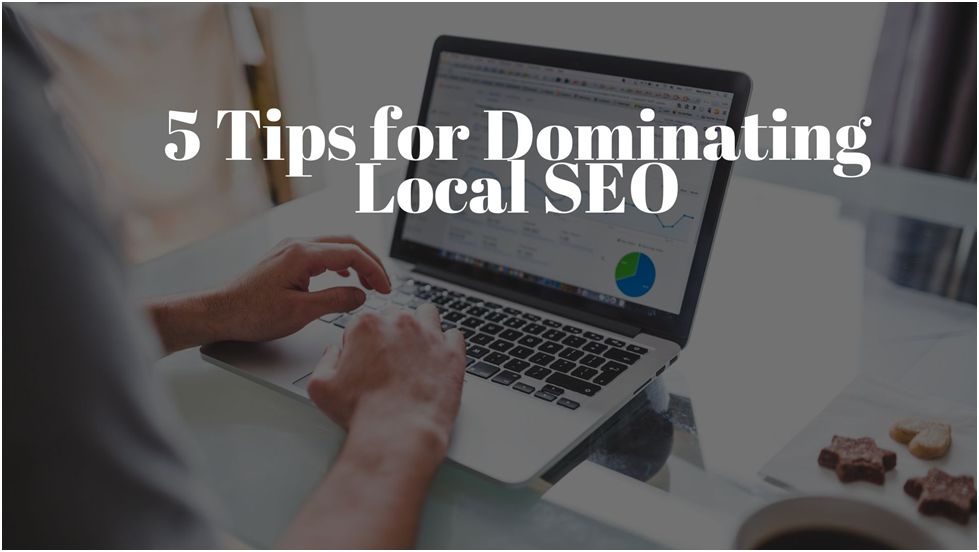 Here Are 5 Local SEO Tips You Should Keep in Mind
1. Set Up Your Google My Business Page
Google is usually the first place that people look when searching for a local business.
You should claim your Google My Business listing to ensure that your business appears at the top of the local Google search results. To do that you simply have to follow the prompts. If your business doesn't appear, you should click on "Add Your Business." The next step should be to wait for 2 to 3 weeks for a postcard to arrive via mail.
Once you have received the postcard, it is possible to verify your business and add information, almost like a social media page. You can also add your business hours, phone numbers, photos, as well as a link to your website.
The other great aspect of claiming your Google My Business listing is the ability to receive and respond to reviews, which is great when it comes to customer engagement.
Here are a few more tips for optimizing your Google My Business listing:
Avoid skipping the description section. It is important to write a detailed thorough, catchy description of the services or products offered by your company.
Select the right categories for your business to ensure that general searches for a particular keyword in your location include your business.
Upload many flattering photos of your business. Ensure that your business isn't too busy or too empty when it is photographed. The business should seem popular, but not so busy that people are turned off.
Ask your loyal customers to post honest reviews of the business on Google.
2. Blog About Local News and Events
You should write about topics that locals are likely to be searching for. Take time to blog about the subject and make sure that it relates to your business in a relevant way. You can even attend local events and invite your audience to come to join you.
You should also write about local events on social media platforms. Ask your audience whether they plan to attend local events are allow your content strategy to be influenced by popular opinion. It is an excellent way to promote genuine customer engagement. One of the smartest ways to boost your local SEO is to piggyback off local events.
3. Add Local Area Meta Descriptions
Coming up with the right Meta descriptions is all about anticipating the needs of your potential clients when they search for businesses. Google recently increased the length of Meta descriptions from 160 to 320 characters. However, it doesn't mean that all 320 characters should be used, but it can be a good idea to make wise use of the space through the inclusion of local phrases.
A good Meta description needs to account for 3 specific pieces of information:
The problem your customers are experiencing
The solution to the problem your business provides
The outcome of the service you provide
To optimize each of the steps for your area, you should include geographical specific terms, such as:
Bills Plumbing has been serving the Northern Virginia area for over 30 years. We specialize in leak repair, clogged drains, water heater repair, and even the installation of garbage disposal units. We serve Leesburg, Sterling, and Ashburn. To get all your plumbing problems fixed, call us today!
Meta descriptions don't directly affect the ranking of your website on Google. Still, they affect the relevance of your website for particular keywords likely to be used by your customers. So, make sure that you review your Meta descriptions to find ways to better customize them to the local market. If necessary, you can enhance your description by making the most f Google's expanded character allotment.
4. Encourage Your Customers to Leave Reviews
According to a survey, 97 percent of customers usually read online reviews for local businesses. You should not be shy about asking your loyal customers, family, and friends for their help. Facebook, Angie's List, Yelp, and Google are excellent platforms for garnering reviews.
You should keep in mind that people are more likely to leave a negative review than a positive one. A grumpy customer will often take the initiative of writing a 1-star review while 10 satisfied customers just move on with their day. You should always encourage satisfied customers to leave reviews of your business to remedy the situation.
You should, however, never offer incentives for leaving reviews. It is an illegal practice, which is why you shouldn't even consider it.
Make sure that you respond to all your reviews regardless of type. Negative reviews can be mitigated if you respond professionally and promise to do better next time. Discounts can be a good idea too.
5. Network with Fellow Businesses
Network with nearby nonprofits and neighboring companies.
Follow other businesses online and be sure to comment on their posts. The vast majority is likely to reciprocate and adding to other people's discussions can help you reach new people.
Establish symbiotic content relationships. You should consider having local guest writers n your blog. Invite the owners of complementary businesses to write for your website. For instance, if you have an RV company, you can expand your audience by forging a partnership with local campgrounds.
Manage Your Local SEO Content Successfully
It is possible to dominate your local SEO content with a bit of extra work. Put yourself in the shoes of the consumer and use that insight to help with SEO optimization. How do you do your research online? Which keywords do you use? Or you can hire a professional SEO company.
Try anticipating what your local customers are likely to be searching for and then make sure that you include relevant keywords on your website, in your social media accounts, and in your meta descriptions. If you optimize content, it is highly likely to attract more customers, generate more traffic, and possibly bring in more revenue.