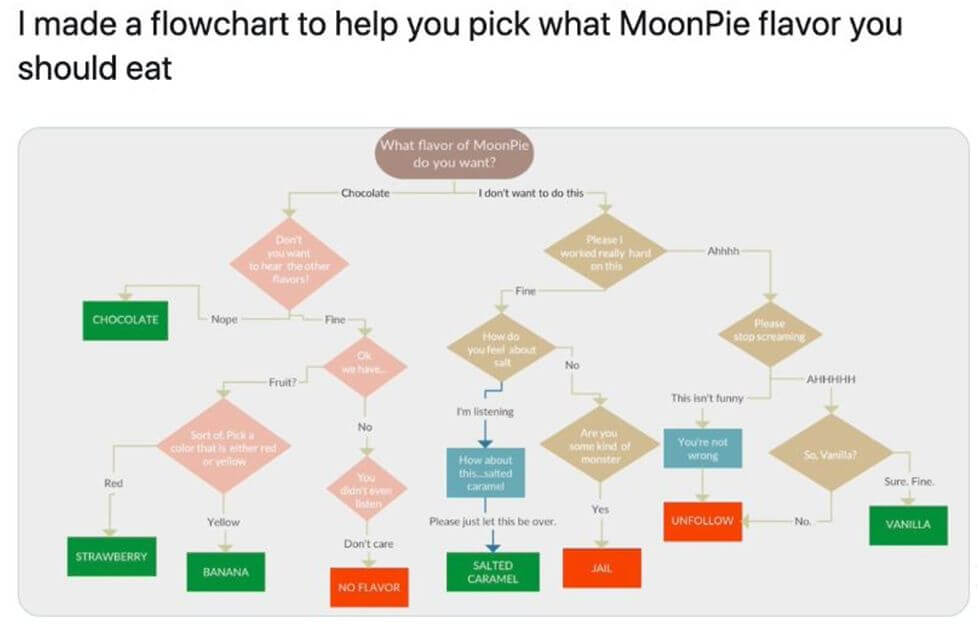 MoonPie strikes again with humorous content on Twitter with its fair share of retweets and likes. If you take a look at social media marketing statistics this year, you will know that they are pulling out all stops to drive user engagement through the roof.
If you are aiming for something similar for your business by the end of this quarter, then you have landed in the right place.
Read on to discover 8 social media marketing stats that are sure to fascinate you. Plan your social media marketing strategy around the following 8 stats, and you will be good to go.
8 Social Media Marketing Stats to Watch Out for
1. ComScore reports that users spend 69% of their media time on Smartphones on an average. This opens up possibilities for leveraging mobile marketing on a whole new level.
Here's what you can do:
Keep your content short, concise and snappy.
Have a sit-down session with the design team to include buttons and links on the mobile interface that is easy for your users to grasp. Take a cue from National Geographic's Planet or Plastic campaign all across social media platforms using the Story and Daily features of Instagram and Facebook.
Watch out for scaling and display issues on mobile devices, and keep them in sync with Google's latest algorithm updates.
Paragraph lists, bulleted lists, and bite-sized chunks should be the way to go when creating content for mobile marketing.
2. 95% of online adult user segment from the ages of 18 to 34 is most likely to follow a brand through social media pages. Knowing your target audience is the stepping-stone to success in social media marketing.
Here's what you can do:
Simplicity is the key when it comes to catering to a mostly millennial audience.
Go for emoticons, stickers, and GIFs for eye-catching marketing campaigns online.
Combine content marketing with social media by including links to your website in blogs.
Pick out cultural preferences, interests, lifestyle choices, and spending habits of your audience to write compelling content that appeals to them. You can go through the homepage of Lush Cosmetics to see how they have played around with the display and content for their target audience comprising female vegan and vegetarians.

3. Social media users share visual content 40 times more than other types of content. Choose to work around a visual content-dependent marketing strategy for the days ahead.
Here's what you can do:
Pack in infographics, video content,and more in your advertising campaigns.
Always use a feature image for all your blogs online to captivate readers at the blink of an eye.
Nielsen Norman's eye-tracking studies emphasize the effectiveness of adding screenshots, graphs and charts to your content. So, you can give your content a more engaging spin using those as well.
4. According to a study conducted by Smart Insights, 63% of customers expect brands to offer customer service through social media channels. In fact, 90% of the users are in the habit of using social media as a platform to communicate with a brand or business.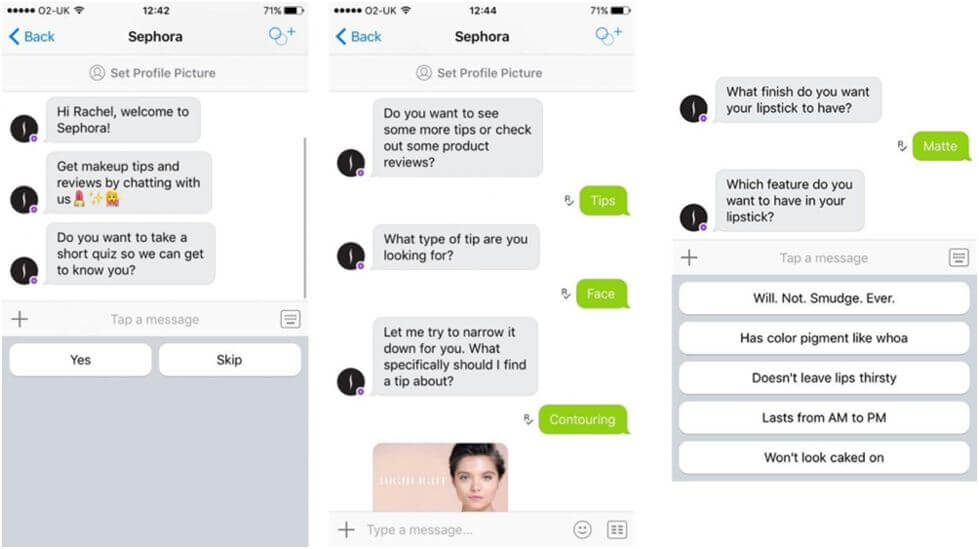 Image Source: https://www.chatbotguide.org/sephora-bot
Consider Sephora, for example. Its AI-enabled chatbot is creating ripples all over the globe with shopping assistance along with make-up and beauty advice and insights.
Here's what you can do:
Aim for shorter turn-around-times. Customers hate to be kept waiting when they reach out to you.
Filter feedback from customers in distinct categories like positive and negative comments, account-specific and how-to queries.
Fire up those chatbots.Quick responses ofMyAssignmenthelphave made them quite a favourite among their target audience. Track customer queries regularly, and you will have them coming back for more in no time.
5. Instagram sees a per-follower engagement rate of 4.21%, which is 58 times more than on Facebook and 120 times more than Twitter. Instagram is the place to be in if you want to make your mark on the social media map.
Image Source: https://www.instagram.com/nikewomen/?hl=en
Here's what you can do:
Take control of your Instagram feed. Keep an eye out for aesthetics and design elements.
Segment posts as per your target audience.Nike has spread its wings through separate accounts like @nikerunning, @nikefootball, and @nikewomen.
Build a community around actionable hashtags. Don't draw the line at same old promotional content.
Sign up for a good cause to gather more followers. Stances such as #saynotoracism or #stopglobalwarming cannot go wrong when trying to appeal to a larger audience.
6. Think with Google reports 86% of viewers turn to YouTube to learn something new. Striking the perfect balance between an informative how-to video and promotional content for your brand is essential.
Here's what you can do:
Jeni's Splendid Ice Creams, an Ohio-based company, turned their small business around with a simple-yet-ingenious video on building an ice cream sandwich, and you can too.
Keep an eye out for the comments on your competitors' videos. Gauging how the customers are responding to your niche is a good place to start.
Pick up marketing cues from your favourite channels. Identify the best practices they use to drive up user engagement, views and subscription numbers.
Make your videos SEO-ready with captivating video descriptions, an exciting thumbnail, eye-catching titles, and relevant hashtags in the description box.
7. When it comes to Twitter, 92% of all user interaction comes from link clicks. Gaining views and shares for your content might just become easier. Check out Domain's strategy of garnering more shares and views with a smart and quirky Twitter advertisement.
Image Source: https://twitter.com/Domaincomau?ref_src=twsrc%5Egoogle%7Ctwcamp%5Eserp%7Ctwgr%5Eauthor
Here's what you can do:
Share links to your popular blogs through Twitter. Creating an engaging content snippet within the limited characters on Twitter may be challenging, but not impossible.
Revamp your Twitter bio to include more information and a healthy dose of humour.
Customize your profile photo, header image, and handle to fit your marketing needs. H&M played it smart with a simple @hm handle, and you can too.
Tweet when you are most likely to be noticed. Fridays, Saturdays and Sundays are best for tweeting away to glory, according to Buffer.
8. 85% of consumers agree that visual user-generated content is more influential than photos and posts from the brands itself. Project Repat is a good example of how it's done (for it ticks all the right boxes).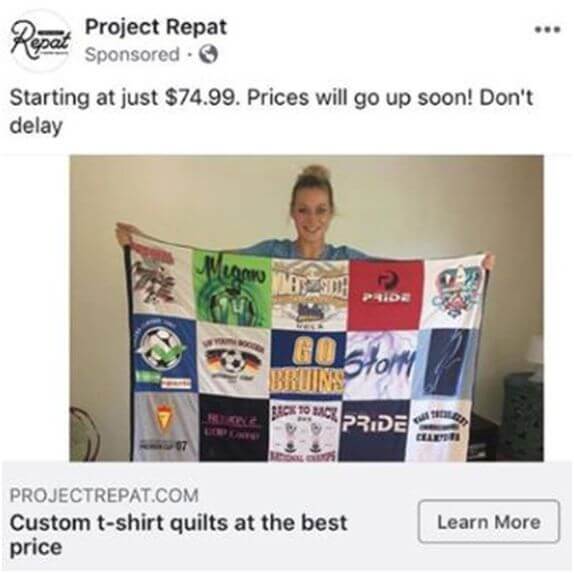 Image Source: https://www.facebook.com/ProjectRepat
Here's what you can do:
User-generated content won't cost you a penny (when compared to paid listings on social media). What's more, they are fun and relatable to a larger audience.
Arrange giveaways and contests to cash in on the diversity of your target audience.
Make use of Ask Me Anything and Poll features on Instagram to take user engagement up a few notches.
Let those carousel advertisements shine through with witty content and a few snapshots of user reviews and experiences.
Signing off
From tweaking your Twitter bio to sharing more relatable content on Instagram, there's a lot you can do to get that extra edge over your competitors this quarter. Social media marketing stats in this post can show you the right ways to strategize marketing efforts. Bring home increased revenue with higher click-through rates and give wings to those social media share numbers with tips discussed in this post. Godspeed.
Sienna Brown, an Adelaide-based digital marketing expert, she is also associated with MyAssignmenthelp.com as an academic writer. If you want any type of essay outline you can contact her.