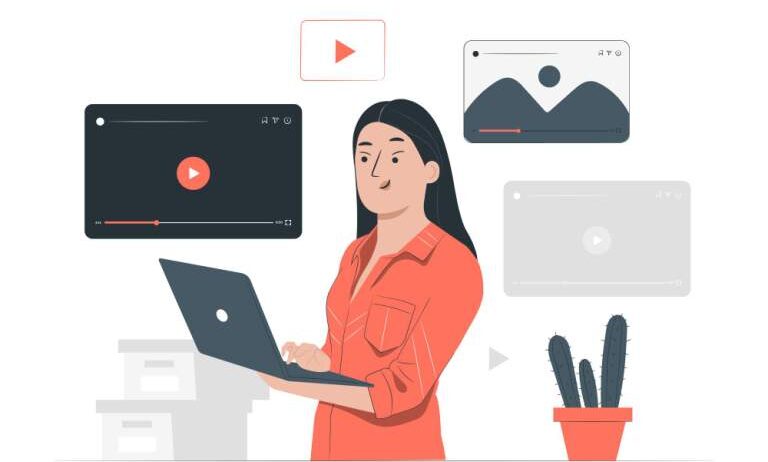 Content marketing has evolved and transformed over the years. Today, consumers are more into video content than they were before. According to a report by Marketing Charts in 2019, it was predicted that the average person will spend time every day watching 100 minutes of videos online in the year 2021. Video has now taken over the marketing world, with more and more companies investing time and money into making video content that gets the audience's attention and drives revenue.
Creating video content for social media is one of the most effective marketing strategies you must implement to connect with your customers and audience. 93% of content marketers say that video content is a crucial part of their strategies.
However, despite the huge benefits of social media video clips, many companies still do not take video marketing seriously. Many marketers believe that white papers, blogs, and case studies are a much easier option.
Yes, video content takes up a lot of time and effort. But it isn't so difficult after all. It's about knowing what type of videos your audience loves to watch and offering them precisely that.
In this blog, we've listed some video content ideas for social media that will help you build brand awareness, engage your audience and influence them to take action.
Below are some of the best social media videos for business that have been performing well since the start. You can try out the same kind of content this year to create maximum impact and keep your audience engaged.
1. Vlogs
Blog content has always been a great way to connect with your audience, but video blogs or vlogs can be a much better option for some companies.
Most companies turn away from video marketing after they've spent a lot on producing the perfect brand intro video. Sure, the video will seem perfect on the brand's landing page and will be shared for a while on social media. But when they don't see new business coming in, they soon lose interest in video content and, of course, a drop in ROI.
What you must understand is that every video does not have to be high-quality production. Social media vlogs are a cost-effective way to give your brand a voice and establish an image that fits your target audience.
You can easily shoot a vlog that's short and simple using just your webcam or a smartphone. One of the best types of vlogs you can make is simply sharing a day at work that wouldn't take up a lot of time.
2. Behind-the-Scenes
Your audience will love to see what's happening behind those curtains. So, making a behind-the-scenes video and showing off your company culture is a great way to connect and build trust with them. It also helps to motivate your employees to reach the business goals. Behind-the-scenes videos allow you to bring your brand alive, giving it a personal touch that appeals and relates to the audience.
3. Q&A Session
Are you looking to keep your audience engaged? Try out Q&As and interview sessions. Your audience always has tons of questions that they need answers for, so why not roll out a chat session like this where you could include a customer, thought leader or even a team member to make it exciting and engaging.
One way to go about this is by preparing your questions well in advance to get your audience involved by asking them to send in their questions. Q&A formats do perfectly well when it comes to solo videos. These types of videos can be recorded beforehand, or you can even go live. Q&A Sessions will help your audience have a clear idea about your product or services, especially if you're just starting an agency or launching a new product.
4. Feature Videos
According to a study, 78% of individuals said that companies' social media posts influence them when it comes to buying decisions. You can use video content to highlight your product or service and demonstrate product features to your audience. People would prefer a social media post rather than ads.
So, creating video content for social media that focuses on your products or services is always a good idea for your business. This will not only increase your brand awareness but also inform them about their product or services and how it can help them solve problems.
5. Event Videos
Event videos are a combination of vlogs, promotional videos, and a webinar. Event videos have become very popular in the social media world. Event videos are a powerful marketing technique that is used by businesses. Today, people have a fear of being excluded from new experiences or social events. It's called the FOMO phenomenon, a psychological issue where a person suffers from anxiety or the fear of being left out.
When you create event videos, you can reach out to a vast audience that wishes to be present. If done right, this can help build brand recognition, and people can see what your product or services can help them do. Additionally, using virtual events in another way to engage with your audience. For inspiration, investigate unique virtual event ideas that will help your business stand out.
6. How-To Guides
Tutorials and how-to video content are a type of content that most people search for online. However, you need to cut down the length of your video since people will not spend time watching a 40-minute-long tutorial on Facebook or Instagram. Take, for instance, some famous YouTube stars who have risen to fame purely through online videos.
You need to understand that creating helpful content isn't all about soft selling and promotions. Today, people are smart, and they know when a brand is selling to them. So, video marketing content should be more about providing useful information to your customers rather than going with the full-blown selling approach.
7. Product Review
When it comes to helpful video content, product reviews are one of them. Product review videos become very important, especially when a consumer is in the consideration phase. Product reviews work well when you already have the trust of your audience. Reviewing products can help answer specific questions, remove doubts and show your viewers the fantastic benefits of your product.
Some businesses may feel that product reviews wouldn't work as they run a B2B model with just one product. But this doesn't mean that you cannot do a product review for related services or products. For example, the exercise equipment brand, Peloton could do a product review of running shoes. By doing this and reviewing other quality products, you help enhance customer experience and add to customer satisfaction.
8. Testimonials
Last but not least, video testimonials are also another great way to go about when it comes to video content on social media. Focusing on your existing customers, you should ask them to speak about your brand and show viewers what your product/service has to offer. The idea is to have real customers talk – do not hire someone to fake it. Instead, approach a satisfied customer who will help create genuine testimonials for social media.
This may take a bit of hard work to get customers to do a testimonial, but you can encourage them by offering free gifts or a discount to record a testimonial. You can even host fun competitions to get in more entries.
The Best Social Media for Videos
There are many social media platforms that brands can use to promote their business, but here we've listed the most popular platforms that will help when it comes to video marketing.
YouTube
Snapchat
Twitter
Facebook
Instagram
LinkedIn
Social Media Video Best Practices
Here are a few essential tips and best practices to consider when creating video content for social media.
1. Have an Upfront Strategy
Before you start creating video content, it's essential to plan your strategy for the marketing campaign. Right from the type of videos and platforms to the schedule, you must have a complete plan to achieve your campaign goal.
2. Create Engaging Content
For maximum results, your video content must be engaging. It should encourage the viewers to watch and ultimately take action. Here are a few things to keep in mind to create exciting video content.
Titles and descriptions must be attractive and short.
Do not create videos that are too long or too short. Mid-length videos perform the best.
Make use of the best effects and music that suits your service or business.
Brand logos must be shown at the beginning and the end of the video.
3. Use the Correct CTA
When making video content, you must use the correct call to action. So, for example, if you are posting product videos, you must have a clear CTA such as shop now or do not miss the deal. Also, make sure to ask the audience to follow your brand or business on the platform.
4. Be Consistent
Publishing just one video and expecting immediate results is not the key to success. Consistency is the key! If you want results, then you need to maintain consistency throughout. If you find it challenging to keep track of your time and social media posts, then using social media tools can help you schedule posts on time, manage your social media and a lot more.
These were some of the best types of videos to try out for your social media marketing campaigns. However, it's important to remember that you can deliver these types of videos in several different formats. It's always a good idea to experiment and see which type of video content does excellent for your brand.
Wrapping Up
Each platform works differently, and hence you must take the time to find out the right platform for your video marketing campaigns. Another thing to keep in mind is that only one platform isn't enough to get you results. The trick is to experiment and publish on all your social media platforms to help you choose the perfect platform.
If you haven't started thinking about video content for your business, it's the right time to start now. Video content is growing tremendously, and it will continue to grow. Along with other content like blog posts, email marketing, and white paper, video content must be a part of your marketing strategy if you're looking for faster results.
Mansi works as a Content Manager at Clientjoy. When she's not busy working, she keeps herself busy learning, researching, binge-watching her latest sitcom obsession or writing about it. Her life mantra is Carpe Diem ( Seize The Day ) – To live each day to the fullest. You can connect with her on LinkedIn.