Jennifer scrolls through her Instagram feed, stops at a promotional post for a cast-iron skillet, and quickly visits the Facebook page of the manufacture. She reads a few reviews quickly, decides to buy it, and orders directly from the Facebook page. It takes her to the website of the manufacturer where she completes the payment process. Excited, she then posts about her new buy on Twitter.
This is a regular day in the life of a modern-day consumer. If you are a smart marketer of the modern age, you have picked up the hints already. Social media is what makes the world go round – at least when it comes to marketing in 2019.
Read on to find out the 9 ways that you can use this omnipresent factor in our lives to liven up your business this year.
1. Increasing leads
Social media's targeting features help you gain on the leads front. It generates high-quality and reliable leads that you can follow through with email marketing and personalized pitches. More than 65% of small businesses agree to being on social media to increase the number of existing leads.
So how can you generate leads that convert using social media? Here are a few tips for starters.
Cater to the needs of your target audience through your content
Make your social media posts more about your customers (and only a tiny bit about your business)
Make sure you use visual elements to keep them captivated to the content long enough for them to convert
Use "Click to Tweet" buttons throughout the content to encourage readers to spread the word
2. Checking out the competition
It is the social media equivalent to stalking – sans the harmful consequences, of course. You can keep regular tabs on what your competitors are posting on social media. If you are not active on your social media profiles, you are missing out much more than potential customers. When scouring through social media channels of your competitors, keep an eye on the following:
The types of content they are posting: blogs, videos, infographics, how-to posts, and more
The times they are posting: to know the maximum engagement hours for your product or service
The social media channels they are using: so you can use the others or go all out with your social media marketing strategy
While it is alright to learn from their strategies, steer clear of copying their posts at all costs. Choose what works best for your business goals, and stick to those. You can also tweak their ideas to create something unique and win social media points for your business.
3. Improving search engine rankings
Although this has been subject to a lot of Coursework Help and discussions, but studies show that social media can (and possibly will) increase your search engine rankings. The simple logic behind this matter is: the more people share and engage with your posts on social media, the more are the chances of you getting a higher rank.
The domain authority increases with each social media share, and you get to rise higher up the search engine rankings. Apart from that, visits to your social media profiles also count. Customers usually visit social media pages of brands before deciding to buy a product or service. So, that greatly increases the chances of you appearing right on top of the search engine results pages.
4. Building brand identity
Raising brand awareness is a top goal for most marketers. Social media gives you a hand with that as well. When compared to social media, you can reach your target audience faster and easier through social media. What's more, the Pew Research Center reports that 69% of American adults use social media.
So, you can well imagine the kind of outreach you can leverage to build your brand identity.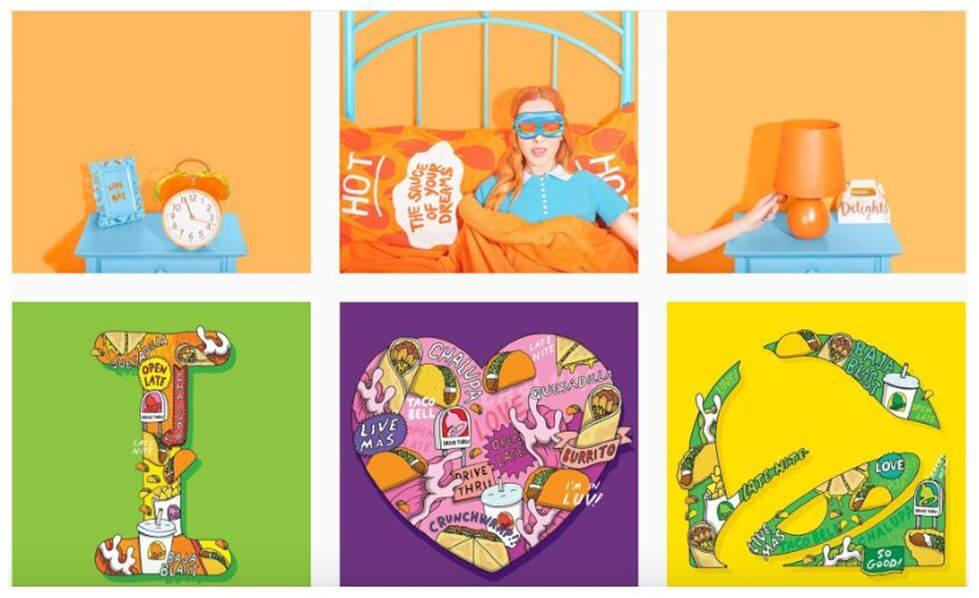 Whether it is Nike, Tasty, or National Geographic, using social media to create and maintain brand identity is the way to go in modern marketing. Knowing more about your brand's voice and style, and how you deal with the problems faced by customers will help you get ahead on this front.
5. Driving traffic
Social media is also the preferred medium for most businesses to increase traffic to their websites and posts. 78% of small businesses agreed to using social media to increase traffic that comes their way. Additionally, studies show that 63% of businesses usually have troubles generating traffic in the first place.
Put the two together, and you have your solution. Create a strong follower base on social media at first. To do that, you will have to do the following at first:
Be active on social media
Curate content specifically for social media
Know when to post on which social media platforms
Be consistent with your posts
Actively engage in discussions and polls with your customers
6. Boosting customer engagement
Social media is not only a haven of data on your target audience, but it helps you know your buyer personas a whole lot better. Providing a scope of two-way conversations, you can use social media to establish a strong customer engagement metric. The two ways that you can do it are as follows.
Organize contests, giveaways, and polls using social media so that you get maximum customers on board
Use the Daily or Story features of Instagram, Facebook, and Snapchat to deliver short-lived content to drive maximum engagement
What's more, social media lets you respond to a customer's worries and problems in real-time. Instead of having to wait in line for the call to reach a customer support executive, customers too, are more comfortable engaging in conversation with brands over social media.
7. Playing around with influencer marketing
Growing your business organically has a new name on social media: influencer marketing. 89% of marketers say that ROI from influencer marketing is at par or better than other marketing channels. Influencers are considered as celebrities on social media. So you can put their fame to good use.
Partner up with influencers on social media to promote and market your product or services. Since consumers turn to their favorite Instagram model or fitness expert on social media before making purchasing decisions, you will benefit significantly from this initiative as a part of your social media marketing strategy.
8. Creating reliable customer service
Revamping your social media avatar starts at offering irresistible customer service. From solving problems to asking for product suggestions from customers, you can do it all on social media. It provides the ideal opportunity to engage customers in some friendly banter with your brand, bringing a whole new level of exposure your way.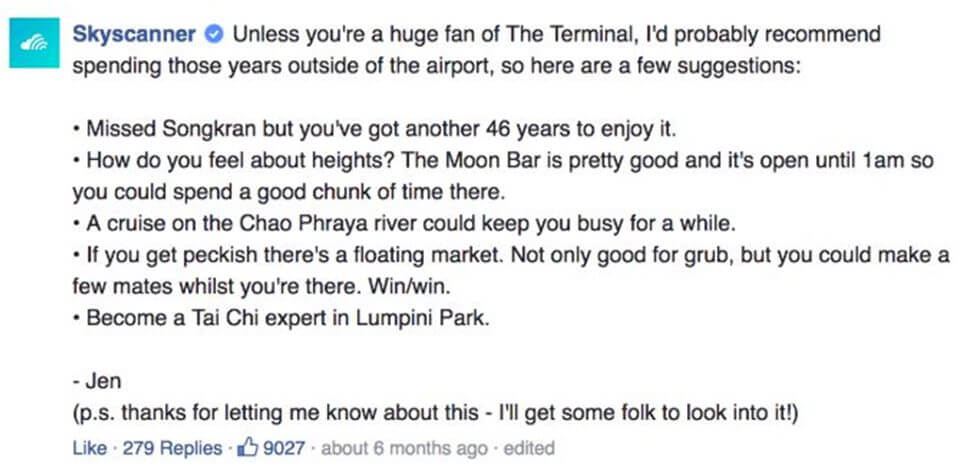 Take a leaf out of Skyscanner's book. They put up the post shown above when a customer posted he was suggested a 47-hour layover in Bangkok through the app. Apart from solving the problem, they have also used a fair bit of humor to keep customers coming back for more. The ability to turn a negative situation into something that results in your brand becoming one of the most talked-about topics on social media is something you should strive for as well.
9. Cutting down on costs
Sure, updated social media algorithms may sometimes cause your content to get lost among filtered Feeds. But you can always use that to your advantage. Venture into the world of social media advertising – a comparatively low-cost and way more effective way of reaching out to millions at one go.
Launch promotional offers and exclusive discounts on social media using carousel ads, and they are sure to catch the eyes of your potential buyers. What's more, since it costs much less than traditional advertising modes, you can actually get more for less on social media. You can also check out this blog to know all about social media advertising stats for marketers.
Summing it up,
From minimizing costs for promotions to establishing your brand identity, social media can do it all for your business. Now that you have a better understanding of how to use social media to grow your business, the time has come to develop a social media marketing strategy suited for your business needs. Get your marketing team together to brainstorm new ideas about how to make the most of social media channels at your disposal. Test each strategy before rolling it out for the masses, see what clicks for you. Do you have any queries or insight to add? Feel free to share them in the comments below. See you on social!
Lea Longo is a Australia-based digital marketing expert. She is also associated with MyAssignmenthelp.com/ae as a custom assignment writer. A part-time blogger, she enjoys penning enlightening pieces on business trends and marketing advice for budding marketers of modern times.