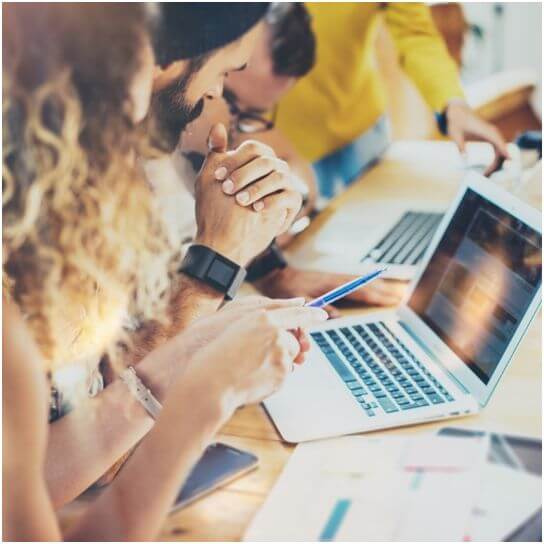 Social media can get a little overwhelming. You have to update your Facebook, post pictures on Instagram, remember to re-pin things on Pinterest, come up with witty things to say on Twitter, and post your best business-related content on LinkedIn. You want to have an active presence on the different social media platforms, but you don't want to spend your life on social media. You have other things you need to be doing.
This is where social media management tools can come in handy. You can schedule out posts in advance so you won't have to go to each platform and manually post. Many of these tools even have social media engagement in one place. So you can see all of your messages, tags, and mentions at once.
But there are so many social media management tools out there. How can you tell which one is the best for you? They all have slightly different features. Some cost money, and some offer free options. Some offer social media engagement and analytics reporting.
Here I will give you a list of the ten best social media management tools in my opinion. Check them out and decide which one you want to give a shot.
Hootsuite
Hootsuite is probably the most well-known social media management tool, and it's been around the longest (a little over a decade). It features content curation, scheduling, organization, and RSS integration. It allows you to post on Facebook, Twitter, Instagram, YouTube, WordPress, and LinkedIn. The prices are reasonable, and they do offer a free plan.
They feature bulk scheduling, and you can upload multiple posts at once. It doesn't have the Auto Post feature that re-posts content for you, however. It does allow you to create contests on the various social media platforms, which is a cool feature.
They do not offer social engagement so you have to manually engage with your followers on each social media platform. Some have said their platform is a little outdated, but because they do offer a free option, you can give it a try and see for yourself.
eClincher
eClincher offers a number of features including social inbox, auto posting using smart queues, suggested content, curation, Canva integration, and influencer discovery. You can post hundreds of posts for the upcoming months in just a few clicks with the Auto Post feature. You can also recycle content and re-post popular content.
They feature a scheduling tool that has a visual calendar, and the Suggested Content feature helps you to find articles to share with your followers based on keywords or categories. They also feature free images, video publishing support, and animated GIFs.
Their social engagement tools include the Social Inbox feature, which allows you to see all of your social media interactions at once. You can search for influencers on the various platforms. And they offer analytics reports. There is no free option for eClincher, but it starts at $59 per month.
Buffer
Buffer is one of the easiest social media management tools to use, and it supports Facebook, Twitter, Instagram, LinkedIn, and Pinterest. Although it has all of the basic tools for publishing social media posts, it doesn't offer much in the way of analytics or client management support as some of the others do.
There are no features like the influencer search feature. It is, however, one of the more aesthetically pleasing tools for social media management. They have many of the same features at Hootsuite. They also have Chrome extensions that allow you to schedule content while browsing the web.
SocialOomph
SocialOomphoffers a wide variety of features across the different platforms. They support Twitter, Facebook, LinkedIn, and Pinterest. And they give you the ability to schedule and manage blog posts. It can be one of the most powerful tools, but it can also be a little clunky and awkward to use.
There is a free option for SocialOomph, but the features are limited. The features are mostly Twitter related. With the free plan, you can schedule tweets, shorten URLs, track keywords, and manage five Twitter accounts. If you want to manage other social media accounts on other platforms, you will have to pursue a paid plan.
Zoho Social
Zoho Social allows you to manage multiple profiles, work with team members, research appropriate keywords and tags, and schedule posts all from one dashboard. While Zoho offers many of the features that the other social media management tools offer, in addition, they have Facebook lead ads, a SocialShare plugin for your browser, advanced reporting, and CRM integrations.
Zoho is a great option for marketing agencies. They also feature a prediction engine, which will tell you the optimal time to post your content. There are monitoring tools that allow you to stay on top of mentions and tags as well.
Zoho Social does feature a free plan, which offers management of one brand and includes the SocialShare plugin as well as the URL shortener.
Agora Pulse
Agora Pulse offers a number of features that some of the other tools don't. The content publishing features offer visual previews of your content, and there is an evergreen content publishing system in place. You can also label your content, and these labels allow you to come back and analyze each post or category of posts.
Agora Pulse features social engagement features such as the Social Inbox. This allows you to manage all of your mentions, tags, and messages in one place. There is also social monitoring as well as keyword searches.
The reports on Agora Pulse are easy to customize and easy to use. It provides enough data to be meaningful, but it's still simple enough for any social media manager to use.
While there isn't a free plan for Agora Pulse, the pricing starts at just $99 per month.
Social Pilot
Social Pilot offers a number of exciting features. While it offers the basic publishing features, it doesn't have any sort of Auto Post to automatically recycle old content. It allows you to post to Facebook, Twitter, LinkedIn, Instagram, Pinterest, Tumblr, and VK.
It does not include a social engagement feature. However, it does have content feeds where you'll be able to browse content and come up with ideas for your posts. The pricing starts at $30 per month, and they do offer a free trial.
These are just some of the social media management tools available. Try two or three of them out and see which one is your favorite.
Sara Crawford is a digital content strategist for WT Digital Agency and an author from Atlanta, Georgia. She has written novels, produced her own plays, and performed as a singer/songwriter. She is passionate about the act of creation, and she adores the written word.