Magento is an open-source platform specially designed for the convenience of online merchants. It is useful for managing every single feature of an e-commerce site. It offers you with a well-designed and appealing template that makes your site responsive and highlights the major products to the customers. By using magento themes and templates, you can increase the sales percentage of your website.
A number of magento based e-commerce themes are currently available. You can choose the best which suits your business requirements.
To help you out, let's do a discussion on some specific free magento themes:-
1. Shopper
https://themeforest.net/item/shopper-magento-theme-responsive-retina-ready/3139960
It is an adjustable and premium magento theme which is highly responsive. It has all such specialties which are obligatory to design an e-commerce site. It is highly effective for different types of online stores and is capable to provide a user-friendly experience. This theme has around seven feasible pre-built layouts with different qualities like an extended blog, revolution slider, contact pages modifier, and custom check-out.
2. Fastest
https://themeforest.net/item/fastest-magento-2-themes-magento-212-magento-19-multipurpose-responsive-theme-10-design/16178989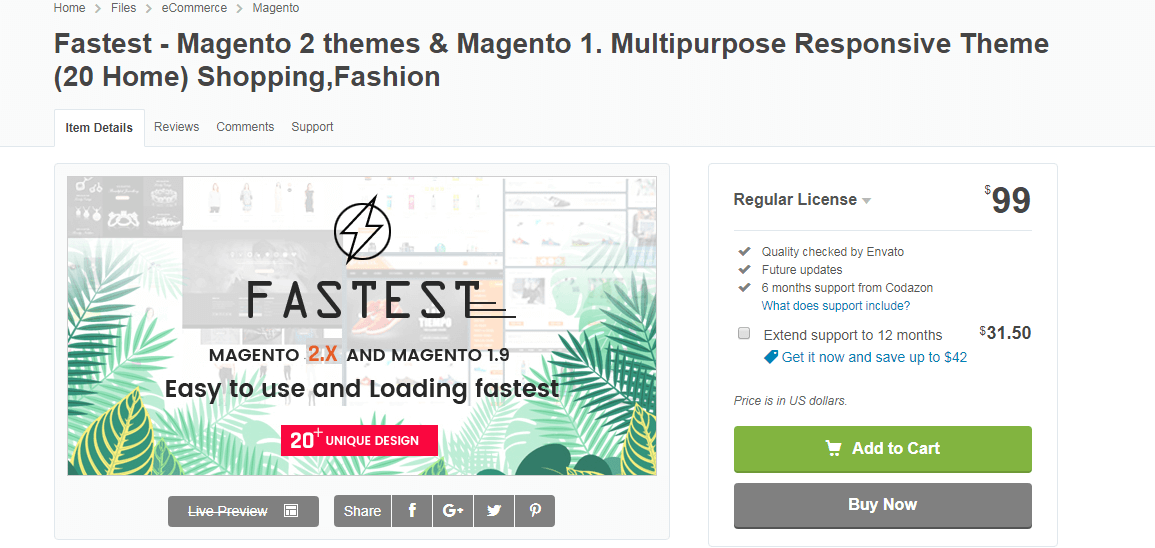 This specific theme can be used with the device of different screen sizes. It can be the prior choice for the online merchants because of its responsiveness. It is compatible with magento 1 and 2 and can be used on a magento store of different display sizes.
3. Porto
https://themeforest.net/item/porto-ultimate-responsive-magento-theme/9725864
Porto has the responsive design and it can be modified according to your magento store. It has been designed according to the comfort of the users. It can be used on mobile and other devices. There is an option to select from twenty layouts which can be modified depending on your necessities. It can be used with bootstrap and magento enterprise. It includes features like one-step checkout, shops according to brands and multi-vendor extensions. If you want, you can add a blog to your site.
4. Ultimo
https://themeforest.net/item/ultimo-fluid-responsive-magento-theme/3231798
When you think of an ideal and responsive theme, it would be the best to use ultimo. It is a high-quality theme with an advanced form of admin module. It is compatible with multiple projects and can be easily customized. This specific theme has multiple qualities such as sliders, convenient installation, mega menu and sidebar mega menu, fluid product grid and several others.
5. Megashop
https://themeforest.net/item/megashop-multipurpose-responsive-magento-theme/8611190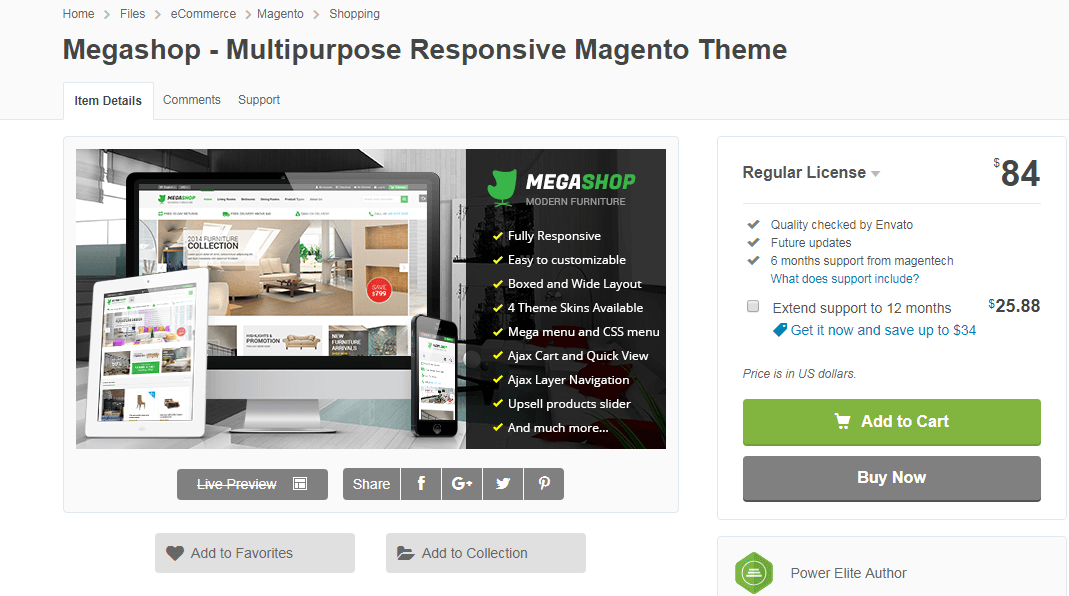 The megashop can be used for an e-commerce store dealing in any domain such as clothing, accessories, electronics, video games, items of furniture including others. It supports different languages and is based on the Bootstrap framework. Depending on your online store, you can select the desired theme and add colors by using a configuration model.
6. Loftstyle
https://themeforest.net/item/loftstyle-magento-22x-template/21272333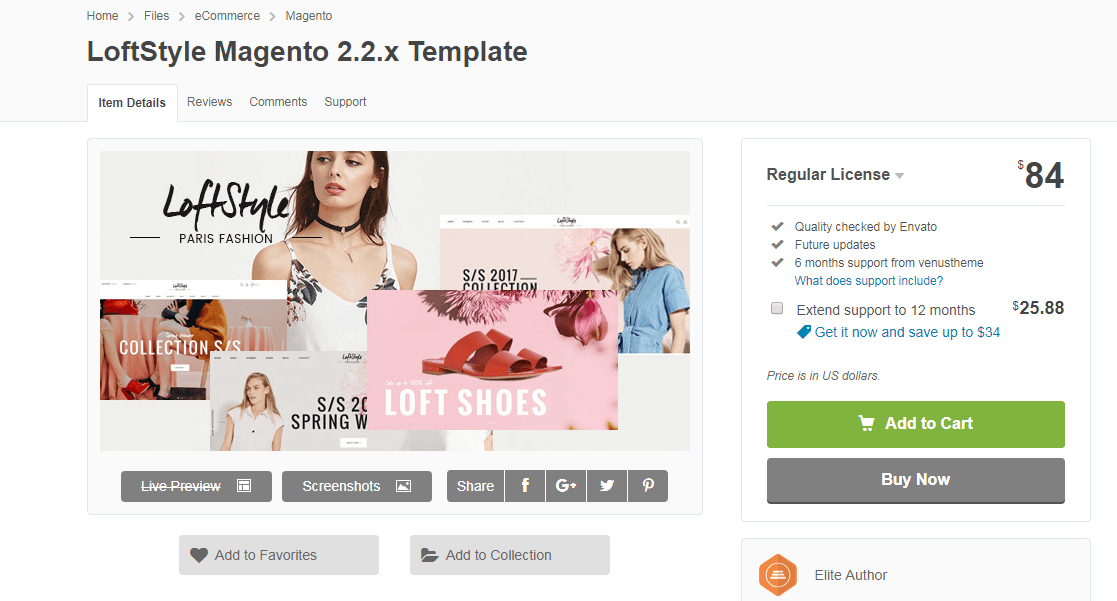 If you are aspiring for a perfect online store supporting theme, loftstyle can be the first choice. It can be used on mobile and has amazing features to experience. It has the minimalistic design which shows the product that pops up without using any web texture.
7. Sagitta
https://themeforest.net/item/sagitta-mega-store-responsive-magento-1-2-theme/7701309
Sagitta is embedded with multiple features like responsive design, custom banner slider, brand logo slider, category search, vertical mega menu, revolution slider and many more. It is an influential magento theme which has wonderful frameworks for your e-commerce domains like men &women clothing, bags, accessories, shoes etc.
8. Ketty
https://www.templatemonster.com/magento-themes/53638.html
It is suitable for the fashion store and shows a strong visual presentation of all major products. The unmatched qualities with better functionality makes it completely distinguished from others. This magento theme is the integration of multiple products symbols with the facility to take a look at some thumbnails for opening the pages of the product.
9. Eren
https://themeforest.net/item/eren-magento-2-responsive-fashion-theme/19761418
Eren has been found as the better choice when you have an e-commerce store. It is present with tailored-made admin settings compatible with mobile devices. A lot of designs would be available to you from which you can choose. This theme is specially integrated with a number of qualities like megamenu, responsive design, ajax cart, product slider, and multiple headers.
10. Outstock
https://themeforest.net/item/outstock-magento-2-responsive-furniture-theme/21207400
It can be considered as the most effectual theme for the furniture domain and has the collection of outstanding front pages demos. There are some twists in the theme, it has been implanted with at least six minimal and professional demos. This specific theme is completely eye-popping and could be easily optimized on search engines.
11. Destino
https://themeforest.net/item/destino-multipurpose-responsive-magento2-theme-digital-store-fashion-store/19338891
Destino is an influential option for creating an e-commerce website. The different categories of online shopping with which it can be compatible includes furniture, electronic products, and fashion. It will be easy for you to make changes in your online shop by using the built-in designs and colors. The set of qualities it has, makes a wonderful combination for increasing the sales rate of your online shopping site.
12. Topzstore
https://themeforest.net/item/sm-topzstore-responsive-and-customizable-magento-2-theme/19617453
Whether you are running an online store associated with any shopping category, this could be the elegant choice. It better compliments a multi-functional magento theme which is incorporated with various color styles. There are numerous pre-built extensions to use for the customization of the magento store.
13. Boxstore
https://themeforest.net/item/boxstore-multipurpose-magento-theme/21074137
Boxstore helps you design an e-commerce site with an enticing layout which can easily engage customers. It is suitable to present construction tools, electronic items, and other accessories. The type of features it includes are responsive design, vertical menu, Ajax adds to cart, mega menu and multiple language support.
14. Multistore
https://themeforest.net/item/multistores-magento-2-megashop-theme-support-multiple-stores/19211690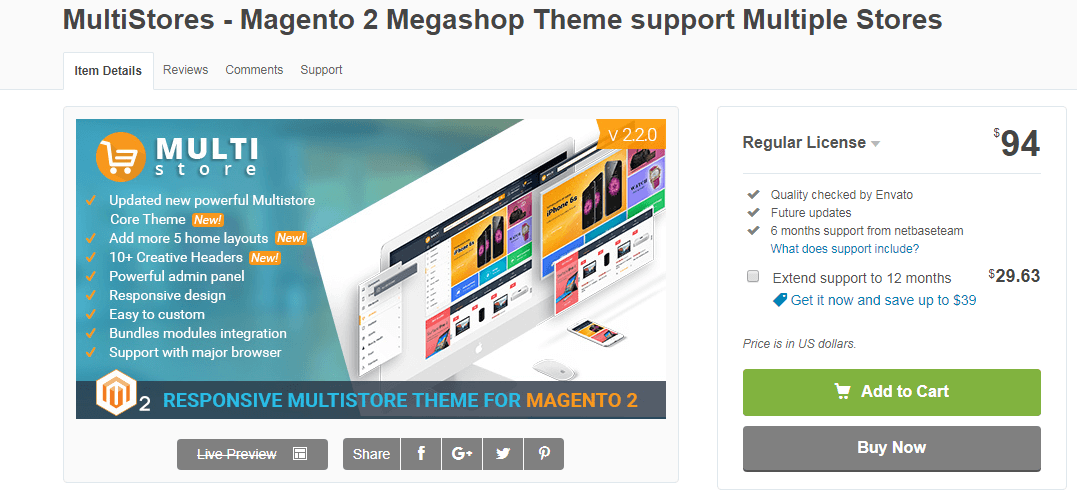 It facilitates different vendors to upload their products items and earning a handsome amount of money from each item. All such items which can be beneficial in daily life, it is supportive to create such websites. It is adaptable to every browser and has six unique layouts with more than fifteen unique pages.
15. Claue
https://themeforest.net/item/claue-clean-minimal-magento-2-theme/20155150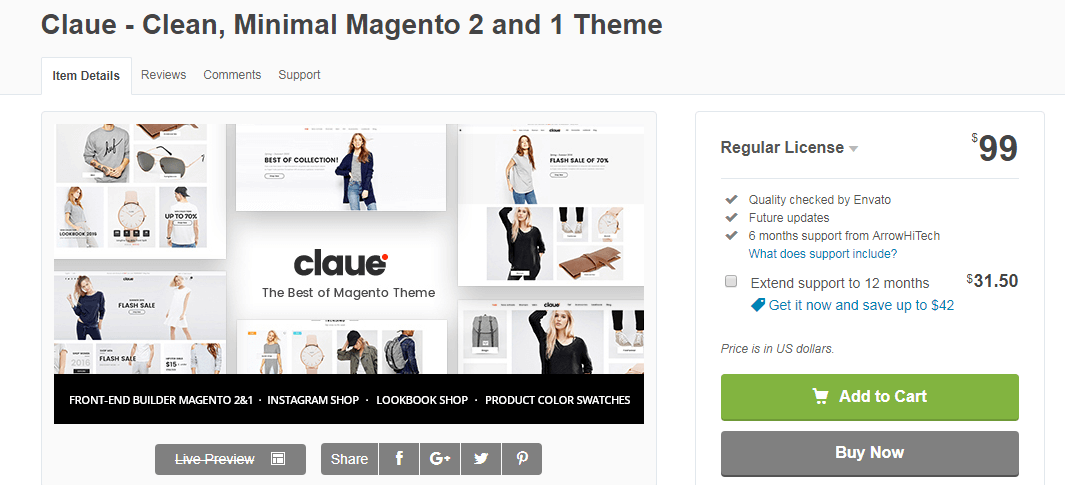 The claue has been assimilated with premium design integrated with dozens of plugins to create a multi-purpose e-commerce store. This responsive magento theme is the amalgamation of stunning homepage layouts with fresh and modern demos.
Conclusion
These are the distinct magento themes which can be used to design your online store. You can choose from any of the mentioned themes for making your website more attractive and popular. To be on top, your online store needs to be spectacular. Depending upon presentation, even the sales percentage can be enhanced.
Bryan Lazaris is e-commerce website designer at HireWebDeveloper- Hire Magento Developer and holds relevant experience of several years. He believes in sharing his in-depth knowledge associated with technologies. Also, he writes on other related topics to update users.