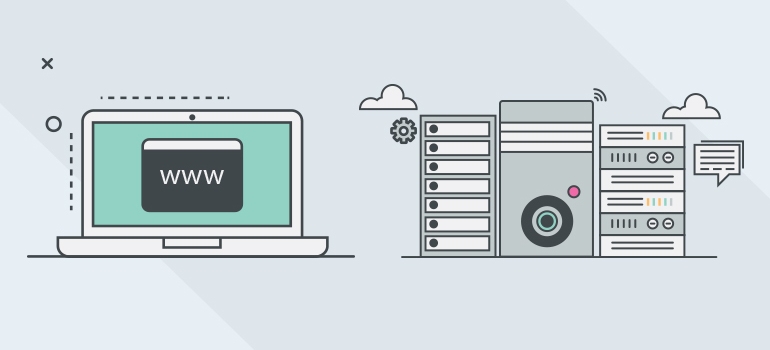 Domain Name and Web Hosting are the important services required to run a website on the internet. If you are a beginner, you may find it bothersome to differentiate them, so we are here to explain bits and pieces regarding Domain Name and Web Hosting.
What is a Domain Name?
A Domain Name is your website's address that a user enters in the browser's URL to visit your website. It consists of two parts: the initial part is called the brand name, and the latter part is called the domain extension. For example, xyz.com, the initial part 'xyz' is the brand name, and .com is the domain extension. Each Domain Name is unique, which means no two exact and similar Domain Names can exist simultaneously.
How does domain name registration work?
From the user point of view, domain name registration works in the below manner.
Think of a domain name that you want to keep for your website.
If the domain name which you have chosen is taken, then you can try its variations. You can also search on the registrar's website.
If your chosen domain name is not taken, then you can purchase it instantly. You can also check its availability on different registrar website and compare the prices before buying.
Pay the amount required for registration of the domain. The fees may vary depending on the TLD.
The registration process is completed.
Now, you can point your domain name to the web hosting provider.
What is Web Hosting?
Web Hosting represents the storage location where all the website-related records are safeguarded. In other words, it is just like the home of your website. When you type the Domain Name in the browser's URL bar, it gets deciphered into your Web Hosting company's computer's IP address. This system contains all the files of your website, which it sends back to the user's browser as per the request.
How does Web hosting works?
An ideal website requires different types of files to make the website look informative and appealing. These files are stored in the web hosting provider's server. The storage space of the server depends on the hosting plan.
Once you have selected the hosting plan, you get access to their server via cPanel. From here, you can upload all the files like the code or media files to their server. You will also have to point to your domain name so that the hosting server can come to where the files are located.
When any user enters your domain name in the browser or visits your website link from search results, then the hosting server sends the required files to the browser, which is then displayed to the users.
How domain name and web hosting are related to each other?
Let's start from scratch and dig deeper. They are entirely different from each other. They simply function together for the existence of a website. In simple terms, without Web Hosting, it is next to impossible to build a website, and without a Domain Name, it's extremely difficult to find your website's existence on the internet.
What is the difference between Domain Name & Website Hosting?
In simple words, a Domain Name is just like the address of your house, and Web Hosting is more like the space occupied by your home. This indicates that without either of them, you can't build your website.
The simplest of another similar analogy can be drawn as a Domain Name to be your website's formal naming. At the same time, Web Hosting services provide the actual space for storage, memory, and space that contains your website. Thereby making it clear that they are merely two sides of the same coin. One complements and reciprocates the other.
Now the thing is why the confusion arises. The dilemma mainly stems among the newbies because the very same service provider sometimes proposes the domain registration and Web Hosting services. This is majorly due to the inside business policies of the corresponding service providers at stake, but you must know the subtle differences between the two to hold the upper hand and efficiently manage your websites and web pages.
Once you start spending ample time on these technologies and dig deep into them, you will steadily get to realize the key aspects of website management. The more you will get your hands into it, you can witness and visualize the differences, which are stated below-
A Domain Name is an address where you are about to store website files, and Web Hosting is the place where your website files are sheltered. It can be visualized as the address of your house or your plot's hoarding number.
You can own a Domain Name without creating a website, but you can not develop a website without paying for a Domain Name. Just as you can own a plot of land and it's addressed, and it's up to you whether to build a house on it or not
Web Hosting, on the other hand, is making the house on your piece of land. The Web Hosting services analogously provide the materials and substances that you need to build the house.
Although it's possible to create a Domain Name without using Web Hosting, but the reverse is not permissible. A Domain Name without Web Hosting means an empty plot of land without a house on it. A Web Hosting service without a Domain Name means a home without an address that no one can reach or find out and, in reality, which is not acceptable.
Can I buy the Domain Name and the Web Hosting from the same company?
Surely, you can. You can buy both of them either from the same company or from different companies. Purchasing Domain Name and Web Hosting from the same company has some benefits over the remaining possibilities. When you buy both services from the same company, you come under the shadow of a single ecosystem that smoothens your experiences in multiple aspects. If you decide on buying them from the same company, then the whole set up process becomes more precise and easy to use in one go. You can make a renewal on a single recharge of the subscription. This reduces both time and effort. Given a chance, one must always try to look for those companies who provide these two platforms side by side under one head.
On the other hand, many of you prefer to have two different hosts for a domain and Web Hosting. Quite a few times, using two different hosts also ensures that your domain remains in your hands in case if anything goes wrong with your hosting provider. On top of that, you have to change the Domain Name settings when you have a different Web Hosting service provider.
Other than that, some of you may find it much easier to jump on a new hosting company as you enrol your domain with a third party. Contrarily, you have to dawdle for your service provider until they release your domain.
You must focus on your affordability and all other additional criteria too. As a whole, take a look at the bigger picture before choosing your web host.
Once you are into this, you must have heard the name of Bluehost. Bluehost offers both a Domain Name and Web Hosting services at an affordable range. A Domain Name costs around $14.99 per year in a normal scenario, and Web Hosting costs $7.99 per month. Much to your surprise, Bluehost WordPress hosting offers you to buy their deals at the cost of $2.75. Usually, you can get an offer on it most of the time. On top of that, it gives free access to a Domain Name and SSL certificate. Bluehost offers pocket-friendly offers and makes the whole setup process a cup of tea for you.
In case you are not willing to go for Bluehost services, you can decide on some other alternative top domain registration companies that serve more or less similar to that of Bluehost.
For Web Hosting, you can refer to these top hosting companies.
From where can I buy a Domain Name and Web Hosting?
Hoping that the explanation and facts stated above have settled down your dilemma, you have acknowledged the core difference between Domain Name and Web Hosting.
The easiest opinion for you is to purchase the Domain Name and Web Hosting from the same provider. You can conveniently handle and easily connect the Domain Name to your host server if you select the same company for offering both of the services.
Is it possible to move the domain name to another company?
Yes, you can transfer your domain name. When you register the domain, you have the right to move it to any other company you want.
Let us assume that you have purchased a domain from company A and your Web hosting from company B. Now you thought of transferring the domain to company B so that it can become easy for you to manage it. So, you can transfer it to your preferred company by following certain steps that are mandatory to follow during a domain transfer.
We recommend waiting for at least 45 days after registering or renewing the domain to start the transfer. The international organization ICANN that oversees the domain names requires a renewal of at least one year whenever the domain name transfer process is initiated. If you transfer your domain name before that period, you can lose your one-year renewal fees.
Can I transfer my website to another hosting company without changing the domain name?
Yes, you can change the current hosting provider, as you own the domain name and have the rights to change its settings.
For example, you have purchased a domain name and hosting from the same provider, and now you want to move it to another hosting provider. You will have to transfer all the website files & data to the new hosting provider for doing this. Later you can edit your domain name settings and point it to the new host.
Conclusion-
A Domain Name and Web Hosting are just two sides of a coin that implies they play a huge role in each other's existence.
Domain Name and Web Hosting FAQs
1) What is a web host?
It is a place where users store their website just like you keep all your stuff and belongings in your house. HTML, documents, videos, and images are stored in a web host.
2) Which website hosting service is best?
This preference will completely differ from individual to individual. Every website hosting service has its pros and cons. So, it's your task to choose the website hosting service that fits your needs the most.
3) Can I host my website on my own, and how much does it cost?
In short, yes, you can. You have to invest enough in equipment and infrastructure to compile the necessary things altogether. The higher the budget you can afford, the more reliable your web host will be.
You have to mainly pay for the web host itself, Domain Name, web development, and so on. The expected cost is around $3 to $10 per month for standard Web Hosting. If you can afford more, you can also go for VPS hosting.
4) What characters are not allowed while setting up the domain name?
Special characters are not allowed in domain name except for hyphen. And even though hyphen is allowed, it cannot be used in the beginning and at the end of the domain name.
5) Can I buy a domain name without purchasing web hosting?
You can buy the domain name without hosting because you don't need a hosting provider to register the domain. You can buy your domain name pay a fee for it, and register it with a domain registrar.
Avinash Kadam is a digital marketing expert by profession. He loves to read and write related to the latest hosting technologies. In his free time, he loves to guide the startup owners by giving them WordPress and cloud hosting tips.