Adapt And Thrive: 2023 And The Year Of Change
The marketing world has never been in such a state of flux as it is in 2023, and that was true even before the business world was rocked by the turbulence of current events. Many experts project that digital channels will overtake broadcast television in total market share of advertising and marketing dollars this year, which is a huge sea change given TV's dominance for the last half-century. Even within digital, change is the theme of the year due to both technological and regulatory factors.
This is a challenge, but it's also an opportunity. Marketing teams that rest on their laurels will lose market share, but this creates opportunities to excel for marketing teams that stay abreast of current trends and adapt to take ownership of new techniques, tools, and tactics.
To quote an old cliche: the only constant changes. Teams that recognize and adapt to changes in the marketing world will capitalize on the opportunities inherent in rapid change. Let's talk a bit about what to expect in 2023.
Only Connect: Engagement And The 2023 Consumer
Devices evolve and favored platforms shift, but one trend that continues to accelerate is the value modern consumers place on being able to interact with brands authentically, on their terms, in real-time. Digital marketing teams will continue to succeed by meeting their customers where they already spend their digital time and engaging with their customers both actively and passively.
It's important to note that the most popular platforms may not be the most advantageous for your business; the first step is identifying the favored channels and mediums of your customer base. But here are five digital channels that marketing leaders agree are important for 2023:
Mobile
Online Marketplaces And Aggregators
Video
Display
Email
Strong content and a solid team are also key components to engaging with customers successfully. While many businesses struggle to recruit experienced digital marketers, an emphasis on ongoing training and development can help your existing team keep up with the pace of change and produce innovative content while already being familiar with your brand and brand voice.
Minding Your Client Relationships: Personalization, Automation, AI
Engagement is just one part of building and maintaining client relationships, and what customers want are strong relationships with the brands they choose to work with and buy from. Building relationships is time-consuming, and no marketing team has all the man-hours they need to do all the things they have to do.
No one has as big a team as they'd like to have, and no one has enough hours to get everything done. That's where automation comes in. Leveraging emerging automation and AI technologies is the key to maximizing your productivity and reaching your potential.
While automation works great for many repetitive functions and frees your team up for higher-level tasks, today's consumer demands greater personalization than ever before. Fortunately for you, marketing teams are able to gather, store, and cross-reference customer data more effectively than ever before and automation tools can use this data to provide personalized engagement with your customers automatically and at scale.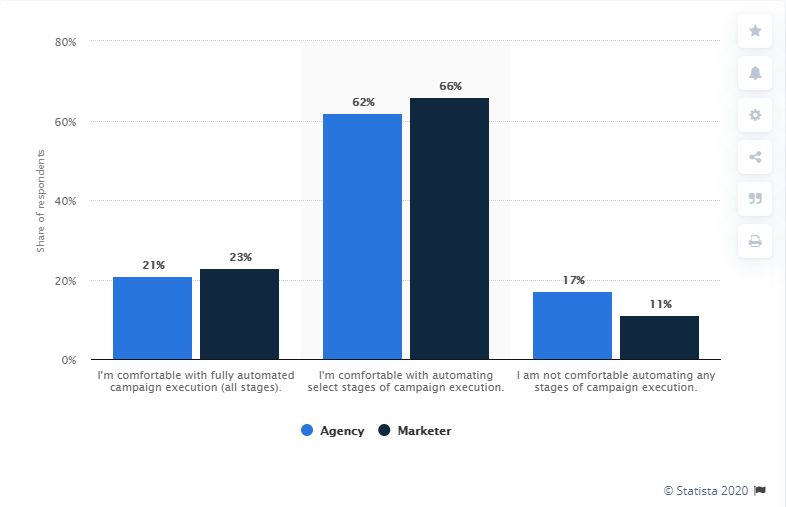 For example, using an email follow-up tool can send automated follow-up emails to customers, and you're able to set these emails to go out at the times you choose. Imagine being able to automatically generate follow-up emails into customer inboxes on a time sequence you select, that read like a personal note from a member of your team, crafted to usher these customers through the touchpoints of their buyer journeys! And with a suitable tool, such as Follow up Fred, you can even track whether customers open the email or click on the links within, enabling you to easily test different emails or offers and compare their effectiveness against other emails.
Customers may be more resistant to hard-sell techniques than ever before, but they do desire interaction and they want to know you care enough to reach out with relevant, timely, and informative content. That's where personalized automation shines.
Metrics of Measurement: Data-Driven Decisions
Another trend we expect for the rest of 2023 is that marketers will be expected to do more with less, especially in sectors that have been rocked by the turbulence of the markets this year so far. While marketing is a key expense for companies to shift back to growth, marketing spending will be more scrutinized than ever before, and marketing teams will need to justify their expenses and demonstrate strong ROI on their campaigns and content. Marketing teams that reflect on their goals, implement metrics that align with those goals and are relentless in capturing data to quantify their effectiveness will be at a distinct advantage when it comes time to ask for the funding they need.
Align your marketing goals to the business's overall goals and then develop metrics that align with your team goals and demonstrate the effect your efforts are having on the overall company. Don't be afraid to drill down to specific pieces of content or campaigns. The C-suite may not have a deep understanding of marketing tactics; that's why they hire marketers. However, they do understand business analysis, and being able to translate everything you do into a quantifiable ROI is key to getting their support for your initiatives.
Conquer Your Challenges
By doing your research and staying current on trends and technologies, you're setting yourself up to soar in a rapidly evolving marketing world. Don't look at the challenges of 2023 as an obstacle; take them head-on and leave your competition in the dust. We hope these tips help you achieve greatness this year!
Michael Habiger is a content marketing specialist with over 6 years of experience. He is a marketing nerd and front-fighter for big data and automation. He is now head of marketing department at FollowUpFred.