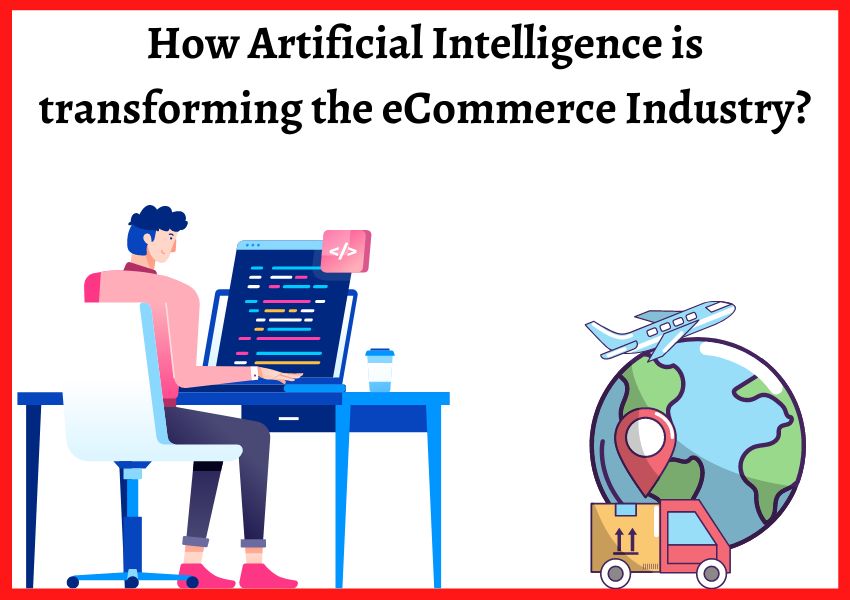 No doubt, the retail industry is booming and procuring customers by making the shopping experience engaging and convenient with each passing day. But with this, customers are facing more dilemmas as there are many eCommerce sites available. Customers have plenty of options available to shop from; if they find an unpleasant experience from brand A, they can easily switch to brand B or C.
Technology has become an inevitable part of the eCommerce industry in providing enhanced user experience and features. Technologies like Artificial Intelligence (AI), Blockchain, Internet of Things (IoT) are helping merchants in effectively managing their eCommerce website by tracking their customer behavior, changing trends, data management, etc. According to Tractica research, the pace of AI in the eCommerce industry is increasing, and it is estimated to reach $36.8 Billion worldwide by the year 2025.
In this blog, we will thoroughly discuss how AI is revolutionizing the eCommerce industry. Before any further delay, let's get started with the fascinating discussion and understand the significance of AI in the eCommerce industry.
Why Should Retailers Adapt to Artificial Intelligence?
The new generation wants a bespoke shopping experience immediately and at lower prices.
They expect merchants to know about their preferences and fulfill them as early as possible. They don't want thousands of products that are of no use. Instead, customers expect quality products at the minimum wait time, faster order fulfillment, an effortless checkout process, and enchanting product recommendations. Product recognition utilizes images to inform your customers about product availability in real-time. Consider implementing a product recognition system to create a high-quality experience for your customers.
Millennials are born and brought up in this digital era; therefore, everything is available to them at their fingertips. As a result, retailers have to integrate technologies like AI to offer a great shopping experience and gain a competitive advantage. According to the (BCG) Boston Consulting Group research, when a customer's experience was highly personalized, they were 110% more likely to add additional products to their cart and spend 40% more than they had planned.
In the current scenario, using the right technology, merchants can convert these customer insights into actions and can provide a personalized experience. Therefore, retailers should focus on incorporating technologies like AI during their eCommerce website development. Technology will help them assess the customer behavior beforehand and provide them the opportunity to outperform their rivals.
How Is Artificial Intelligence Revolutionizing the Shopping Experience?
The utilization of AI technology in online shopping is shaping the eCommerce industry. The merchants can anticipate the shopping patterns of shoppers based on their product purchases and how frequently they buy them. Artificial Intelligence has made intelligent sensors that allow them to collect and organize data more effectively than ever before. They can be scheduled to generate automated notifications when customers need any assistance and notify employees that customers are frequently in the store.
They immensely improve the customer experience, ensuring accurate staffing levels during the peak shopping times like weekends, festivals, holiday sales, etc. Using AI, retailers can effortlessly collect and analyze data such as how much time customers spend in the store, from which direction they enter, and so forth, which was challenging to manage earlier. When retailers harness this AI collected data, they significantly impact the shoppers as they arrive at the decision point. Therefore, scroll down your screen to know how AI applications in the eCommerce industry can make it more successful and future-ready.
Fascinating Applications of AI in the Ecommerce Industry
Smart Product Recommendations
Using AI technology in your eCommerce website, you can leverage the user experience and enhance conversion rates. Up to 915% conversion rate can be increased in eCommerce websites by using intelligent product recommendations.
They have a personalized product recommendations process through which customer's online behavior like previous sales, browsing history, keyword-based searches, and so forth can be analyzed. eCommerce product recommendations engines use this broad and deep data and apply predefined rules and product personalization algorithms to offer products.
Following are five practical tips for implementing product recommendations in your eCommerce store.
Showcase "recommended products" based on their browsing history.
Utilize product recommendation algorithms to offer "frequently bought together" suggestions.
Highlight "related items" recommendations to attract shoppers towards the product.
Show "best sellers" to the customers to save their scrolling time and effort.
Highlight "recently viewed" items to introduce customers to other things.
Efficient inventory management is about maintaining accurate inventory stock that can fulfill the demand of your shoppers on time without adding piles to your godowns. Traditional methods of inventory management were limited to the current stock levels, but with the help of AI collected data, retailers can easily maintain their levels of stock effectively based on the data related to the following aspects:
Previous year's sales trends and patterns.
Projected or estimated fluctuations in product demand.
Inventory level issues can arise due to the supply chain.
Along with inventory management, AI enables warehouse management systems that can be used with automated robots estimated as the future of AI in the eCommerce industry. Unlike human beings, retailers can utilize robots programmed with AI to store or retrieve stock 24/7. Additionally, frequent dispatching of the ordered products can also be done by the robots followed by the online order.
Better Decisions Through Data Insights
By creating, labeling, segregating, and analyzing data, retailers can find out the latest trends and behavior patterns of customers to make better decisions. Exploratory analytics is the primary thing that can be used to explore trends with the help of available data.
Using AI, retailers can make data models to get better insights and develop prescriptive or predictive decision engines. This will help the merchants with demand forecasting and allows them to make better data-driven decisions. With time, these models become more efficient and help the business owners to make better and customer-oriented decisions regarding trends so that retailers can be prepared for them in advance.
Virtual Assistants and Chatbots
To offer endless 24/7 customer support to customers, business owners are utilizing the capabilities of chatbots and virtual assistants. Chatbots are built using Artificial Intelligence; hence, they effectively give intuitive answers and offer a great user experience. Goggle Alex and Apple Siri are examples of virtual assistants through which you can communicate with web services. Apart from providing excellent customer support, chatbots are also using the potential of AI in the eCommerce industry in the following ways:
Addressing customer requirements through profound insights
Personalized and targeted offers to the customers.
Natural Language Processing (NPL) that can depict voice-based interactions with customers.
Over time improvement through self-learning capabilities.
Visualization and Merchandising
A large chunk of exchange and return happens because customers feel that the product displayed on the screen doesn't match the actual product. It can be in terms of color, design, pattern, size, etc. Therefore, to minimize this instance, the retailers should showcase the products on the following parameters:
Models standing in distinct positions
Models of different height and sizes
Models of various ethnicities
Merchants worldwide spend an estimated $100 to $1000 per product on its digitization and photography. Instead of utilizing the conventional methods, retailers can use AI to create automated fashion models imaginary through Generative Adversarial Network (GAN). In this process, the same dress can be draped on the models of different ethnicities and sizes standing in various poses hence eliminating the work of manual pictures.
Cart abandonment happens when the potential customers visit your eCommerce website, add a minimum of one item in the cart, and leave the site without completing the purchase. According to Business Insider, the retailer reported losing $4.6 million to abandonment products in online shopping carts.
Cart recovery emails are proving to be an effective and sturdy way to recover abandoned carts. It is utilized by more than 62% of retailers around the world to regain their carts. Since shoppers get emails from multiple websites daily, you should use AI-powered email to make your brand stand out amongst the rest.
During your website building, you can consult a prominent eCommerce development company that can incorporate an AI-powered cart recovery tool to suggest visually similar products and personalized styling recommendations to customers based on their profile.
Finding the desired product effortlessly is the first step towards the shopper's journey. Merchants must keep the product discovery process simple and effective. Happy and satisfied customers who find the exact product are more likely to shop again from your website.
Search engine users are determined customers and a significant segment of any eCommerce site. Your eCommerce website should be able to display the searched product closely to get maximum customers. AI-powered search can be used to indicate products that are more personalized according to their preferences and affinities. Each click can be leveraged to know more about the customer's preferences and, in turn, provide a search bar that fulfills the shopper's need.
Sometimes while managing the ad campaigns, retailers notice that customers spend a striking amount of time on a particular product and then suddenly leave the site. The companies store this information to use for their next search.
Nowadays, the face of sales is changing as retailers directly respond to customers' queries. Using AI technology, retailers can read the mind of customers and offer products accordingly. As per Conversica, 33% of the marketing leads can be retargeted that was left in between.
The biggest challenge that the eCommerce industry is facing is how to keep their customer's data safe and secure. Well, using AI, you can increase the security of the database of your eCommerce website.
With the incorporation of AI and deep learning in your website security solutions, you can keep attackers away from customers' databases.
There is no second thought that AI can make your search engines more effective. AI-enabled search engines track customers' browsing patterns and showcase results accordingly to help them find what they are precisely looking for.
With deep learning, AI-generated search engines gather information from big data. They use search terms entered by the customers and deeply examine the conversation.
Wrapping It Up!!
Nowadays, intelligent retailers are flourishing in the market by leveraging the capabilities of technologies like AI, IoT, and blockchain. If you envision gaining maximum market share in this tech-savvy world, you cannot deny the latest technological trends. These trends not only help the retailers in climbing ladders of success but also provide competitive advantages. Therefore, as a retailer, you should focus on incorporating technologies in your eCommerce website to serve your customers effectively.
AI has demonstrated to be a boon for the eCommerce industry. By utilizing its capabilities in data collection, chatbots and virtual assistants, inventory management, etc., the retailer can amazingly fulfill their customers' demands. Hence, use AI to provide your customers engaging experience and to boost your revenue.