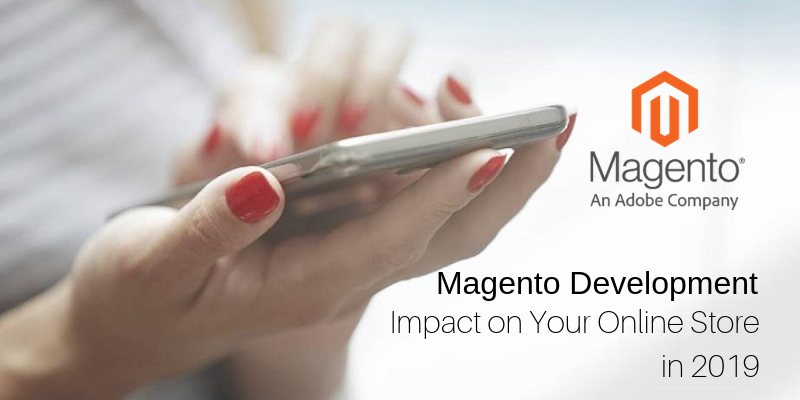 The previous year has been a great one for Magento website users and the community. Magento has never failed to create a great impression on its growing user base and the latest version has also helped to continue the success in 2019. Its attractive themes and enhanced user experience make Magento ecommerce development very popular among the users. The feather in the cap is that the software offers rich features and unbeatable flexibility to easily manage the web content, maintain catalogues, layout of the ecommerce store and also add functionalities as per needs.
Here in this piece of writing let's see what we can expect from Magento development this year:
Magento Will See Increased Usage of AI and Chatbots:
AI is bringing in a big change in the lives of many people and it is making things easier for everyone with its exceptional features. Magento ecommerce development is highly influenced by it and the ways in which the latest technology is contributing to the overall growth of the online stores, we will see more changes in Magento websites. It is expected that AI will bring in a great revolution in the entire development environment and the core aim of this technology is to have a clear understanding of the customer behavior with the website and also understand their inherent preferences. Chatbots have already started to replace human customer services and this is a rising star of Magento. Though both AI and chatbots are at an early stage, but their demand is rapidly growing.
Personalized Experience will get Importance:
Magento ecommerce websites are currently focusing more on offering their customers with personalized user experience. This can only be done by using the upgraded features of Magento development. Since the e-commerce market is highly competitive, if the e-store does not meet the expectations of the customers, then they are sure to lose the race. Offering personalized experience will help your site to stand out of the competition. So, a Magento store needs to create specific coupons, discounts on the basis of the preferences of the repeat customers.
Page Builder:
No more are the days when developers had to create pages and manage the web content using the CSS and HTML. Now Magento ecommerce can use Page Builder that is an intuitive, drag and drop interface, a set of content types like videos, images, banners and also instant preview capabilities that allow the non- technical users to have complete control over their web page content. You can now easily create new pages, categories, products and also launch content updates without wasting much time seeking for a front end web developer. Page building is completely integrated with the existing Magento functionality and you can easily schedule your content that can go live in the future.
Organic Searches:
Your ecommerce website is the face of your business and companies have to increase their organic searches in order to increase their business sales and revenues. Magento developers can now create smart user navigation and also inculcate many features like breadcrumbs, autocomplete, filtering options that helps to make the search smarter and also the content pages easily accessible. This smart search will be used more in Magento websites and will continue to be a leading trend in 2019. Once the customer visits a website, the smart search feature will help to keep them engaged and also make them stick to the website for a longer period of time.
Usage of Push Notifications:
Ecommerce businesses are trying to make the customer experiences more personalized and tailor made and for that they are using various push notifications that are the best features of web app or mobile. The prime goal for any type of ecommerce store is to retain the existing customers with brand messages and reach out to newer markets. The biggest benefit of using push notifications is that it can lead to huge sales. The push notifications help business owners to keep their customers well informed about anything that is exciting about their business so that they can revisit the website again and again. Magento websites and mobile applications are now rapidly using push notifications and the trend will gain popularity with time.
Better Connectivity with Marketplaces Like eBay, Amazon:
Magento is also expanding its marketplace connectivity to brands that are popular like eBay and Amazon.  It has also created modules and extension to make it easy to get connected with the markets and make it easy for the store owners to sell their products. It is expected that Magento will add integration with other marketplace channels like Walmart and eBay this year.
Prince is digital marketing professional blogger, love to write about application (Web & Mobile App) development technology. Our company help global clients for Magento Development, Ecommerce Development, Mobile app development & support, Blockchain Development Services, hosting and digital marketing.