Pinterest is like the oft-ignored and under-appreciated cousin of the mainstream holy trinity of social networks—Facebook, Instagram, and Twitter. Businesses choose to disregard Pinterest when forming their marketing campaigns, instead choosing to focus the entirety of their efforts on Facebook, Instagram, and Twitter. The reason behind snubbing the picture-based social media? It's supposed limited demographic and relatively small user base.
And before we go any further though, let's make one thing clear– none of the above-mentioned reasons hold any weight.
If your business isn't incorporating Pinterest in its marketing campaigns, you're missing out on a significant market and opportunity to tap into increased engagement and traffic. Be smart and advance your advertising efforts into this platform if you'd like your business to have higher gains and revenue. And who wouldn't want that?
What Are Pinterest Ads, And How Do They Work?
So what exactly are Pinterest ads, and how does the whole advertising thing work on the platform? Pinterest is an image-based social network, where instead of the typical text-based posts, you have image-based content. Pinterest also supports video pins, this is a new feature they have added, and it shows an enormous success. You can upload the video files of the following types, mp4, .mov or .m4v. The length allowed is 4 seconds to 15 minutes. These images and video-based posts are called Pins, and Pins having the same theme/niche are generally categorized into Boards.
Pinterest ads are, therefore, just paid pins. These paid pins appear just as an ordinary pin, leading to high rates of user engagement. These ads show up in searches for relevant pins or in users' home feed.
Now let's get into the entire process of setting up Pinterest ads. You select the Pin that you want to promote, specify the audience you want to target with your Pin, and then finally set a budget for your ads. This will make your pins visible to additional users on the platform.

You can also go for the advanced ads manager, where you can create ads based on your objectives. Your goals can be building brand awareness, getting more traffic or app installs, and for boosting transactions of your products via conversion based ad campaigns.
After setting up the goals for your campaign, you need to select the audience based on categories, interests, demographics, age, or their previous engagement. You can also add search keywords for your ads.
Following this is the budget section, where you need to add your budget for the campaign.
At the heart of the whole pricing system on this platform is an auction system that allows you to set an amount for the action you want for your ad. Like any other auction system works, this one is based on specifying the highest amount you're willing to pay in return for a greater reach. You do this, of course, by placing a bid.
Taking Ads One Step Further—Buyable Pins
Pinterest has introduced a new type of pins category, that of the buyable pins. Similar to Instagram's Shopping Tags, these pins, often called Shop the Look, take users to your page, thereby allowing them to purchase your products directly from your Pin. By giving users the option of instantly being able to make purchases without even leaving the app, this feature has been a hit among users. Buyable pins, and the seamless buyer experience they help facilitate, has helped brands secure increased sales conversions.
Why Advertise On Pinterest?
There are two straightforward reasons why you need to include Pinterest in your marketing game. These are:
Growing User Base:
Today, trends are changing. While previously, text dominant content reigned when it came to advertisement and promotion, nowadays, there's been a major shift from text to image and video-based social media platforms. As such, Pinterest's user base is growing at an exponential rate (a whopping 320 million monthly active users as of March 2020!). Pinterest is clearly here to stay, and its influence is only going to grow.
The demographics of this user base are such that women currently constitute the biggest majority (81%), with men expected to quickly catch up as well.
Sales Conversions and Return On Investment:
Pinterest shows significant promise as one of the most fruitful social media platforms in terms of sales conversions and returns on investment. Did you know that 98 percent of Pinterest users say they've tried new things that they discovered on Pinterest, as opposed to only 71 percent on other social media platforms? This, combined with the fact that Pinterest promises a high return on investment, clearly highlights the importance of marketing on such a platform.
Case Study: Birch Lane
To drive home our point about Pinterest being a powerhouse of social media, let's take a look at the example of a furniture brand, Birch Lane. All the data in this case study has been extracted from the Biggest marketing spy tool –BigSpy. With BigSpy, advertisers can have a more in-depth insight into their competitor's strategies via the available data. The tool offers a lot of filters to narrow down the search results and find only the competitors that matter.
One of the most significant advantages of BigSpy is that it offers the analysis of six different advertising channels within the single dashboard. These advertising channels include Facebook, Instagram, Admob, Pinterest, Twitter, and Yahoo. Users can select any platform from the AdSpy tab in the menu. They can then search for their desired query; this will assist them in finding their exact competitors. By clicking on any of the ads in results, users can get detailed insights into them, or they can add them to their tracked list. The "My Tracked" section saves all the ads that are added in the tracked list, which helps in keeping an eye on the performance of the competitor's ads.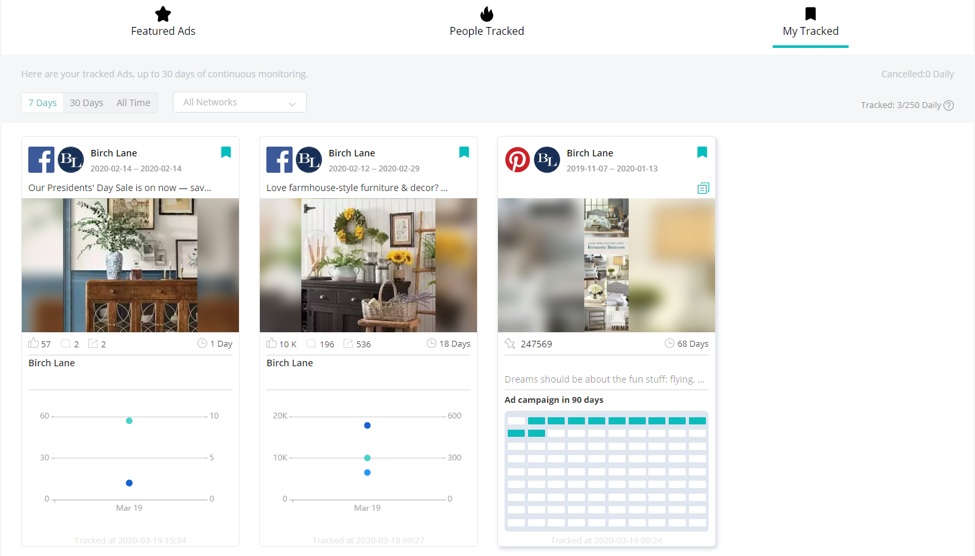 For this case study, we have used two social media platforms—Facebook and Pinterest. Let's compare the response that Birch Lane received on the two respective platforms.
Facebook:
The level of engagement and overall response that Birch Lane's posts received on Facebook was way less than hoped, with the most popular post there garnering just a mere 10,000 likes and less than 550 measly shares. Moreover, people hardly engaged in the posts with comments and feedback. Thus, by analyzing this data and the level of engagement, we can say that Facebook didn't bring some good return on investment (ROI) for them.
As in the above screenshot from BigSpy, we can see that the total number of likes is almost 10k in a period of 18 days. That makes an average of 556 likes in a day. Now let's compare it with their Pinterest ad.
Pinterest:
The same brand, when posted content and pictures on Pinterest, received an entirely different level of response. Using intelligently collected data from BigSpy, it was found that the paid ads or pins on Pinterest received a great deal of attention. One ad was able to gather almost 250,000 pins, with another ad scoring approximately 230,000 pins. Compare these numbers with the likes and shares received on Facebook, and the results are apparent.
From the above screenshot, we can see that the brand got an engagement of 247,569 in 68 days. This makes an average of 3641 engagements daily.
The screenshots above clearly show a massive difference in the average engagements. The essential purpose of this case study was not to show which advertising channel is best and which is worst. No doubt, Facebook is also one of the very best platforms for marketing any business or even for building a brand from scratch. It has nearly 2.5 Billion monthly active users. However, the purpose of this article is to show our audience that they should not ignore any advertising channel for no reason. Trying different channels helps not only to get more reach, but it also differentiates the things which work for a business from the ones that don't work.
An important reason in understanding why Birch Lane's ads did so well on Pinterest as opposed to on Facebook, apart from the factors mentioned above, lies in the aesthetic factor of their content. Their posts are very visually appealing and integrate the element of minimalism to them. Since Pinterest is the primary platform for all things aesthetic and visual, it only makes sense that Birch Lane's posts would do well there.
Which Ad-Creative Works Best With Pinterest?
While it's true that Pinterest is indeed all about the visuals, it doesn't mean that this should drive away brands whose posts mainly revolve around data and text-based content. Sure, images and videos are important aspects of this network, since eye-catching visuals are the key to tempt users into clicking on a blog post or a transactional landing page. However, one can't underestimate the power of a catchy title and a clear description. Both of these things help not only in engaging the users but also in the search engine optimization.
And brands that sell services or products which aren't that much visually attractive can use this platform to their advantage too. They can build a profile that focuses on telling a story with the use of infographics or images that feature any of the business' stakeholders—this could be employees, customers, etc. The goal is to convey important information in an easy to digest manner and to strike a chord with the users through the people-centric visuals.
It's recommended that if you're using text-based images and videos, you should use minimum text on the image to convey the message and to persuade the users in clicking the Pin. Be creative in your design and copy-writing. Experts agree on the fact that a good ad-copy helps in selling and getting more engagement.
Pinterest stats that prove its importance
If all the pieces of evidence mentioned above weren't enough to convince you of Pinterest's significance as a marketing platform, here are some statistics that will prove helpful in driving the point home. (Source: https://blog.hootsuite.com/pinterest-statistics-for-business/ )

Pinterest's active user base grew 26% to 335 million last year.
Some 43% of Internet users in the U.S. have a Pinterest account.
High-income households are twice as likely to use Pinterest as low-income households.
There are more than 2 billion searches on Pinterest every month.
Related Pins account for 40% of engagement on Pinterest.
Shopping is a top priority for 48% of Pinterest users.
Advertisers can reach more than 169 million people on Pinterest.
Revenue from shopping ads grew 100% last year.
Final Words
Current is the era of the information revolution. Tools like BigSpy are present in the market that can help you in the analysis of the best channels for your digital branding and marketing. You can quickly assess which type of ad-creative and ad-copy will work for you based on the data from your competitors -Thanks to BigSpy for this.
We highly recommend that you should not underestimate the value of any advertising channel. Go for what worked for your competitors and also learn from what didn't work for them. Thus, you can avoid the things which didn't work for them and creatively use their success story in devising your strategy.
Coming back to Pinterest, even today, the number of brands using Pinterest to advertise isn't as high as compared to the number of advertisers on Instagram, Facebook, or Twitter. But as businesses are beginning to realize the marketing power of Pinterest, the number of active advertisers is rising. This obviously translates to more competition for all the brands and businesses on the network.
That's precisely why you need to jump on the bandwagon and shift your marketing focus to Pinterest as well before it's too late, and you get left behind.
Are you convinced now? After all that irrefutable proof, we sure hope so!
If you have any queries or want to share your feedback about this piece of content, please don't hesitate to leave a comment.