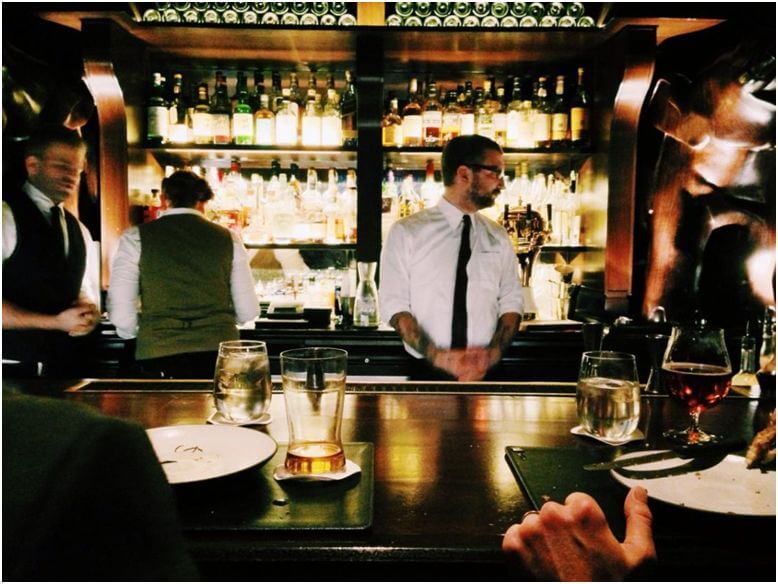 (https://pxhere.com/en/photo/12762)
Just like every business, your restaurant needs to make profits too. However, creating and maintaining a lucrative eatery takes work. SEO makes it easy to make your mark in the digital world, what with potential customers looking for your offerings online.
When implemented correctly, SEO initiatives can boost your chances of being discovered by your clients when they search for the best restaurant in their vicinity. SEO also serves as a highly effective way of promoting your brand and its offering to local customers.
While doing SEO for local restaurants takes effort, bear in mind that the hard work does pay off. Also, search engines are constantly changing their algorithms, which affect website ranking factors. Apart from having a mobile-optimized website which loads at lightning speed (three seconds or less), you can take other SEO measures to help your restaurant gain more customers, and hence, improve its profitability.
Read on to make the most of local SEO for promoting your restaurant business.
1. Create a Google My Business Page
In order to set up a Google My Business (GMB) page, you need to create a dedicated page for your restaurant and claim your business.
The image below shows the GMB page for Nobu London. This is what you want your restaurant's GMB listing to look like.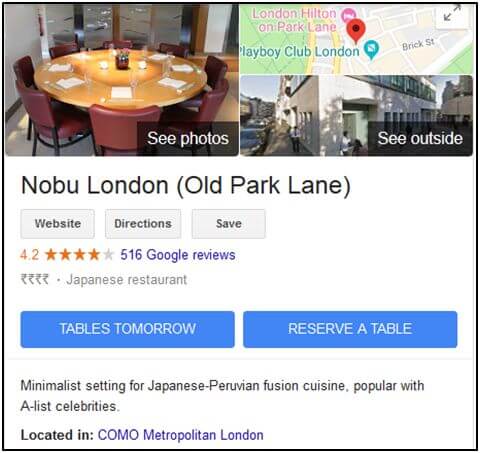 It is necessary to meet Google's quality guidelines if you want to verify your location and present your restaurant's details accurately.
Start by choosing the right business category to describe your restaurant. Bear in mind that every choice you make from hereon will impact every Google search. For example, if the term "café" suits your business better than "Mediterranean restaurant," pick the former.
Make sure to complete your business listing to draw search engines as well as customers to your restaurant. Offer as much accurate information about your eatery as possible. This means going beyond the basics such as your address and contact details. Mention other details such as timings, happy hours, images, menu, and the type of payment you accept.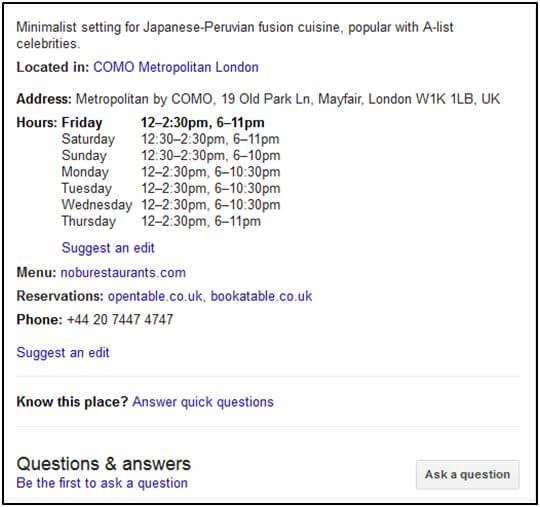 It is important that you present your restaurant professionally and offer valuable information to convince customers to pick you over your competitors. Add real pictures and videos from your restaurant to add authenticity and interest to the search results. Do include Alt Text in all your images to describe your photographs. Use relevant keywords in your Alt Text in order to improve your website's SEO.

2. Use Online Reviews to Your Advantage
Reviews are crucial for restaurants. The higher the number of positive reviews your business has, the better ranking it will achieve on Google. This, in turn, will translate into more customers and enhanced click-through rate.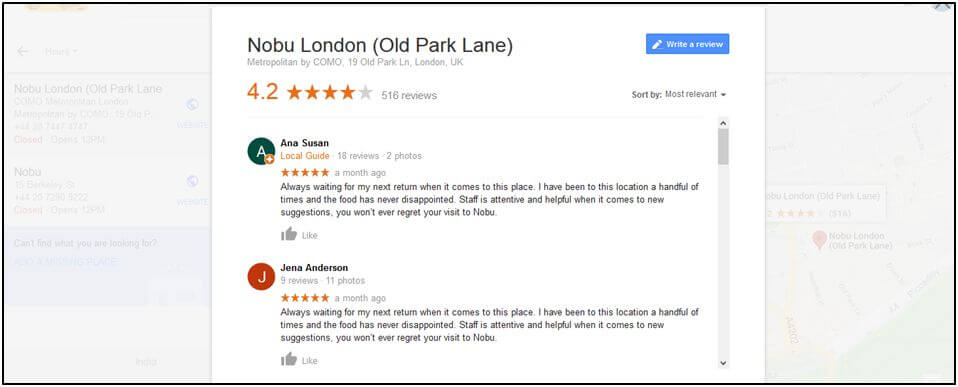 Most of the time, customers (impressed and disgruntled) leave their reviews on your GMB page without being asked. But sometimes, you may have to request them for reviews. Here's how to go about it.
Request regular and happy customers to leave their review on your GMB page by giving them specific instructions on how they can do so.
Ask them to access Google Maps from their smart device and search your restaurant by name and finally, write their review.
Put your customer database to good use. Send them emails and request them to make time to review your restaurant. Provide them with the necessary links and detailed instructions to make the process easy.
Ask your social media followers to review your business by sending them the link to your review page through a direct message.
Respond to all your reviews politely, even the negative ones. Think of them as inputs for improvisation. Remember, having a few negative reviews makes your establishment seem more authentic and trustworthy to readers.
3. Harness the Power of Great Content
One of the best ways to connect with your audience and establish your leadership and expertise is through content marketing. Restaurants can leverage their website and social media accounts for boosting their content marketing effort. An optimized website with a blog can work wonders.
Businesses that blog receive 97% more links to their website. Further, 57% of marketers say they've gained customers specifically through blogging. Also, businesses that blog receive a whopping 434% more indexed pages.
You can post about food, recipes, ingredients, and such on your blog. Doing so strategically can bring your business immense visibility and traffic.
Make your post headings as gripping and engaging as possible. Several headline generator tools out there can help you with this. Experiment and find one that works for you.
Search for and identify keywords that are relevant to your industry and business, and use them as topics for your posts. Insert these keywords in your titles and litter them naturally throughout the post content.
Find a writing style that allows you to engage with your audience while being true to your brand. The goal is to make the content helpful and comprehensible.
95.9% of bloggers promote their blog posts via social media. There's a good reason for this. Share your posts on your social media accounts to improve your chances of getting backlinks from credible sources and for higher traffic.
Support your content with links from credible third-party websites. Doing so will lend authority and integrity to your blog.
62.96% of people consider blogs that have multiple authors to be more credible. Invite known chefs and food bloggers to create content for your blog. This way your content will have more variety and your website will benefit from the guest author's audience base.
4. Perform Keyword Research for On-Page SEO
Doing keyword research involves identifying the potential keywords your customers are using to find your services. You can use various permutations and combinations for this. Examples include "restaurant near me," "restaurant in <city>," "best restaurant in <city>," and "<dish name> in <city>."
Keyword research comes in handy for on-page SEO, which is instrumental in getting you on the first page of Google search results. When doing on-page SEO, keep the following in mind:
Include title tags, which include the main keyword, the restaurant's location, and its name.
Use popular keyword phrases in your title tags, H1, headlines, and markup.
Use meta descriptions for each page without stuffing it with keywords. Also, stick to the prescribed character limit, i.e. between 50 and 300.
Customize URLs for all web pages and include keyword phrases in them.
Use long-tail and semantic content on your home page.
Make sure the important pages of your website aren't obstructed by robot.txt.
Mention the local address in a rich snippet. Insert Google Map and rich snippet in the footer of the home page.
5. List Your Eatery Online
Listing your restaurant on industry-specific online local directories can help expand your restaurant's reach among potential customers. Well-known restaurant directory listings such as Yelp, Zomato, Bing Places, Urban Spoon, and Go Dine will boost your local SEO. Do make it a point to enter your restaurant's Name, Address, and Phone Number (NAP) accurately and consistently across business directories and other platforms where you have listed your eatery.
Conclusion
We live in times when running a restaurant successfully takes more than just serving scrumptious food. Most people are willing to try different eateries, and search online to discover new places. This is why employing your restaurant's local SEO strategy is crucial. Maintain your business listing and keep your website optimized to always get the best results. Most importantly, remember that it takes time to see the desired results. It, therefore, makes sense to implement your SEO efforts as early as possible for the long-term success of your restaurant.
I'm Vivek, Local SEO Marketing Consultant at E2M, one of the fastest growing digital marketing agencies in India. We specializes in content strategy, creation, promotion, and SEO for domestic and overseas clients. I look after local search optimization and link-building strategies. In my free time, I love to stay updated with the latest photography lessons and enjoy photographing on my cam.