Convenience is the first and primary thing that users seek when it comes to any technology. In fact, it is the principal question that you need to ask while developing any technology. However, when it comes to payment apps, another concern you might need to think of is – security. Yes, for everybody, safety is the primary concern. Earlier, people made digital payments using payment gateways through credit/debit cards or via internet banking. Later, the introduction of PayPal has elevated the online payment experience. Recently, Mobile Wallets,  some technocrats also refer to it as Digital Wallets are in high demand that has forced many retail outlets to embrace mobile wallet payments.
Let's explore what a mobile wallet is, how does it work and if it is safe and convenient to use!
Mobile Wallet: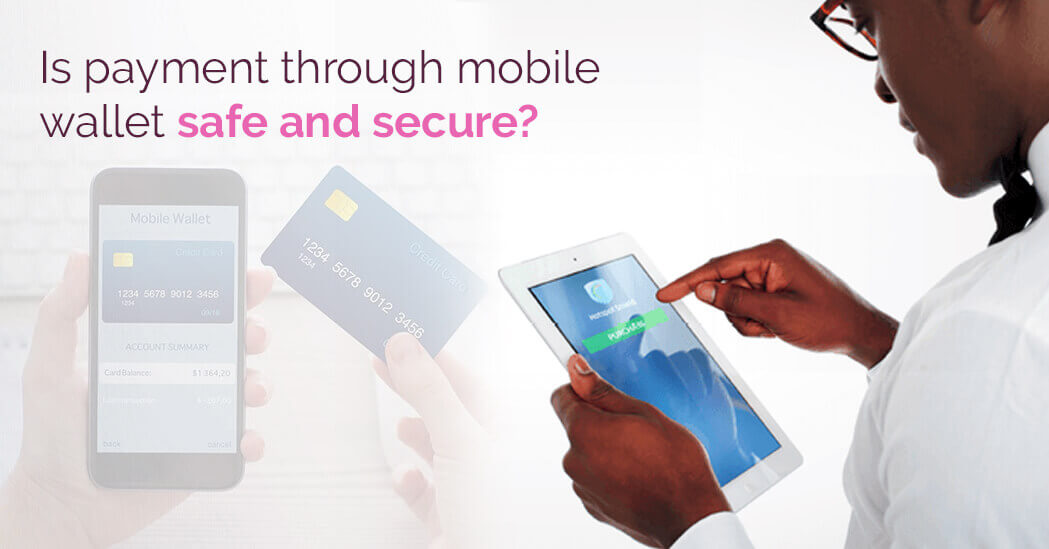 A mobile wallet is similar to your regular wallet or in a broader term, a bank account where you can deposit money. The only difference is that it is a virtual version. You might ponder, why would you need a mobile wallet if it is similar to a bank account. Well, to your surprise apart from being a time saver, a secured mobile wallet allows its users complete traceability of all their transactions that can be view anytime and anywhere without having to go through the tiresome process of login into your bank account of requesting a bank statement by a physical visit at the branch.  In addition to that, all your financial details can be stored there, and you don't have to enter your card number and pin each time you do a transaction.
However, though digital wallets are quite popular and convenient to use, people who actually use this facility are low in numbers. Technology certainly brings comfort, but sometimes, also invites threats. You must have surely read reports of cyber frauds and data breaches. The vulnerability of cybersecurity is still a concern, and hence many hesitate to embrace digital wallets.
Apple has recently launched its digital wallet app, and industry experts firmly believe that it will build trust amongst users to adapt to it, due to Apple's brand reputation and superior yet seamless process. In case, if you are an Android user, don't lose heart as you have various mobile wallet apps available such as the Google Wallet, MasterCard PayPass, and many more.
How Does Mobile Wallets Work?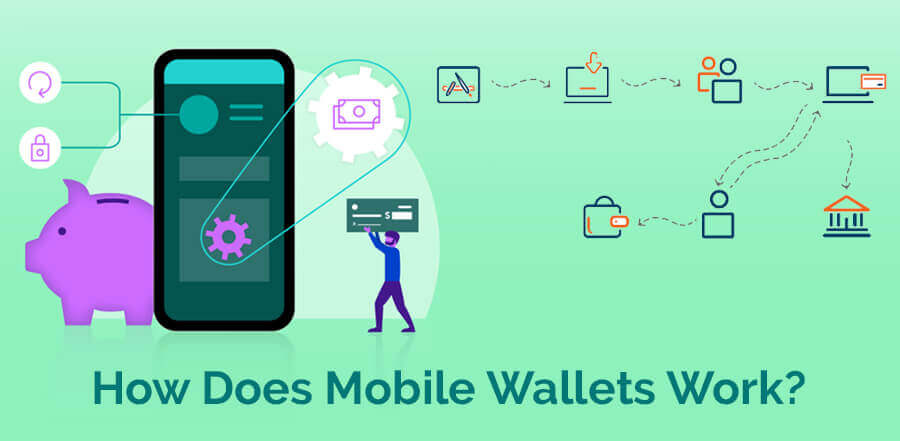 It's quite fascinating to know how a mobile wallets function. A mobile wallet is nothing but a mobile app that stores all the financial data such as debit/credit card information, gift card information, billing details such as electricity, gas and phone bills along with other vital information.
Whenever you want to make a payment, all you need to do is to open the app, choose the card you want to make the transaction through and hover your phone or tablet over a compatible card reader. And, Viola! The transaction is done already.  It is way quicker, comfortable and convenient payment option rather than using cash or cards. You can install this mobile wallet app on your smartphone and tablet, both.
When you choose a card for a payment in the wallet app,  ensure it has some deal to get reward points or cash back. By doing so, you might earn some extra money while purchasing.
Some of the big names in the world of mobile wallets are Google Pay, Apple Pay, Samsung Pay, Visa Checkout, Venmo, Square Cash,  and others. Even some private brands such as Starbucks are coming up with mobile wallets to encash the opportunity.
How Secure Are They?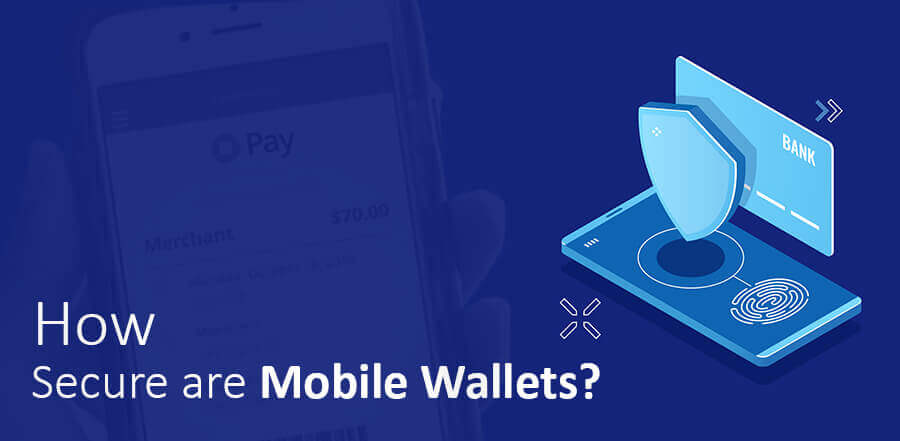 According to experts, mobile wallets are far superior and secured than physical payment options such as ATMs or payment at a store. There are many security measures taken by the experts to ensure the safety and security of the data. Let's discuss some of these measures in detail:
Encryption technology:
First of all, let's understand encryption technology. In case if you are not aware, whenever you use your smartphone or computer, you are using encryption technology at some levels. It is used to keep the customer data safe by converting simple text into Ciphertext (random characters grouped with the text) that can be read by a unique key. It is a far more secure than swiping the credit card at any retail store. Most of the companies use 128-bit data encryption technology that is most effective.
Encryption technology is one of the most secure techniques to prevent any data security breaches. Though it has a backdoor, it is quite an impossible task to break the encryption without a proper key.
Password Protected
Your smartphone might have various apps with detailed information about your precious accounts. You might have stored data for your bank accounts, medical information, home automation, life or car insurance details and much other pivotal information in your smartphones. Hence, it becomes imperative for you to protect your smartphone with different password combinations such as fingertip access, alphanumeric passwords or with a new technology called face recognition method.
Similarly,  even your mobile wallet app can be protected with an additional password. It will save the wallet from data breaches of any third-party interests.
Acts as a Proxy
An interesting thing about mobile wallets is that when a transaction is made, it hides a user's personal banking information and does not produce any metadata that can be accessed by any third-party. It functions as a proxy and eliminates any chances of frauds and thefts.
How To Protect Yourself?
Now that we are aware of the safety for paying bills through mobile wallets. Here is a list of additional precautions that might further guard you against any fraud while using mobile wallets.
Go through the privacy statement of the app:
You might not be aware, that the app can further use the information provided by you elsewhere. This information is available in the privacy statement of the app that you might have accepted without a glance. Hence it is advisable to go through it carefully and make sure to be aware of how your information would be used by the app further.
Know about the app before downloading:
Before you download a peer to peer mobile wallet app, make sure you read about all the features and reviews by users. It will reveal a lot about the app that will help you decide whether the app is genuine, safe and apt for your use. Also, check the transaction limits, money sending options, and other features before downloading the app.
Change your password regularly:
It is recommended to change your device password regularly. In addition to that, ensure that you don't keep the same password for different accounts such as emails, Facebook, Twitter, and any other social media networks. Regularly update your passwords for mobile wallets, net banking, and other payment-related apps and accounts.
Make sure to follow the guidelines mentioned above and enjoy quick, safe and easy transactions through your mobile wallet.
Here Are Few  More Perks of Using Mobile Wallet
Gift cards:
With mobile wallets, you can save your gift cards virtually and use them whenever you want. As per the survey by Capital One Wallet, 51.6% of users admitted that at times they have missed to use their gift cards before they expire. With mobile wallets, the possibility of you forgetting about the gift card might be close to none.  You can claim each gift card when you shop, and it is convenient and money-saving.
Event tickets and Boarding Passes:
Nowadays, most of the airlines have their personal apps that can be connected with a mobile wallet app. Hence, you can now save your tickets and passes virtually in the mobile wallet. Similarly for events; Ticketmaster, Fandango, and Eventbrite have their own apps that can be connected with mobile wallet apps.
Loyalty Programs and Coupons:
Loyalty programs are the rewards and offer that are facilitated by the companies to improve your experience. Even mobile wallet companies such as Starbucks and Walgreens have come up with such loyalty programs and coupons for consumers.
Instant notifications:
One of the best features of not just the mobile wallet app, but also of all the other apps, is the immediate notification of any activity related to the app. Any activity that is done through the app, you will get an instant notification on your smartphone or email. Whenever a transaction is done from your account, you are notified about it instantly. It might help you to prevent any frauds.
Conclusion:                                                                                           
A mobile wallet is one of the best payment options in the era of digitalization and is gaining momentum across the globe. It is a secure way to transfer funds to your friends and family or book a ticket or order food. There are speculations about the safety and possible risks associated with mobile wallet use, but it is far more superior, quick and a safe payment option than the other traditional cash or card payment methods.
An enthusiastic Operations Manager at TopDevelopers.co, coordinating and managing the technical and functional areas. She is an adventure lover, passionate traveller, an admirer of nature, who believes that a cup of coffee is the prime source to feel rejuvenated. Researching and writing about technology keeps her boosted and enhances her professional journeying.