The times have undoubtedly changed. Mobile applications were once identified with just huge enterprises and businesses. But that element of the story is no longer relevant. Today, most smaller enterprises embrace the benefits of mobile apps to serve their clients better and achieve a higher ROI. They connect with the custom mobile application development company for the best help.
The corporate world is no longer about handing out brochures, printing adverts, hanging billboards, and having your technical staff answer every client query. The world is going mobile, and you should follow suit. Let me guess what's going through your thoughts: 'I don't need mobile apps to sell my items to my devoted clients.' I can always keep them, mobile app or no mobile app.' This may be the case right now, but things will change dramatically shortly, and you must be prepared.
Did you know?
According to Build fire, mobile applications account for 69 percent of digital media time in the United States.
According to Manifest, 49 percent of users open a mobile app at least ten times every day.
According to Oberlo, 45.4 percent of the global population owns a smartphone.
The statistics presented above provide a strong indication of the importance of mobile apps for every corporate operation.
Mobile app development is no longer regarded as a means of staying ahead of the competition. With their broad use, apps have become a tool for staying competitive and avoiding falling behind. If you are a business owner or entrepreneur, you must not overlook the importance of mobile apps in the growth and development of your company.
Mobile apps for business, in my opinion, are the driving force behind prosperity and success! Do you disagree? Consider the following benefits and ways that a mobile app might assist your organization. Without ado, let's go ahead!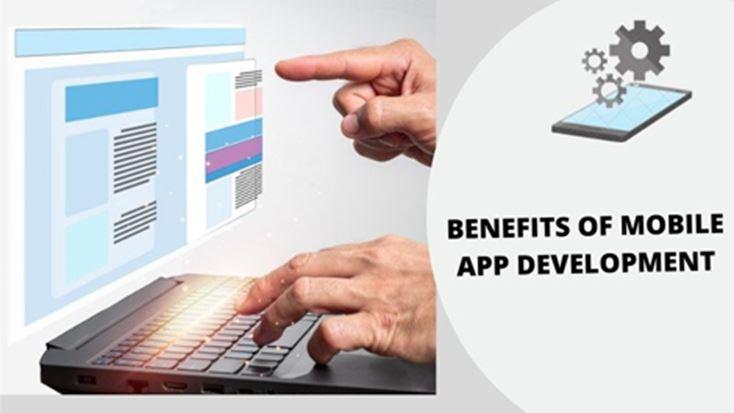 Top Benefits of Mobile App Development That Businesses Can't Overlook
Increase Your Customer's Value
Business is all about how you interact with your clients while looking for products or services. You and your workers may have attended hundreds of meetings to determine how to boost consumer participation.
You must boost engagement for better sales promotion, but you must also deliver a particular value to your clients that can be found only with you and nowhere else.
So, how does a mobile application fit into this picture? Look at this: Starbucks (an American coffee house company) uses its mobile app to give exclusive rewards to users who have downloaded it. This, in turn, encourages their customers to purchase coffee from them. In addition, they allow customers to pay directly from the app, which speeds up the entire process and results in a better customer experience. A program like this, integrated with your mobile application, will help digitize the whole process.
Increased Brand Strength
There was a time when refrigerator magnets, calendars, posters, and billboards were used extensively in advertising. Every company's logo would have appeared on such souvenirs to promote their products or services. Smartphone apps have now replaced these mementos!
One of the most notable benefits of mobile business applications is that they increase customer knowledge and recognition of your brand, allowing for better communication. This consistent connection with your target market plants the seeds of trust and belief between you and your customers.
Mobile apps are designed to reinforce and educate customers about your brand. The more he believes in you, the more he will listen to you and your sales presentations before committing to your business.
Improved Customer Connection
A happy sales associate in his office, a customer across the table, and both talk about the many aid and services that the company offers to its customers! This was precisely the scene a few years ago. However, customer service has evolved into a game-changing digital experience beyond face-to-face communication.
This was unavoidable, with the entire globe in people's pockets. Because of their adaptability and resilience, mobile applications have elevated customer service to a whole new level.
Assume a person learns about your organization in the night and has some questions. Would you want an app (which replies at any time) or a human (who responds only during regular business hours) to respond to that person at that hour?
Mobile applications for businesses provide an interface targeted at providing clients with a smooth experience of researching and making decisions about the company's products and services. Mobile applications, viewed as a fundamental technique for improving customer service by most marketers, ensure that your company is always with your consumer.
Profit Enhancements
I'm sure we all enjoy Pizza. Domino's Pizza, a leading American pizza restaurant chain, witnessed a 28 percent increase in e-commerce in its half-year pre-tax revenues after developing an app for ordering delivery or in-store pickups of its pizzas.
So, do you believe the number of pizza-lovers like you and me will have increased in 6 months? No! It was a straightforward approach to introduce a mobile app and make things easier for their clients so they wouldn't choose any other possibilities. On any given day, clients would instead use their app than call their store or any different store.
According to one study, 35.4 percent of Black Friday sales were completed using mobile devices last year. And the fact that it is a more than 16 percent growth from only a few years ago is astounding.
Leverage AR with Mobile Apps
Along with AR and VR integration, mobile app development has transformed the way businesses interact with their customers. Large billion-dollar corporations such as Ikea, Dulux Paints, Gucci, and SMEs such as Lenskart, Makaan, and many more have relied on AR-based mobile apps to boost income.
Clients have a thorough understanding of the items and services they are investing in, thanks to mobile apps. According to Threekit, AR-based app organizations increased conversion rates by 40%.
Maintains your Competitiveness
According to the data in the infographic above, more than half of business organizations already have mobile apps. According to the market study, 80 percent of small and medium-sized businesses have mobile apps.
Sacrificing on mobile apps results in a catastrophic setback for the company, with a significant loss of influential clientele. Hire app developers to create a user-friendly mobile app for your company.
Aids in Market Research
Conducting in-depth market analysis and research to determine consumer preferences is essential for every organization. Thanks to mobile apps, the research team gets rapid and easy access to customer data.
The team can examine the quality of products and services, areas for improvement, and so on using the app's reviews section.
You must be wondering how you may create an app now that you've understood the top benefits of app creation! Connecting with an Android app development firm or an iOS app development company is a critical first step.
Allows for Client Feedback
Consumer feedback is an essential element of every business. Identifying the consumer's wants is critical in creating an engaging relationship with clients.
Mobile apps provide an accessible venue for clients to provide feedback on the company's products and services. It may surprise you, but according to app development statistics, 77 percent of consumers consider firms that invest in permitting and collecting consumer input as more suited. Overall, mobile apps make quick and effective feedback management possible.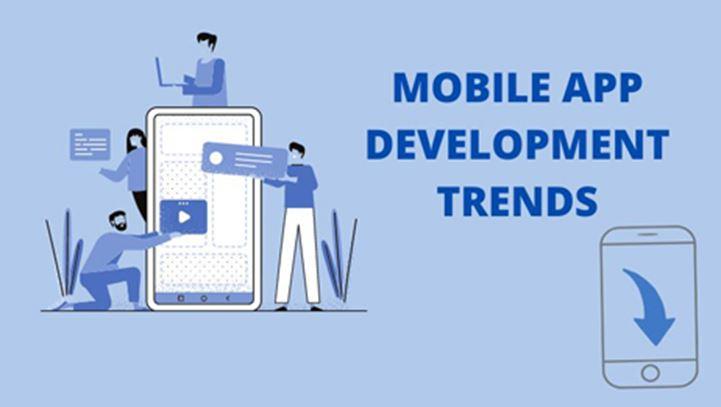 Trends Boosting Mobile App Development Importance For Businesses
The mobile app market is expanding at a rate faster than a beanstalk. The industry is massive and expanding daily, with no end in sight. The mobile developer population has grown as expected, and the number of mobile apps on the market has reached new heights. The reason behind this is the number of trends dominating and evolving every. Let's get an insight into mobile app development trends:
Rise of 5G
5G technology has been around for quite some time. However, it has become a buzzword this year. Technology companies have begun to integrate 5G fully, and we see 5G-enabled gadgets on the market. By next year, it is estimated that 660 million smartphones will have 5G connectivity, accounting for around 47.5 percent of all handsets. 5G will alter the way we create and utilize apps. Speed and efficiency will be significantly improved.
Video streaming apps will benefit significantly from more excellent quality, lower latency, and faster speed.
Overall, 5G technology will improve apps' speed, smoothness, and efficiency. It will also create opportunities for innovation. Your unique ideas for your app will no longer be just that. You can make them a reality with 5G. We are excited to see what the technology brings to the table.
Foldable Device Apps
Although foldable devices account for only a tiny portion of the entire smartphone market, this will alter in the coming years. Statista predicts that 50 million units will be shipped in 2022. So, while you plan your mobile app development strategy, consider foldable devices. Make sure your apps work well on foldable smartphones, which will be a problematic mobile app development trend in 2022. Unfolding the smartphone to create a more comprehensive screen can benefit users in the following ways. A larger screen provides more room for a more vivid and immersive experience. As a result, building apps with the screen in mind will be one of the best for businesses to enhance their user experiences.
AR & VR video streaming
It demonstrated that we could employ VR to provide people with an immersive experience. Today, there are numerous scenarios in which brands leverage AR and VR to improve customer experience. Ikea uses augmented reality to allow people to see how furniture will look in their home before purchasing it. Even Apple, Google, and Meta are making advances in AR and VR. Google Maps now includes a feature called "Live View," which allows users to see the direction in real-time on real-world photos. AR and VR will impact the mobile app development market in ways we can't even envision this year.
Integration of Wearable Apps
Wearable technology is already governing the planet. According to Statista, the number of connected wearable devices reached 453 million in 2017 and is expected to reach 929 million by 2022. Many significant developments occurred in the wearable device market this year. Apple has released the WatchOS 8 upgrade. It introduced additional capabilities, new watch faces, expanded wallet access, and a redesigned UI for Apple Watch users. Google has also introduced a unified wearables platform that combines its wear operating system with Samsung's Tizen software platform, reducing app startup times by 30%. In other words, app developers and businesses should prepare programs that deliver an exceptional digital experience to customers on Smartwatches and wearables to obtain a unique advantage over those who do not.
Mobile Commerce
The eCommerce sector generates $3.56 trillion in sales, with mobile accounting for 72.9 percent of these transactions. As a result, mobile commerce is a growing app development trend.
Following the COVID pandemic, we noticed a massive shift in lifestyle. From huge shops to small enterprises and individual consumers, everyone has begun to rely on smartphone apps.
It disadvantages Ecommerce enterprises that do not adapt. They are losing a lot of clients and passing up opportunities to convert others. As a result, firms must respond to this trend by developing an eCommerce business app. It is the only way they will withstand the fierce competition. However, mobile commerce is a buzzword and should not be the sole reason you have a business app.
Final Verdict!
It is needless to say that the tremendous growth of the mobile app business is not going to halt anytime soon. Despite increased industry competition, developers use new revenue approaches and develop more intriguing and valuable solutions for users. Still, If you don't have a mobile app for a company that promotes and excites your clients about your product or service, you're falling behind the trends of an ever-growing market. Get connected with the best mobile app development company and get a customized mobile app per your business needs.