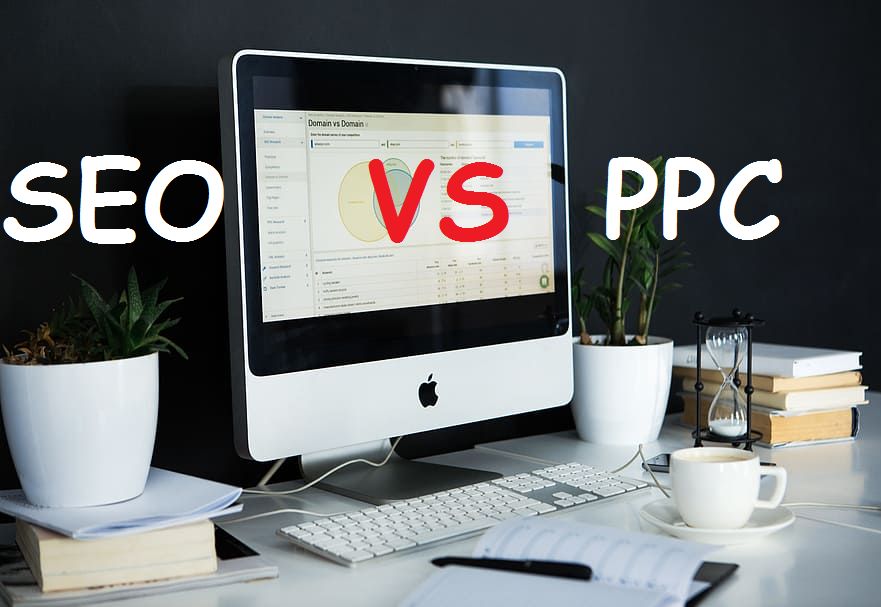 If you own a small business or a digital marketer, you must have seen people talking on "SEO VS PPC". Some digital marketers keep chanting "PPC" and SEO guys keep shouting, "it's all about SEO, baby". Before going into this trendy debate, let's find out what SEO and PPC are all about.
SEO and PPC are part of Search Engine Marketing. SEO (Search Engine Optimization) is a set of practices to increase the reach of a website through a search engine organically.
PPC (Pay Per Click) is an advertising strategy used on the internet in which an advertiser buys a digital space to place ads. You can create and run a Google Adwords campaign to meet your business goals.
Evaluating Factors of SEO & PPC:
We are trying to present the real advantage of both strategies. But keep in mind that you have to decide which one is suitable for your profession because limitations and relaxation become the key factor in making the correct decision.
1. Ranking
Either we are using PPC or SEO, our ultimate goal is to be visible on the top results of the search engine. Both SEO and PPC help to achieve this goal, but there are many factors you should consider before finalizing.
Whenever you search in Google, you see the top three results with the word "Ad". These first three spots are bought by advertisers through PPC. With each click, a marketer will pay to the search engine. If you are buying the advertising space, then you can beat your competitors instantly through the power of money. You can reach these top spots until you are paying for it.
If you want to make your way to these top spots without spending a ton of money, SEO is the way to go. No business can afford to spend money all the time for the top positions. So here, SEO comes into the picture.
Reaching to top positions organically in search engine results is a lengthy and daunting process. But SEO is a quite stable approach in terms of ranking. Like once you reached there, you will stay there for a quite long time.
Being organically on the top of the page increases the credibility of your business and the trust of customers. It also shows that you are an authority and a leading business in your industry. Your competitors have to spend more money on advertisements to outcast you. In a nutshell, PPC is an easy but expensive way to go to the top.
2. Cost
According to marketers, SEO and PPC, both approaches come with a certain price. With SEO, you have to invest your time and efforts consistently, as SEO cannot show its magic overnight. You need to:
Firstly, spend time learning SEO,
Then establishing the SEO strategies,
Now execute them,
At last, wait for the result; might be months or years.
While opting for PPC, you have to spend more in terms of money. You have to pay for your Ads continuously to beat the competition. SEO is a long-term investment, while PPC is short-term. SEO is a continuous process and will expand to technical SEO, on-page SEO, and off-page SEO.
When you have done your most of the job, click and impressions will not cost you a buck. Now, you will enjoy the fruits of your long-term efforts. If you have a reasonable budget, you can increase your audience using combined PPC and SEO strategies.
3. Time
Learning SEO is not only a daunting process, but the execution of the process takes a consistent effort for months. There are specific business demands, and marketers can't wait for months and years to reach the top. They have to meet sales goals quickly, and for that, they need quick strategies.
If you own an online store and sell trendy jewelry, you cannot go for SEO. It will take months, and stylish designs will not be trendy anymore after months. Since you need quick sales to meet your sales goals, you have to buy advertising space on social media platforms and search engines. When it comes to choosing SEO vs. PPC, it is not only the budget that matters the most. The time you have got on your side is equally important as time is money.
4. Content
In the SEO VS PPC battle, content does not lose its position as the king. When you are going for SEO, you will need a lot of content for your blog, emails sent to your readers, landing pages and e-books, etc.
The relevancy and authority of your content are crucial when it comes to SEO. SEO experts always suggest going for a blogging niche that you are expert in. Google does not want to rank irrelevant content. So if you are going to compete in a niche that you are not expert in, then you have to hire specialized content writers. It adds additional costs to your marketing plan.
Again, if you are targeting a relatively broader or a general niche, so you have to create more content than your competitors. But the cost of content will heavily depend on your targeted niche and competitors. You can use multiple tools available for content marketing out there to find keywords and trends.
5. Focused Targeting
With PPC, you can target your potential customers with multiple filters. PPC provides more controls for targeting the right customers at the right time. You can target your ideal customers through commercial keywords based on their locations, devices, languages, time, and interests.
If you are a small business owner, then you may want to target people in your city.  Dominating with local SEO is a quite lengthy and challenging process. You can easily target geographic keywords in an ad campaign.
Do you want to target people with particular email addresses or interests? Are you thinking to retarget visitors to convert them? Do you want to target YouTubes videos of your audience's attention? You can achieve all of these goals with PPC. For focused targeting, PPC is the winner.
6. Experimentation
SEO is an on-going approach, and you have to follow it holistically. In most of the cases, it is a pre-defined set of steps to implement. So, it comes with less room for experimentation. On the other hand, with PPC, you can try different things with an ad campaign. You can continuously make changes to your ads.
If you feel that a particular Adwords campaign is not performing well, then tweak its copy and see what happens. Keep tweaking your campaigns unless they do not generate desired results. It is easy to tweak your ad campaigns and experiment with them, but it comes with a cost. Ad copies are really easy to steal like if your competitor observed that an ad campaign is doing well so he can easily copy headlines, descriptions, or taglines.
7. Brand Awareness
If your marketing goals for your website are branding and traffic lead, SEO is the way to go. As digital marketers consider SEO as the most cost-effective strategy for brand awareness. When you make to the top search results and even a user is not clicking on your website; still, he has absorbed information about you through the eyes.
With SEO, you tell about your products and services in different stages of the customer buying journey. If a user is ignoring your ad and not clicking it still, he has seen your existence without costing you a dime. You can convert such users through retargeting later. If you are looking for quick conversions, you can create an ad campaign within a day and target your potential customers quickly by using commercial keywords.
8. ROI
Either SEO or PPC, both marketing strategies, if initiate correctly, will show profitable results. PPC generates ROI quickly, and this pushes you to keep running ads again and again. On the other hand, SEO takes time and continuous effort. With SEO, your brand awareness increases, and later you translate this into money.
SEO is considered the most cost-effective component of your marketing mix. Generally, it is believed that PPC is more expensive than SEO in the longer term. SEO works 24/7, so you can generate profits at any time of the day. If you are looking for a quick ROI, PPC is the way to go. Sometimes to increase customers for a small business, you have to combine SEO and PPC strategies.
9. Scalability
PPC gives a clear estimate of your required budget and possible lead generation. As soon as you select a daily budget for your Adwords campaign, you have a fair idea of leads and conversions. This is useful for the correct estimation or changes in your marketing budget. With SEO, you cannot predict the accurate budget for marketing.
Most of the time, it takes more time and money to beat your competitors if you are working in a competitive industry. If you are trying to rank keywords for which Amazon and E-bay are already on the top, it is not an easy job. It is going to take more time and money. When it comes to scalability, PPC is a clear winner.
Conclusion
Both strategies have their pros and cons. You can use either SEO or PPC, depending on your business needs and goals. You can also use these strategies in combination with the benefits of both approaches. Many marketing gurus using paid ads in combination with SEO to outcast competitors.
Amanda Jerelyn works as an SEO Specialist at Crowd Writer that provides personal statement service UK. Digital marketing is her passion and she spends her free time reading digital marketing blogs. Amanda is a passionate traveler and loves to explore different parts of the world.