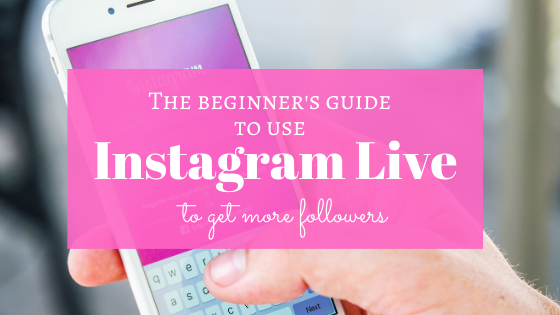 How many of you have seen Instagram influencers going live and streaming live videos to their followers? I am sure hardly any of you answered 'No'. It is a great way to build engagement, engaging users, sharing news, and directly connect with your audience.
About 100 million Instagrammers watch or record live video every day! Now, if that doesn't blow your mind, I don't know what will.
But, going live isn't as easy as it appears. If you want to use the Instagram live feature to get more followers, you need to know a lot about it. Let me give you a quick stroll about it:
How to go live?
Tap on the camera icon
The first step is to click on the camera icon on the top left corner of the screen on your basic Instagram screen. This is the section from where you generally take photos and videos for your Instagram feed.
Swipe Right
Then, you need to swipe right till you get to the Instagram Live screen. Another alternative is to directly click on Go Live option.
Click 'Go Live'
And lastly, all you need to do is click on the Go Live option. Post this, Instagram checks your internet connection and leads you directly to a live screening.
That's it, just 3 steps, and your live video streaming. Sounds easy? Yes, it is, but if you follow our tips and tricks (enlisted below) it will help you take it to the next level.
Stick to your SMART Goals
You cannot just conduct Instagram live sessions because you thought it is cool. A live session without a plan or objective will make you appear lame or senseless. It will piss off your audience and ultimately drive them away.
It's always wise to create SMART goals for all your social media platforms. By Smart I mean, Specific, Measurable, Attainable, Relevant, Timely. Define measurable goals in different aspects like 'I want 50% of viewers than last time', or 'I want 100 more followers after this session'. This will also help ease the process of analysis post the session and help you define better goals for next time.
Create a video map
While going live, there will be quite a few aspects you would like to cover. The Hello, hi, smiles and laughter are all fine unless you do actual talking. You surely can accept questions from your followers, but it shouldn't be just a Q&A session.
Your live video is like a road trip, there will be quite a few steps you need to cover before you reach the final destination.
Create an outline, of your proposed live video including your purpose, introduction, topics to discuss, duration allotted for each topic, and audience interaction.
Say, if you want to give a shout out to a product, brands, or person, mention that. Talk about its features or benefits, especially the USPs. Make sure you are specific and clear. Hurried statements and unclear voice can push away the audience.
There can be days when you want to offer something to your audience, for instance, announce a giveaway on a live session. Then rewrite your plan according to that. This will help you stay on track, and focused. Often people undermine the digital audience on live sessions appearing as a total mess.
Engage your audience
One basic reason any of us go Live is to engage our viewers and audiences.
Instagram Live is one of the best ways, if not the best, to keep your viewers hooked to your Instagram profile. It not only helps you establish a relationship with your audience but the real human faces also build trust. These are crucial elements to emerge as an industry leader if you are an influencer or a brand.
But just hitting the Go live button is not enough. Just answering a few questions is not enough. Listen to what your audience wants, see what your competitors are doing, add a personal touch to your 'live' plan and reveal something unexpected. The surprise element entices the audience and they wait for your next live session. And well, I am sure that's exactly what you want!
Instagram has been revolutionary. But today, with over 1 billion monthly active users, everyone is using it. You need to be on the top of your game, to rise above the clutter. Follow these tips and establish a voice of your own on Instagram live!