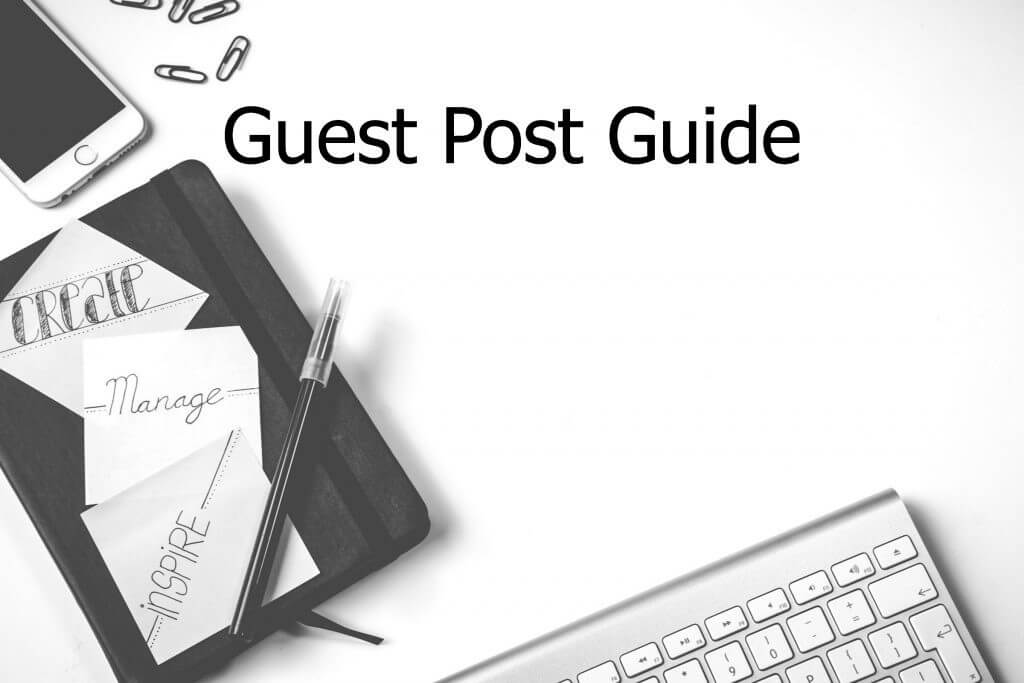 If you have a solid understanding of the benefits and reasons to guest post – your next question might be:
How do I actually find guest post opportunities? 
If you have a website – you have probably received those generic guest post emails before. The ones that are addressed to no one, contain incorrect information, and are totally irrelevant. 
You know – the ones that ultimately end up directly in the trash.
If you don't want your post or pitch to face the perils of the delete button, follow these basic tips to finding the right place to post and sending it to the right person.
Pick Your Site
While there are a selection of broad categories that you can use to help narrow your search for which sites to send your submission, there are a few other factors that you should consider.
Niche or Industry Relevant
First, be sure that you are submitting a guest post to a site that is within your niche, or at the very least, that the post you are sending is industry relevant to the site that you have chosen.  Verify this by reading current posts that are on the site.
High Domain Authority
If possible, submit to a site that has high domain authority. This is a search engine ranking score of the site, which "predicts how well it ranks on search engine results pages."  In a nutshell, it's a critical player in successful SEO.
While this may be challenging when you are first establishing your credibility, over time, having your work published on more authoritative sites will boost your own authority as well as boost the SEO of your own site.  This is also related to making sure the site you choose has good levels of website traffic, as typically higher domain authority indicates higher levels of traffic.
Social Reach
Visit the associated social media handles of the site you are planning on submitting to and check to see their social reach.  In addition to the number of followers, consider how recently or frequently they post on their channel, whether they regularly have others tag them, and whether they are engaging and responding to comments, questions and tags.
Follow or No-Follow Links
Finally, in picking the site, check to see whether the links it offers are follow or no-follow.  While follow is preferred, there are still benefits to having no-follow links, and you shouldn't discount a site as a submission opportunity simply because it is only no-follow link based.
Decide How to Send it
When it comes to sending in your pitch or post, there are a number of ways to get it into the hands of the right person. And while some may be more successful than others, here is what you can try:
1. Guest Posts through Open Submissions
When a site publishes a page that indicates they accept submissions and offers guidance and direction on how to submit and submission guidelines to follow.
2. Guest Posts from Source Requests
When a site requests submissions through a method such as Twitter, Instagram, Facebook or on their own site.
3. Guest Posts Through Cold Outreach
When you reach out to a site or send an email without prior interaction or not in response to a direct request for posts.
4. Guest Posts from Relationship Building
When you have established an online relationship with a brand or company already, through social sharing and engagement, similar niche, backlinking, etc. and you ask to write a guest post for their site.
Find The Right Person To Contact
Finally, and often the hardest part, is finding out who to send your pitch or post to.  
This involves finding both the email and the name of the person you need to address. This is typically only relevant when you are doing cold-outreach email, but it can be a make or break in whether your pitch even gets read at all – only 18% of writers read every pitch, and this is often because it is just another generic copy and paste email that shows no additional care and effort.
To help increase your chances of being read, use the following tips to find the right information:
Look on the contact us page to find the name of the editor or content curator for the site. You may also be able to find the right email in this space.

Look up the names, company, or publication on twitter to look for the email address or do a shout out and ask for it from this platform.

Do a search in Google for the publication editor, contact, email, name etc.

You can always take a guess: if you find the name of who you need to send it to, look on the site to see the typical format of other company emails and try it out.  Worst case, your mail is returned to sender!
Guest posting isn't easy, but time and persistence will pay off and bring you success, so don't give up! 
Chris Mcdonald has been the lead news writer at complete connection. His passion for helping people in all aspects of online marketing flows through in the expert industry coverage he provides. Chris is also an author of tech blog Area19delegate. He likes spending his time with family, studying martial arts and plucking fat bass guitar strings.