Managing the social media performance of a business can be trickier.
From creating and publishing content, staying up to date on the trends to measuring and reporting performance, digital marketers need to be on their toes every day.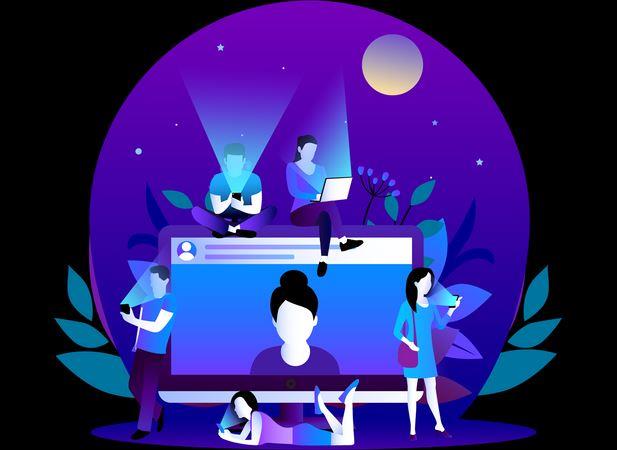 Thankfully, there are an array of social media tools available to ensure timely creation and delivery of content to the audience.
How to decide which tool to use?
The answer to this question is based on the company's requirements, its size and the audience it is catering to. There are a great number of tools out there, so we thought to stick with the top 10 which can be useful for your business.
We've further divided them into free and paid tools so that after you get acquainted with using the tools, you can go on to purchase a premium tool which is relevant for your business needs.
Here's the list.
Top Free to use tools
1. Google Trends
It is free to use a tool which has been created by Google in order to search relevant trending topics. Google Trends allows you to use and monitor relevant happenings around the world.
It can be a source to discover and share information related to the most popular news item right now. Besides this, you can use Google Trends in order to monitor keywords relevant for your business and modify your social media marketing strategy accordingly.
In order to begin using the tool, simply enter a search term. It will provide you with the following:
Latest stories and insights related to the topic
Recently trending topics on Google
Search volume and data of a topic over time
2. IFTTT
Using this social media tool you can automate the work. It lets you create recipes in order to control your social media and is based on 'if this then that logic'.
For example, If you add a new contact, then it will get saved to Google Spreadsheet.
Based on the action, a corresponding action will get triggered. There are plenty of recipes available on the IFTTT website, in order to make the task of handling work easier.
Other benefits which it provides include:
Creation of customer recipes
It is free to use
Supports Multiple platforms – Windows, Linux, Mac, Web, Android, iPhone
It works with multiple apps and social media networks helping automate the entire business.
3. Feedly
Next tool on the list is Feedly. It is useful for many things. Maybe you want to follow blogs or need to stay updated on industry-relevant news which requires you to visit several websites daily.
Instead of performing such an operation, you can use Feedly and add all RSS feeds to it, helping you check all the information at a single place.
Use it for content ideation as well. Add the blogs which you like, the writers you like and the websites which publish relevant content to a single feed and visit them in one take.
Other features of Feedly include:
Offers Social media sharing options right from the Feedly dashboard
Train AI research assistant 'Leo' to keep track of the topics and filter out important information
Explore relevant topics
4. Canva
Another fantastic tool in order to help you create and manage visuals for social media is Canva.
Visuals in harmony with the copy of a post-play an essential role in order to boost the engagement level and attract an audience. There may be a point when you may require an image for a post but without a designer. Using Canva, you can easily use the premade templates in order to create professional-looking images.This is one of the must-have skills for a digital marketer.
Besides this, it offers features which include:
Create designs, presentations and social media posts
Crop and Edit images for precise composition
Drag and Drop functionality
Add effects to make your photos look magnificent
It features a massive library of graphic elements to help you make your social media posts looking outstanding.
5. SocialOomph
This tool can be used to send auto-messages to your new followers on Twitter in addition to scheduling your social media messages and posts.
Here's more on what the tool has to offer:
Automate everything from posts, messages, photos and videos
Add an unlimited number of accounts, monitor social profiles, generate reports in order to create or modify your social media marketing strategy
Also includes Mimic follow, profile filters, Spam filter and keyword searches
Find relevant people to follow on Twitter, save time and boost productivity using the social media tool.
Top Paid tools
6. Buffer
Buffer helps you to schedule posts on social media, track engagement and measure the performance in numbers.
Regular posts on social media are essential in order to increase traffic and engagement level. Besides this, Buffers has powerful analytics features which reveal information related to the content you post online.
Other features offered by Buffer include the following:
Supports inbuilt feature for shortening links
Allows task assignment to team members
Easily set up the frequency of posting
Using Buffer, you can easily plan posts, implement them at the right time and use analytics to measure its response.
Pricing:
Pro: $15/month billed monthly – offers 8 social channels, 100 scheduled posts, for 1 user
Premium: $65/month billed monthly – offers 8 social channels, 2000 scheduled posts, for 2 users
Business: $99/month billed monthly – offers 25 social channels, 2000 scheduled posts, for 6 users
You can also try a free 14-day trial prior to selecting one of the plans mentioned above.
7. Hootsuite
It is touted to be one of the most used social media tools as it lets you manage multiple social media accounts from a single dashboard.
Using this tool, you can perform the following activities:
Create and schedule posts to all accounts at the same time
Manage social media accounts using a single portal
Engage with customers at the right time
Track, monitor and Analyse your social media posts
Assign tasks to team members
This tool lets you measure the team performance and offer insights in the form of reports in order to improve your ROI.
Pricing:
Professional: $29/month – offers 10 social profiles for 1 user.
Team: $129/month – offers 20 social profiles for 3 users.
Business: $599/month – offers 35 social profiles for 5 users.
Enterprise: Contact Hootsuite for custom pricing.
You can also try a free 30-day trial prior to selecting one of the plans mentioned above.
8. Sprout Social
In case you find it hard to keep users engaged on different social media platforms, try Sprout Social. It is the type of tool which will help you to stay connected with your target audience on platforms which include Facebook, Instagram, LinkedIn and Twitter.
It offers integration with Feedly, Bitly, Google Analytics and Zendesk improving the overall platform functionality.
Some of the other features which it offers include:
Link multiple social media profiles via a single platform
Track and monitor social interactions
Third-party app integration
Schedule and publish posts on social media
The platform allows hearing and engaging users in order to understand and adopt the right marketing strategy.
Pricing:
Standard: $99 per user per month – offers 5 social profiles
Professional: $149 per user per month – offers 10 social profiles
Advanced: $249 per user per month – offers 10 social profiles
You can try Sprout Social for free for a 30 day period.
9. Loomly
For a business keeping abreast of the latest information is important in order to harness it and use it for your marketing efforts. The app suggests trends, hashtags and events so that you never run out of topics and ideas.
When you want to create a new post, Loomly presents you with a number of post ideas which are relevant to your industry, topics trending on Twitter and current events.
Besides generating post ideas, it is also a scheduling tool for posting on social media, features a built-in analytics tool and team collaboration features.
Other features of Loomly include the following:
Manage all social media content from a single platform
Get notified on team updates via email, Slack, Microsoft Teams
Never run out of post ideas as you source ideas via Twitter, RSS feeds
Manage all your assets such as photos, videos, notes & links in a central library
Pricing:
Base: $34/month billed monthly – offers 2 users and 10 social accounts
Standard: $76/month billed monthly – offers 6 users and 20 social accounts
Advanced: $159/month billed monthly – offers 16 users and 35 social accounts
Premium: $332/month billed monthly – offers 26 users and 50 social accounts
Enterprise – Request Quote – offers 27+ users and 51+ social accounts
You can try Sprout Social for free for a 15 day period.
10. Sendible
Sendible is known to be a complete package when it comes to social media management. It is compatible with over 10 social networks which include Facebook, Twitter, LinkedIn, Pinterest, WordPress, Pinterest among others.
You can queue and schedule posts making it easy to maximise engagement by adjusting the time for publication on social media. Get all your updates on a shared calendar which you can also use to curate and schedule content.
This tool also lets you pick up the keyword which you want to target and the words which you need to exclude while setting up relevant keyword alerts.
Other features of Sendible include the following:
Plan your content strategy at a single place and schedule posts either in bulk or individually
Check how your posts look prior to publishing with the preview feature
Create reports to check whether your efforts are going in the right direction
Monitor keywords to know what customers think about you.
Pricing:
Solopreneurs: $29/month billed monthly – offers 1 user and 12 social profiles
Startup agencies: $99/month billed monthly – offers 3 users and 48 social profiles
Growing agencies: $199/month billed monthly – offers 7 users and 105 social profiles
Large teams: $299/month billed monthly – offers 12 users and 192 social profiles
Wrapping it up 
The use of the tools mentioned in the post can help you streamline work, manage campaigns and track engagement levels in order to improve the ROI.
However, be sure to make a selection of the tools based on your business requirements in order to increase your productivity. You can start using a free tool or taking up a trial in order to acquaint yourself about the product's functioning before zeroing in on a particular tool.
Chris Mcdonald has been the lead news writer at complete connection. His passion for helping people in all aspects of online marketing flows through in the expert industry coverage he provides. Chris is also an author of tech blog Area19delegate. He likes spending his time with family, studying martial arts and plucking fat bass guitar strings.