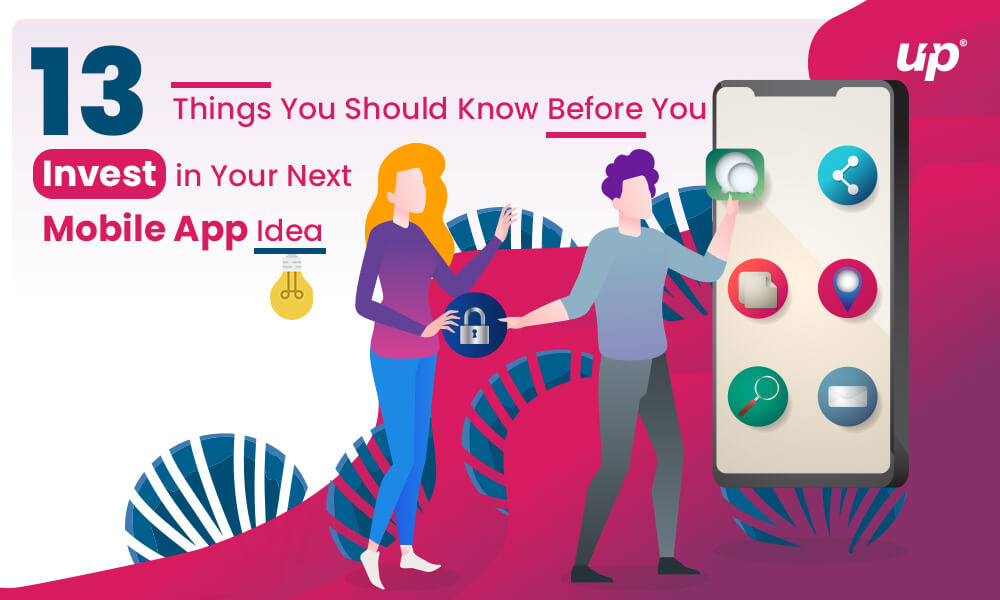 The mobile apps idea has entirely changed the look of the modern era. Apps like Instagram, Facebook and Whatsapp are immensely popular today, not because those were started by some famous business people. It is rather the old approach of these mobile apps that have largely changed the means we live and converse with each other.
Nowadays many companies are shifting their attention towards mobile app ideas to make it big in their field. They either want to streamline their work process or want to better serve their customers. However, businesses are comparatively unaware of the things needed to turn a mobile app idea into reality. Due to a lack of knowledge and ability among startups and established companies, most of them don't have an idea to make their app a successful one.
As we know that building a successful app takes more than just a fresh idea. Here are a few things that you keep in mind before you start investing in your next mobile app. Read more:
Write down your requirements
Before starting your mobile app development, it is important to write down everything that comes to your mind.  It might sound strange but having a systematic understanding of your app development requirements can surely help you in filtering the right features for your app. Your plan should be clear and easy to understand. Write down all the things about your product how you want to capture the market with this application. These things help you analyze the specific business demands and objectives, which you need to, adapt to make your app a meaningful one.
Do the right market research
After writing down your app feature list, it is time to do some market research to find the competition, the latest trends and market requirements. Make sure there are no similar apps like your business app in the market. If there are any, find out their features, ratings, customer feedback, and the point they are lacking. Add some unique features in your app that would make it different and more attractive to the audience. After doing thorough market research, it is time to update your feature list.
Identify the audience
It is very important to identify the needs of the user and who the target audience would be for your product. You need to find users from a particular region, age group, industry, gender, existing customers, specific profession, income group, or any other group. Once you discover the demographics of the audience, you will have a clear idea about what people like. Knowing your target audience helps you evaluate your app features. In the end, it is your audience that will decide your product's success, and this study helps you to go a long way in defining product accomplishment.
Offering something new to your audience
It is the point where you can stay ahead of your competitors. Offer something unique that your mobile app competitors don't have in their business app. Focus on the features that are useful for your audience keeping these things in consideration during app development is important. In addition to this, the design of your app should be creative and that will keep the user engaged.
Set the Budget
You may have heard that it is easy to settle on the prices while shopping for foodstuffs, but the situation is different for a business mobile app. Before starting the development, you have to decide the expenditures you will face while creating the application. Additionally, you also have to ensure that the amount you spend on your business mobile app development will sooner or later come back. The cost of an app first and foremost depends on the list of features that you want in it. To make your app successful one in the marketplace, you might need to get in contact with the team of right developers who are ready to listen to your needs.
Specifications
Specifications play a major role in your mobile app idea. The specifications part is what attracts the customers most. You can come up with tempting specifications for your app and create a center of attention for the mainstream of users. Choose the right set of specifications for your app after thorough market research. This step also helps you to keep the features and specifications of your app unique by continuously updating them.
Operating System
The operating system is the thing that defines the success of any app in the marketplace. Before you decide to go down for Android or the iOS platforms, try to avoid limiting the reach of your app. Aim to develop a cross-platform app that is used across numerous platforms as possible.  Each operating system has its own set of advantages. Selecting an operating system also decides on which system the app would be functional as different devices have different operating systems.
App Security
One of the most significant things that a customer wants is that their data should be protected. Hence, you have to pay extra attention to the security features that make your app a secure option for users. There are several methods to secure your app like dynamic testing, static testing, and mobile testing. The security of your app is one of its key points that makes your app popular one. Your app users' data is your most important asset, and you should make sure that it is managed in the best possible manner.
Less App-Loading Time
People like apps with less loading time. A slow-loading app can make the users annoyed and they may leave your app without purchasing the products or services of their choice.  So the loading time that the application takes to load should be less than 3 seconds. If the loading is taking a long-time user think that your app is not working and it will leave a bad impression of your application on the user's mind.
Pricing the Mobile App right
After successfully evaluating all the features and functions of the app, it is time to price the app based on value, competition, and demand. Create your app that attracts your audience and then plans the cost of each section that the user is willing to pay. In this highly competitive marketplace, the price of the app should be concerning the existing competition.
Using the right set of Marketing Strategies
App promotion is important to make your app popular, make certain you market it well. Marketing for the app should preferably begin 2 or 3 weeks before its launch. There are various ways that you can choose for app promotion. Moreover, there are mobile app marketing agencies that can help you in app-marketing.
Simplifying the App for User ease
The content part of the app is the first thing that users will notice in your application. Make your app easy to use through that make touch gestures like swiping and tapping quick and effortless. It is good to use large images instead of content for a faster browsing experience. Reduce the number of pointless icons.
Choose your partner
Last but not the least thing once you have decided all the above things for your app is choosing the right app development partner. The step is choosing a developer having expertise in building the app of your choice. Choosing a mobile app developer is the primary step on which the future of your application depends. You can also choose the mobile app development company for this. A good app development organization will have an experienced team of developers, designers, and testers who can create a thriving app right for your business needs. They can also provide you with a better idea to improve your app idea.
Conclusion:
With the successful execution of all these above-listed things, you should be well on your approach to developing an app that will take your business to the next level. Once you go through these things, you will be ready to jump into your app development without distractions and lead it to a flourishing process!
Anshul Sharma is a proficient digital marketer who is known for his proficiency and knowledge in this domain. He is presently serving as the CEO of Brandburp. Time to time, he comes up with effective marketing skills needed for any multilingual seo company. Anshul is named among the top digital marketing pioneers.