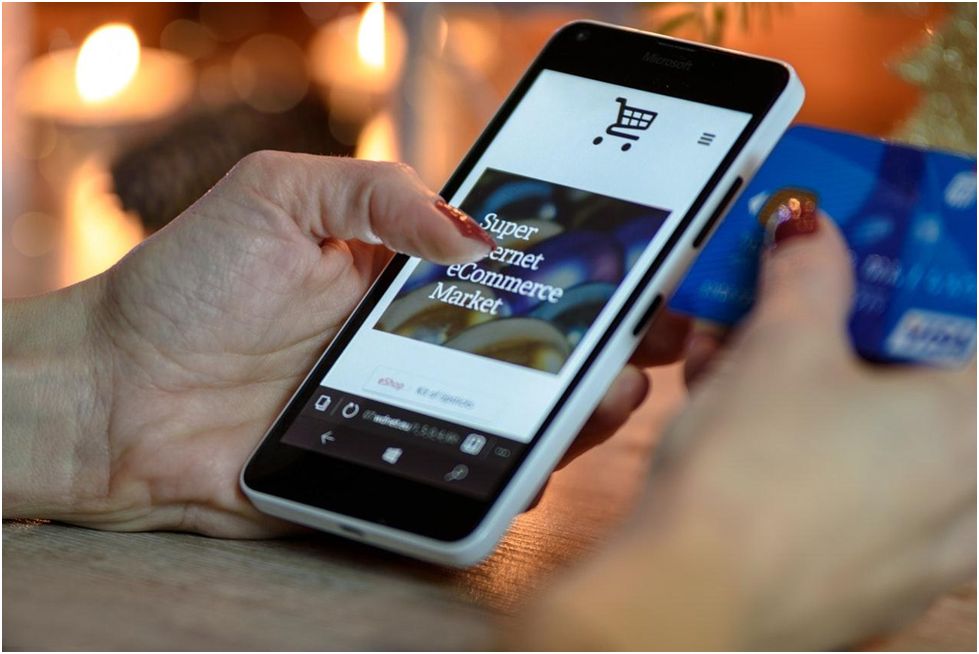 From groceries to fashion and from a needle to a car, everything is now available online for sale. The e-commerce industry has revolutionized the way people buy stuff online.
So, if you have an excellent eCommerce store with great features and yet you don't get enough traffic, you know the importance of e-commerce SEO.
E-commerce SEO is no different from any other SEO and yet it has its domain-specific challenges. It is simple in the business sense as if you are a furniture manufacturer, you would want your customers to find your online store at the top of searches for furniture on search engines.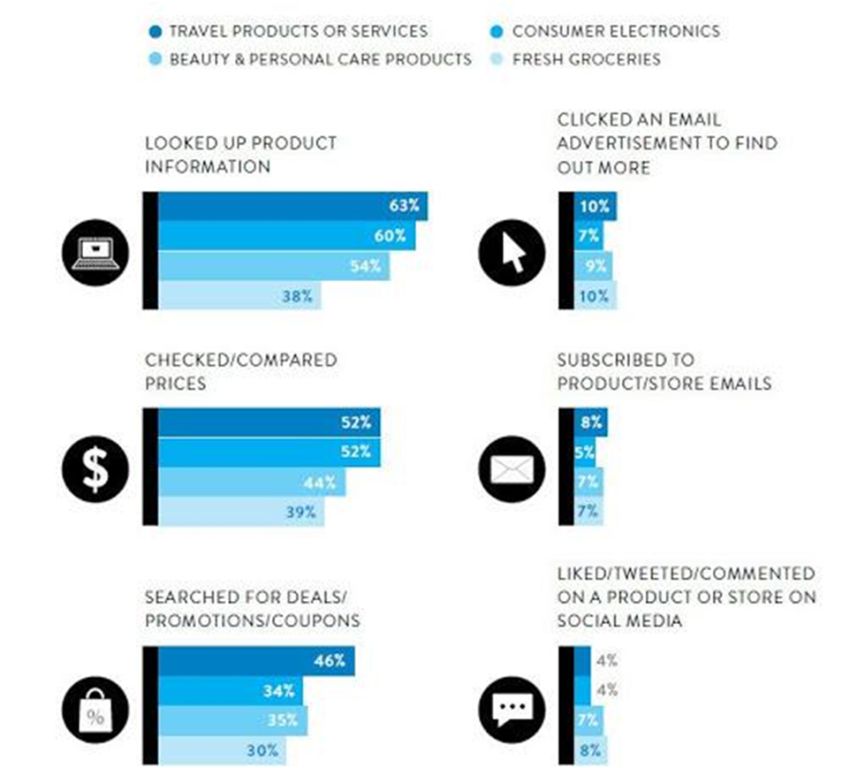 Image Source: E-commerce
Of all the consumers that use the internet, 63% of consumers look for information related to products and 52% compared prices over different products.
So the question that might provoke your senses is – what is this e-commerce SEO?
SEO strategies that drive more traffic and help e-commerce websites rank higher in search pages of search engines are called e-commerce SEO. These SEO strategies are backed up by a thorough analysis of the market and keywords to leverage the search engine crawling guidelines for e-commerce websites.
Now that you know what an e-commerce SEO is? Let us now discover and trade secrets that can help you achieve better rankings in SERP(Search Engine Result Pages).
Keywords Analytics:
Keywords are those words, which are used as a search request, by the users. Currently online store is the most popular e-commerce keyword. As far as e-commerce is concerned, keywords can be product types, styles, and even product names.
As you can see here, if the keyword furniture is searched, you will find SERP with the top ten results indexed according to their keyword budget. For SEO purposes, it is important to keep your keyword budget optimized.
The keyword budget is the number of keywords for which a search engine will look for URLs on your e-commerce website.
UI design:
The user interface is the most vital part of any website. It is the user interface that allows an interaction between the system and the user. So, from the user point of view, once a user clicks on your website, the next thing they will experience is your UI.
So keeping the UI design to be user-friendly is quintessential to the website's SEO. For an e-commerce website, effective web navigation can be more fruitful.
Landing page:
Once a user clicks on your e-commerce online store, the first thing that will come up is a landing page. Landing pages are quite important as far as user experiences are concerned. Marketing is all about achieving great user experiences to engage customers, so optimizing landing pages works like magic!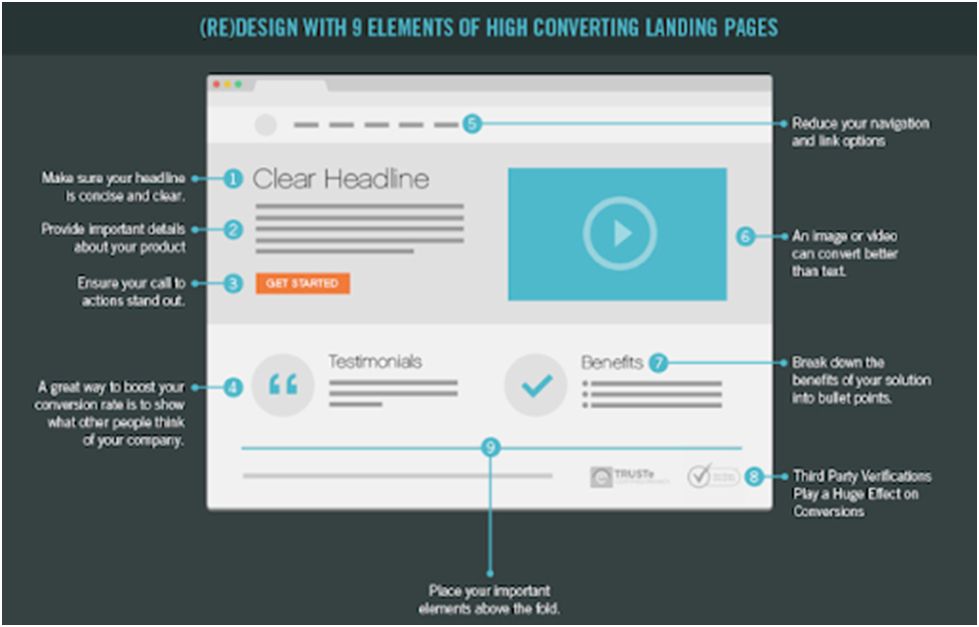 Image Source: Elements for optimization of landing pages.
For excellent landing pages, you need to concentrate on these nine important elements, first, you need to have a clear headline, especially in case of e-commerce websites, the headline must have something related to the products or category of the product.
Next, you need to optimize navigation, listings, CTAs (Call TO Action), Images, videos, product details, and many other important elements. Remember to integrate consumer feedback and reviews into the page with third party verification.
Pagination:
Pagination is a process of distributing your content over several pages. Content over several products can be distributed into pages through structural paginated series.
For SEO purposes, pagination can be helpful and damaging too, as it depends on your optimization of "rel=next/prev" and ahref attributes. With SEO Pagination, you can optimize the content on your website through paginated series and attributes.
URL structure:
Keeping the right URL structure is essential for your e-commerce SEO. If you are not from an SEO background, then linking is like connecting your content all over the internet to your main page to help people visit your site.
If you are from an SEO background, you would probably know the importance of backlinks, interlinking, and most importantly canonical linking. Linking not only helps to gain more traffic for your website. It also helps websites rank higher on SERPs(Search Engine Result Pages).
Site Maps:
Sitemaps are your guide to a website. Whether you think from a user perspective or for the search engine crawlers, an optimized XML sitemap can always help you rank higher and achieve better SEO. An e-commerce website will always have several product pages and to help website visitors reach the target pages they need optimized sitemaps with pre-defined page hierarchy.
Meta Optimization:
Like any other SEO, Meta title, tags and description need optimization. If you look at some famous plugins in WordPress, that provide optimizations of meta elements of your website, you will find that they provide you with extensive insights on how you can keep your meta titles or descriptions optimized for SEO purposes.
Blog Section:
A blog section is important for your SEO as your product pages alone can't drive traffic, you need to provide some tips regarding your products, tools to optimize them or even a shopping guide towards choosing the right product.
In the current scenario, companies that use the blog section get 97% more links to their website and the same goes for e-commerce platforms. So, having a blog section certainly lifts your SEO.
Cart Abandonment Rate:
Abandoned cart in an offline store may be rare, but, for an e-commerce online store, cart abandonment is quite common. Abandonment rate for any e-commerce store is the ratio of several abandoned shopping carts to the number of transactions initiated on the online store.
For any e-commerce business, the reduction of the cart abandonment rate is quite important as it leads to higher transaction initiation, creating more conversion and higher revenues. As far as SEO is concerned, it helps with more traffic and reduction of bounce rates.
Review Management:
Customer reviews are important for your e-commerce website as it helps your visitors get a grasp of products and their functionalities. Integration of customer reviews is necessary into your product page as that will help with your SEO too.
Mobile Adaptability:
Google has already provided guidelines for websites to achieve better rankings on SERP and help the search engine index better. Mobile adaptability comes at the top of the search engine's preferences.
Your website should be responsive and highly reactive to different-sized screens that can be accessible clutter-free on any screen size and this can certainly determine whether UX of your website will be SEO optimized or not.
Web Promotion:
How would your audience know about your presence? Through the promotion of course! Web advertisements are the prime source of the promotion of your website. This will help you achieve more exposure and visibility for your business.
You can use banner ads, pop ads and even leverage exit pop-ups on your website for attracting customers who are looking to leave your website.
Social Media Marketing:
There are more than 3.5 million active social media users today, which is probably 45% of the total global population. So. it is easy to understand the importance of social media marketing in the age of digital evolution.
Social Media marketing is a fabulous tool for e-commerce promotion with products-related posts, images and videos to attract users to your website.
Mobile Marketing:
Mobile marketing is a very popular medium, since the inception of smartphones and its highly responsive capabilities. Mobile marketing amounted to 63% of all digital revenues in the year 2018.
There are several forms of mobile marketing that you can use for your products that can help your product pages attract more traffic.
SMS Marketing
MMS Marketing
In-app Marketing
Game app marketing
Bluetooth Mobile Marketing
Pop-Ups
Content Marketing:
Content marketing is a broad spectrum and includes almost all the content published online, like articles, videos or Podcasts. Content marketing is a very essential part of your SEO strategies as it can make or break your website's traffic.
As they say in SEO, your content is king. Content marketing is all about cashing it in the king. Marketers that prefer content marketing strategies, receive 13x faster results than other marketing strategies and it clearly shows how content marketing is an essential part of your e-commerce SEO.
E-commerce Advertising:
Advertising is the most vital aspect of any SEO strategy, as your audience needs to know about what you have to offer or how they would know that you have a solution to their issues. Advertising can be done in different forms and multiple channels.
Types of advertising:
PPC(Paid Per Click) Ads: Paid per click ads are marketing strategies that are paid per click on their ads. Here, advertisers can bid for ad placement in a search engine's sponsored links to the SERPs.
Whenever an internet user searches for a keyword that is related to their business, the sponsored ad will appear on the SERPs.
Display Advertising: It uses the Google Display Network to maximize the reach of visual aids like images and videos. Display advertising can be considered as billboards on the internet.
Display ads are placed on third-party websites as different types like banner ads, image ads, and text ads.
Video Marketing:
There are several different forms of video marketing and each one can help your e-commerce SEO. Take the example of e-commerce giant Amazon, who has started using product demo videos to promote products on the product pages.
Video marketing has been quite fruitful for marketers. By 2021, the video marketing industry will grow to $22 billion, which shows how marketers are exploring the marketing strategy.
Different forms of Video Marketing are:
Explainer Videos Ads
Animated Video Ads
Live Animation Video Ads
Product Demo Videos
E-commerce App Optimization:
With more and more businesses transforming their app ideas into reality, e-commerce apps are quite common these days. But, what is uncommon is the real optimization it needs to increase the traffic of apps and web-apps for higher SEO.
Mobile apps for e-commerce businesses need higher responsive and reactive attributes to keep the users engaged with the app and this is not just for apps, but, also for the web-apps, which are an extension of web portals of e-commerce businesses on the smartphones.
19. Promotions and Deals:
Customers are always on the lookout for excellent deals and promotions that can help them save some money and yet have that excellent shopping experience. E-commerce websites and apps, really know the key to customer's decisions.
Promotional and referral programs that offer consumers rewards in lieu of promoting e-commerce websites to their social circles can open new ways to reach your target audience.
20. Local SEO:

For any e-commerce business, it is important to get local as there is the maximum potential for business to grow. 88% of local searches for businesses on a digital mobile device contact the business within 24 hours.
Google prepares a list of local businesses to help its users find local products and services. These services are optimized by many marketers to keep the business up in the listings. Local SEO is the optimization of Google local listings and other products to promote businesses.
For e-commerce, local SEO can help them attract more traffic through presence in local listings. Products and services can be optimized to be in the local listings and make more visible through local keyword induction on the e-commerce site content.
Signing Off:
Current trends suggest the exponential growth of e-commerce businesses. With 2.05 billion digital buyers by the end of 2021, the market is all set to embrace e-commerce with higher revenues and a surge in demand. E-commerce businesses now understand the need for SEO and are trying hard to maximize from the optimizations of their websites and apps.
Here, we have discussed some important factors that can define your e-commerce SEO strategies. It is also important to track the effectiveness of strategies through regular measurements of the marketing parameters and ROIs.
So, if you are a small business trying to create your E-commerce online store or a startup ready to succeed then go for these strategies!
Parth Bari is a Tech Addict, Software Geek, and a Blogger at Creole Studios. I love to help people and found blogging the best way to help people out there. This pushed me onto the path of writing so that I can express my opinions. For more details, you can visit: https://www.creolestudios.com/