Do you know what obliterated the dinosaurs? Sure, the asteroid had a part in it, but their inability to adapt to the changing world is the actual reason behind their extinction. Cockroaches, on the other hand, had survived mass extinction by adapting to the new world. But what does that have to do with marketing strategies?
You see, the field of marketing is quite dynamic (more than our planet). And to survive in a market characterized by increasing levels of competition, you need to adapt to the changing marketing trends more often than you think. If you don't acknowledge the trends and keep using your existing strategies, no matter how big a brand you are, you may bite the dust just like the dinosaurs.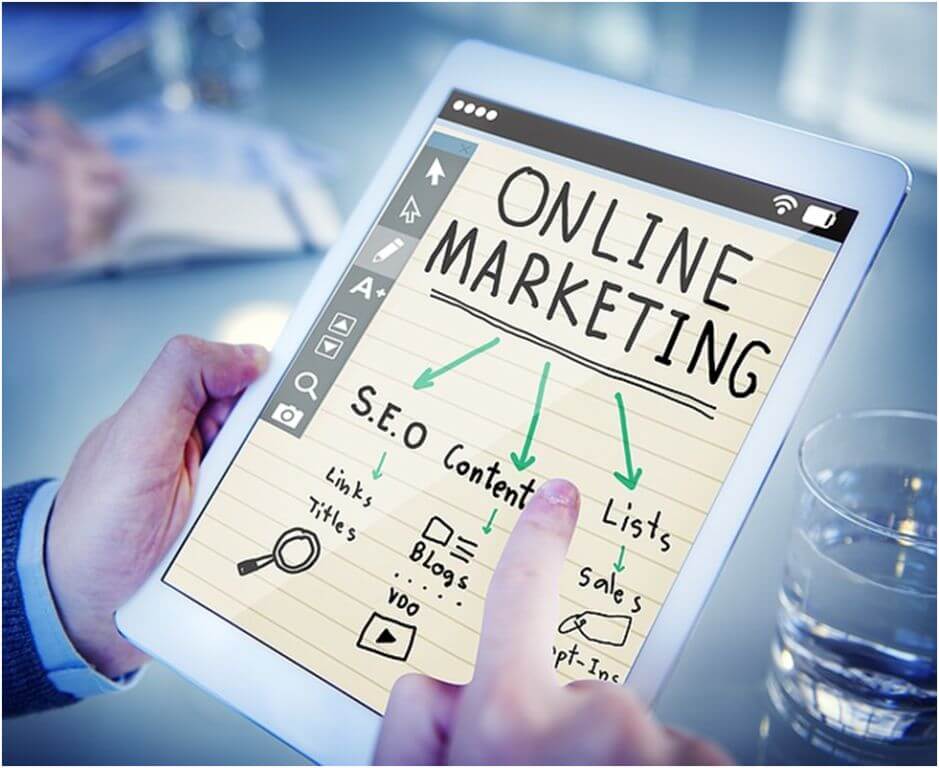 Image Source: Pixabay.com
In this blog, we are going to discuss the digital marketing strategies that can help your business reach new heights in 2021. So, let us get to it.
1. Update your website for 2021
Since you are reading this, I feel there is no need to explain how important websitesare forrunning a business. However, if you do not update them in compliance with the changing trends, they may not add any value to your brand.
Your website represents your brand on the digital space. If it is not contemporary or if it lacks the features that other websites currently have, most visitors are going to leave your website before you can spell "floxinoxinihilipilification." This increases the bounce rate, which is not good for your website's SEO.
Firstly, you need to update and modify your website to stay relevant in the current market. That includes updating your website's appearance, modifying its features and most importantly,improving its loading speed. Nothing turns visitors off more than slow loading speed. There are plenty of WordPress tools and plugins that can help you achieve those objectives.
Come to think of it, if a student is looking for urgent assignment help, and your page takes an entire minute to load, he/she is not going to wait to see what services you have to offer.
2. Adopt the most effective SEO practices
The problem with running a website is that you never know for certain when the search engine requirements are going to change. You may already be aware of the fact that Google changes its algorithms quite often. According to Moz.com, the search engine is prone to change nearly 500-600 times a year. Therefore, you need to keep optimizing your website as per the latest SEO guidelines to rank better.
Better ranking means better visibility, which will eventually increase your conversion rates. For that, you need to make better use of relevant keywords in your website content. Start with the meta title and meta descriptions of the pages, especially the blogs. If you don't have a blog section, create one as soon as possible.
Blogs can help you climb the SEO rankings faster than regular webpages. You can leverage on the featured snippets on the search results to get more attention from the users. Since Google prioritizes rich snippets in its SERP (search engine results page), writing major points of the content in a bulleted list can help you climb higher in the SEO rankings.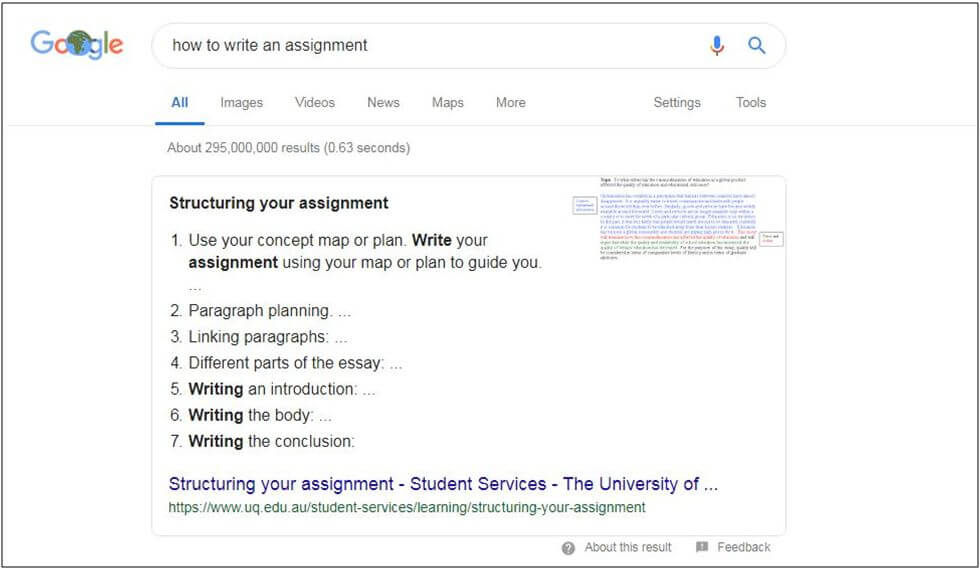 Image Source: Google.com
Also, you need to optimize the website for mobile and other IoT devices. Since mobile devices account fornearly 50% of the global internet usage, Google is now stressing more on its mobile-first indexing. So, having a mobile-friendly website can boost your ranking on SERPs.
3. Use Google AdWords to boost online visibility
Promoting your services and products on the internet can be a lot easier with Google AdWords. Since Google Ads take up the first four positions on the SERPs, running such ads can increase your chances of getting more number of clicks on your links.
By leveraging the pay per click (PPC) ads on Google, you can quickly boost your website's rankings. To achieve the same feat with conventional SEO techniques, it will take you months or even years. By spending a certain amount of money on Google Ads, you can actually accelerate the growth of your business.
Google AdWords also has free keyword planner that can help you generate the longtail keywords. This type of keywordsplays a crucial role in boosting the SEO ranking during voice searches. You can even use the keyword planner to create your own AdWords campaigns. Since Google lets you test and tweak your ads at any point, you can pause and restart your ads the way you see fit.
You can also run ads on social media pages. And there are plenty of plugins that allow you to do that. Facebook, for instance, has Facebook Advertisingthat works the same way as Google AdWords, but only on Facebook.
4. Use social media to reach more users
There's no denying that social media platforms are the best place to connect with prospects. But for that, you need a proper social media marketing strategy. You need to work on your social media presence. Conduct proper market research and determine where (on which platform) your target audience is.
Facebook and Twitter are the most popular social media platforms. So, you need to be active on those platforms on a regular basis. However, if your business deals with something that has a visual appeal, you need to utilizeInstagram, Pinterest and YouTube as well. Posting relevant content on a regular basis can boost customer engagement significantly.
While redesigning your website for the current requirements, you should also integrate social media buttons on the pages with shareable content. If a consumer finds one of your blogs to be interesting, he/she can share it on social media and help boost traffic on your website.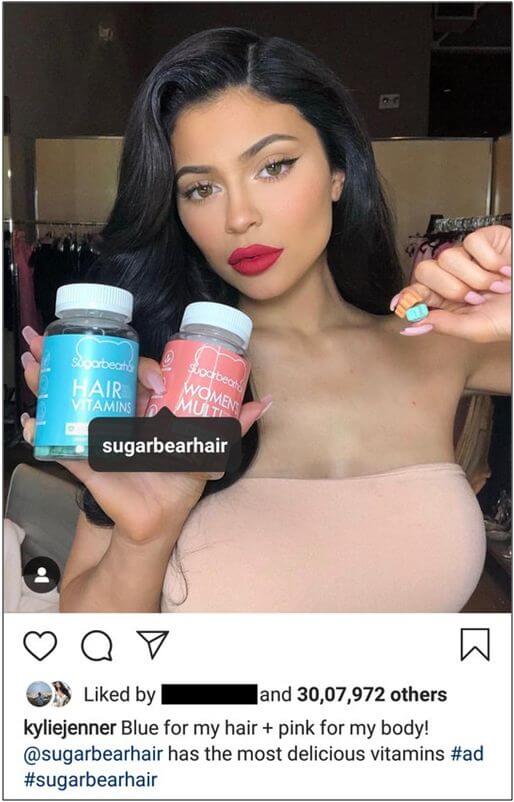 Image Source: Kylie Jenner's Instagram Profile
However, if it is difficult to get a significant amount of customer engagement on social media platforms, you can collaborate with social media influences to boost engagement. Recent studies show that consumers are more likely to use a product or service if a familiar person recommends it.
5. Focus on building backlinks
Backlinks can help your business in more ways than you can imagine. Earning backlinks from high-ranking websiteswill boost your SEO rankings.They actually allow Google spiders to find new pages on the web. In fact, Google spiders rely on backlinks to crawl and index pages on your website.
Moreover, if you get a high-quality backlink, your traffic is most likely to increase. Therefore, you get to improve your conversion rates even more. Once you start earning quality backlinks, it creates a snowball effect that helps you get more backlinks from high ranking websites.
You must be aware of guest blogs. There are actually plenty of high-ranking websites, who offer the opportunity to write for their websites in exchange for a quality backlink. You can look for reputed websites with higher DA (domain authority) and approach them for guest posts in exchange for backlinks.
One of the best things about link building is that it helps you boost the credibility of your business. If a reputed website is directing its viewers to your website, it means there is something special about your business. Google acknowledges the same, and provides better ranks to those pages that have more number of quality backlinks.
Parting thoughts,
If you have already adopted these strategies, then you are already on the right track. Just keep an eye out the latest trends in the market so that you can customize your strategies accordingly. If you are able to pull that off, you are definitely going to see a significant boost in your business in 2021 and beyond.
Joanne Criss is serving as a marketing manager at one of the most reputed MNCs based in United Kingdom for the past 3 years. She is also working with MyAssignmenthelp.co.uk as a subject matter expert. Crissprovides assignment help to students who seek academic assistance.