Instagram is something a child learns to operate from it's birth. That's how famous Instagram is.
Not just a famous social media platform, it is also a very important marketing platform that allows brands to flourish and expand their brand's social media reach and customer base.
Embedding Instagram Feeds On Website
Marketers continuously look for ways to exploit Instagram for their marketing purposes. Almost all major brands have their presence on Instagram. Embedding live Instagram feeds on the official website of a brand or on the e-commerce website of a business is a great move in that respect.
By embedding Instagram feeds on your brand's official website, you exploit the visually appealing character of Instagram posts to improve your website performance and grow your brand's business.
It improves your website's user interface by making your website more attractive, engaging, and interactive. Users tend to stay longer on your website browsing through Instagram feeds embedded into your website.
Embedding Instagram feeds on your business website helps to bring the point of sale closer to the point of inspiration. It helps your online customers to make the purchase decision in your favor.
It improves the conversion rates, increases the dwell-time, and reduces the bounce rate. Not only that, but it also provides social proof thus generating social trust among your users.
5 Smart Tools For Embedding Live Instagram Feeds On Your Website
Here is a list of 5 such awesome tools that lets you embed live Instagram feeds on your website.
Come, let's have a look.
1. Instagram Official Embedding
Instagram itself provides the functionality to embed individual posts on websites and blogs so as to share them with your users and readers.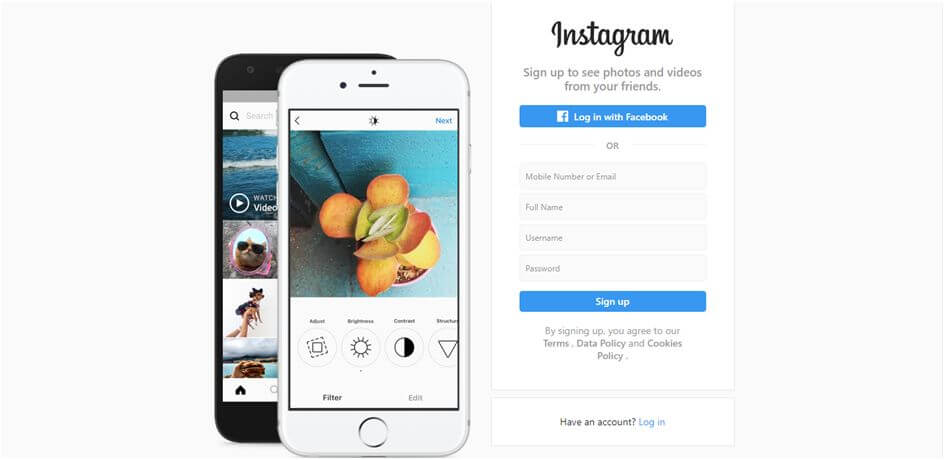 As it is provided by Instagram itself, hence it is one of the most trusted ways to embed Instagram feeds on your website. When you embed Instagram feeds on your website using this channel, the embedded photo feed displays your username and caption(only if you choose to display it) linked with the photo feed and clicking on it leads back to the original source, that is, the Instagram profile.
All you need to do is click on the post to expand it, then click on the more […] button, and select "Embed". Copy the embed code, go to the webpage where you want to embed the Instagram photo feed and paste the embed code there. That's it.
2. Taggbox
Taggbox is a phenomenal social media aggregator and display tool that lets you create beautiful and stunning Instagram walls to be embedded on your website.
It retrieves Instagram feeds for both types of Instagram accounts- Business and Personal. It fetches Instagram feeds via hashtags, mentions, and username.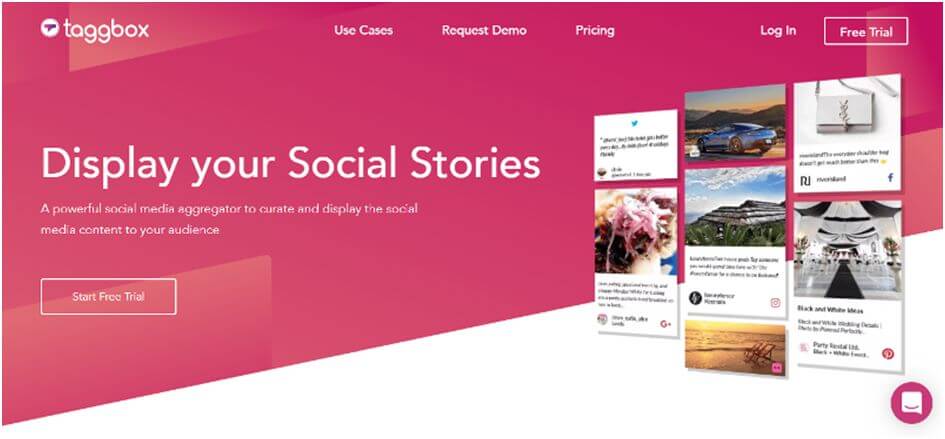 It operates in real-time, hence you get to display fresh and updated Instagram feeds on your website. It's amazing customization options, beautiful themes, and responsive layouts help you to customize your Instagram feeds to be displayed on your website.
It comes with powerful moderation panel that lets you filter your Instagram feeds to prevent the irrelevant feeds from getting displayed on your website and hence maintains the health and quality of your Instagram feeds.
It's robust Analytics features provides deep insights into the reactions, interactions, and engagement of the users with the embedded Instagram posts.
Other add-on features like banners, tickers, hashtag highlighter, profanity filters, custom posts, various preloader options, and many more like that help you further make your Instagram feeds more entertaining and engaging.
3. Instush
Instush is an Instagram photo display tool that allows you to create wallpapers from Instagram photos.
It is a pretty handy tool with a user-friendly interface. It comes with a variety of features that makes your Instagram journey and experience really amazing.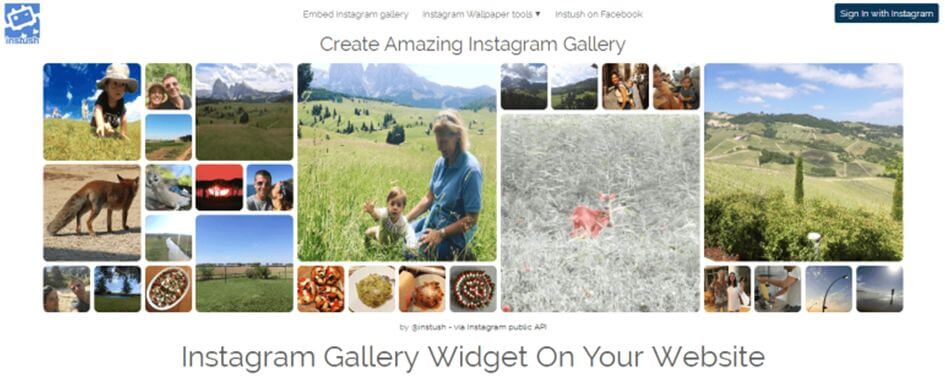 It lets you aggregate photos from Instagram public accounts, your personal or business accounts, and hashtags. You can even aggregate pictures that you have liked while surfing through Instagram.
Once aggregated, you can create beautiful wallpapers from these images with the help of 14 amazing Instagram gallery designs and templates.
You can use these photo grids and wallpapers for your screens, Twitter and Facebook cover pages. Remember, your account must be public to publish your Instagram galleries.
4. Snapwidget
Snapwidget is yet another tool that lets you display Instagram feeds on your website in order to increase your followers.
And not just Instagram, with Snapwidget, you can also add feeds from Facebook, Twitter, and Youtube too on your website.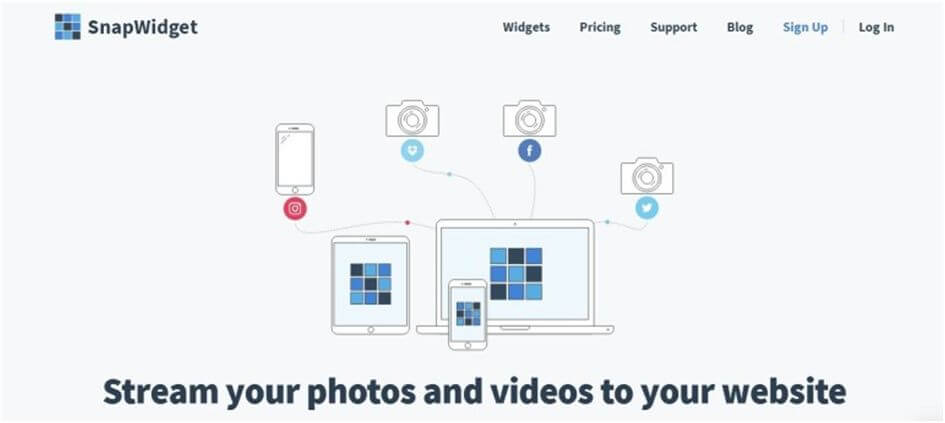 Snapwidget works in real-time. Hence, it automatically displays Instagram feeds on the website as soon as they are posted on Instagram.
Snapwidget gives you various options for widgets to choose from. Here is a list of all Instagram widgets that Snapwidget offers-
Instagram Grid
Instagram Popup
Instagram Slideshow
Instagram Scrolling
Instagram Board
Instagram Map
5. LightWidget
LightWidget is a responsive Instagram widget which lets you embed live Instagram feeds on your website, blogs, online stores, and others.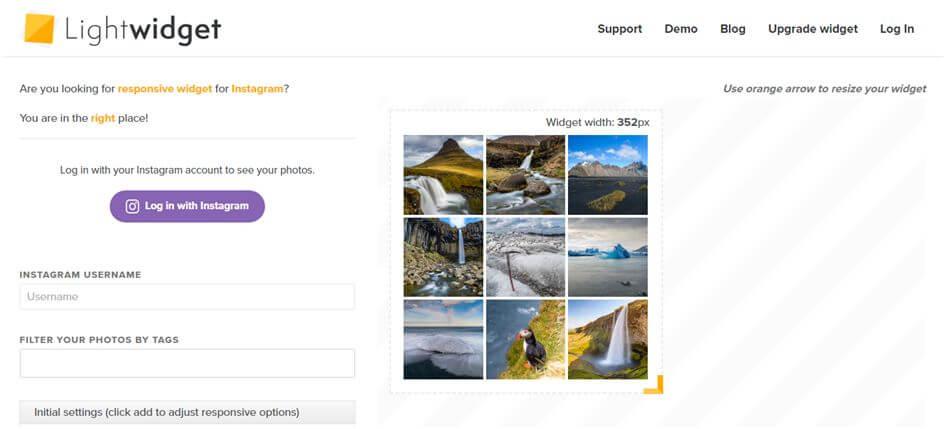 It comes with great features and gives you amazing options like hover effects, captions, padding, square crops, hashtag filters, and many more.
It is a user-friendly tool and responsive enough to embed live Instagram feeds on websites and display them easily on desktops, tablets, mobiles, and other screen types.
All you need to do is generate the embed code with LightWidget and paste it on the webpage where you wanna embed it.
Over To You
So, after going through this article, one thing must have been really clear in your mind that embedding live Instagram feeds on your website is nothing less than the smartest decision you will take for improving your website's performance.
Improved click-through rates, enhanced user-engagement, displaying social proof, building social trust for your brand, and many more benefits like these can compel any marketer to instantly embed Instagram feeds on their brand's official website.
Then, what is holding you back? Embed live Instagram feed on your website and see wonders happen for your brand.
Chris Mcdonald has been the lead news writer at complete connection. His passion for helping people in all aspects of online marketing flows through in the expert industry coverage he provides. Chris is also an author of tech blog Area19delegate. He likes spending his time with family, studying martial arts and plucking fat bass guitar strings.