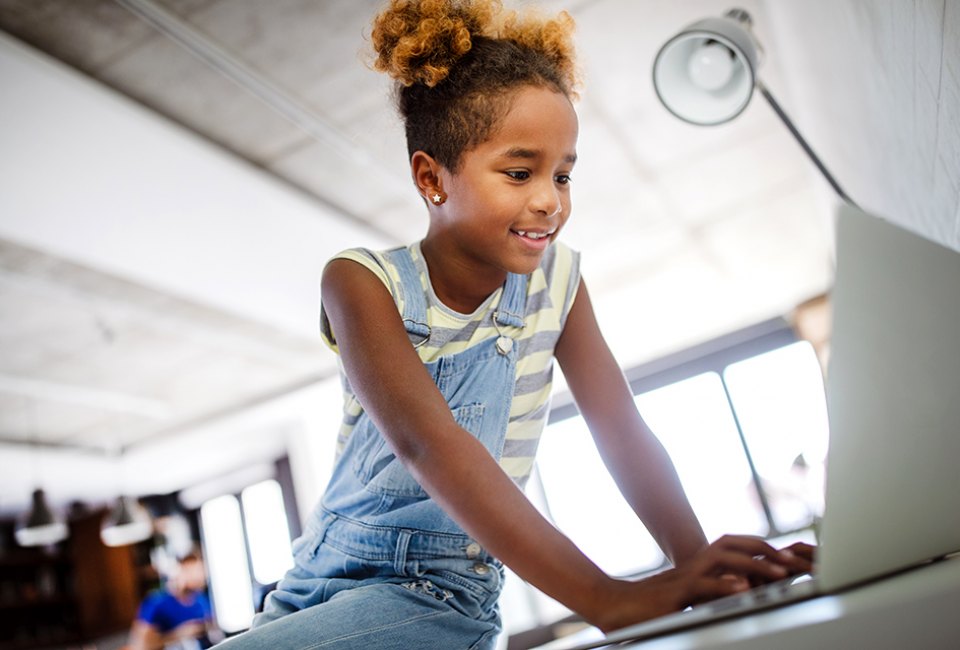 Social distancing should not matter if you have decided to sit down to eat snacks and play your favorite game. Even with kids being miles apart, some equally investing online games make it easy to play board games and pounce around the park seeking adventure when we are not gathered around the same dinner table or the local arcade room.
Many online games do not require any subscriptions of payment for children who want to meet up virtually with friends or have a one-on-one triad with the computerized antagonist. Pair the game with a zoom call and grab a bowl of popcorn for an unmatched experience during the quarantine season.
The Youngling in Lockdown: Importance of video games
First, let's get into the technicalities. It may seem counter-intuitive to some, especially parents, when it comes to games and health benefits. However, according to are search review in American Psychologist, playing video games such as shooter games may boost children's social skills and overall learning.
The study has come out as a topic of discussion as psychologists continue to explore further the positive impact of violent video games and interactive media on the youth. In a recent article Isabela Granic, Ph.D., of Radboud University Nijmegen in The Netherlands, said, "Important research has already been conducted for decades on the negative effects of gaming, including addiction, depression, and aggression, and we are certainly not suggesting that this should be ignored." She said, however, to understand the true meaning and effect of video games on children, a balanced perspective is needed.
While one would believe in the widely held view that playing video games makes children intellectually lazy, such playing may strengthen a range of cognitive skills such as spatial reasoning, memory, and perception. That is especially true for shooting gameplay, like it or not.
A 2013 meta-analysis found that immersing in shooter games improved the young player's capacity to think about objects three-dimensionally just as well as academic courses designed to teach these skills in particular. That has critical implications for education and skill development since the power of spatial skills for achievement in technology is in high demand.
According to the bar graph above, children love strategizing in a game set up since it makes them exercise their thinking space more often while developing problem-solving skills. A child's creativity is enhanced by playing any game, be it board or online. It is about time that the "care-giver" mindset that discourages kids from exploring their options on recreational sports is reoriented to the child's benefit, especially when we are stuck at home with limited knowledge resources.
The Unlimited Dose of Fun
Since most days now are spent within our humble abodes or short trips to the store, there may not always be something new to discuss games through the park. When you do not have much to say but crave a close connection, consider the healthy competition instead. From the digital take on classic games, here is a list of games that offer you and your kids' total dose of fun and learning during the rather "disliked" lock-down period.
1. Animal crossing
New horizons have been taken over all of the gaming since the release of fan-favorite Animal Crossing. It is the perfect online game for both kids and adults. It is impossibly gentle and adorable, rightfully time-consuming.
Friends and relatives can visit your island with a ticket and even take a virtual plane to fly to their destination. When you finally grow tired of checking out others' digs and exploring, you can go back to building your island, making it more pleasing to the eye and accessible to passers-by!
2. Jurassic Run
Have you ever played an infinite runner game with your child? If the answer is no, then this is the game for you. Jurassic Run is based on the Jurassic Park theme with desert, island, and Halloween worlds combined.
The main character needs to escape from the dinosaurs or the giant T-rex from capturing and possibly swallowing you. Keep running to collect dino coins and trinkets that will aid in unlocking new characters and power-ups. The 3D endless-running game is bound to get you and your child hooked up for hours.
3. Roblox
Roblox is not a game itself, a child-friendly 3D platform that offers countless digital games for children to explore. People worldwide have created and shared mini experiences and virtual games, especially for this platform, many of which are good or "better than real games."
Possibly the best part about Roblox is its easy-to-understand programming. You don't have to be a coding expert to create the best gaming experience. Any design can be developed with just simple know-how of the domain, from scuba-diving to breaking out of jail and high-performance car racing. It is mostly free, but there is an in-app currency that you can use for enhancements and access other player-made game from the tons already available.
4. Space Miner
If you are geeky and into game strategizing, game design, and character development, then you might not want to miss your"nerd" bi-weekly session with the friend group. Games like Space Miner by Unlimited Gamezmo help improve your thinking capabilities, creative skills, and decision-making abilities, among other benefits.
So if you want to combine fun with learning and satisfy your space-visit cravings, then take the role of an extraterrestrial miner and visit an unknown planet. The stages get challenging, and your inner gamer gets to enjoy while digging its way through the unique levels of the game.
5. Scattergories
Scattergories is a popular one with "zoomers" of all age brackets. To play, you need to head to the free game generator, copy and share the link with friends. The rules are simple: there are five categories: girl's name, book title, school supplies, and one letter. You have one minute to think of a work that fits all the five compartments with the chosen letter.
This game tests your creativity. The more unique the answer is compared to your friend's solutions, the more points you get.
6. Lara Croft and the Guardian of Light
The arcade-style spin-off of the Tomb Raider franchise is a favorite amongst young players with the co-op design. Guardian of Light combines a fast-paced but not bloody combat action with exploration and puzzle-solving skills. Each player's character has different abilities, so you have to help each other out to solve the puzzles together.
The combat allows the better player to shield and the worst one to follow without letting them know. It is scary and challenging without being too overwhelming. In short: the perfect game to play with a young tween.
7. Nancy Drew: Codes and Clues
Take a mix of foundational code with striking mysteries and a familiar female character, add a cute robot puppy to it, and whatdo you get? Nancy Drew: Codes and Clues. The game is exciting, bringing forward necessary coding skills for learning since kids program their puppy to help the main character, Nany Drew, solve seemingly unsolvable mysteries.
Players also get to choose their disguises for clues as the game progresses. If you want your mini detectives to be always on the edge of the seat during a game, this one is it.
8. Counter-Strike: Global Offensive
The legendary CS was first released in 2012, and since then hundreds of first-hand competitive shooters have come out. Counter-Strike: Global Offensive is the one teenagers and adults keep going back to.
With its rabid player base, the perfectly balanced strategic team-based gameplay never loses its charm. If digital carnage is okay with you, give the tail a spin, and you will see why it is the most played FPS ever.
9. Mario Kart
Once your child is older and functional enough to get their hands around the controller, it is time to introduce a pinch of challenge into their gameplays, and Mario Kart is the perfect series for just that. The wild racing game is designed in a way that anything can happen. Despite the over-the-top bizarreness of it, the cuteness takes the cake, and no one gets mad.
Compare to race leaders, the last place racers get heavier item drops, so the front runner and loser switch places more than often. Mind you, there is enough skill involved for this colorful game to be random. By now, your child must be getting better at taking up new challenges, which matters for the future.
Final thoughts
The right amount of action-adventure packed screen time can be significant for children as well as adults. Any games from the list mentioned above will ensure that you are having productive fun. So get going and satisfy your inner gamer like never before.
Audrey Throne is a mother of a 3-year old and a professional blogger by choice. Throne is passionate about lifestyle, business, automotive, technology and management and blogs frequently on these topics.
Find her on Twitter: @audrey_throne.