From live streaming to news updates, mobile entertainment apps have captured the hearts of the young and old. You only need to sit back and relax while getting entertainment from your fingertips. Although mobile applications are used in every industry, the entertainment industry utilizes them to the fullest. The entertainment sector deals with content, engagement, and a large audience. The entertainment industry relies heavily on mobile applications.
Mobile entertainment apps are a great source of detailed and authentic information. Users can exchange and share information through illustrations and creative videos. Entertainment platforms for gaming, music, videos, live streaming, etc. Many artists seize this opportunity to showcase their talents and reach a wider audience.
Top Entertainment Mobile Apps in 2022
The mobile app industry continues tremendously as the mobile industry grows. The mobile industry has 2 dominant hosts; iOS (Apple Store) and Android (Google Play). Some applications have many downloads and positive reviews. This list outlines the best mobile entertainment applications of 2022.
Netflix
The most on-demand subscription-based service provider is the Netflix entertainment app. It has gained global attention because it allows members to watch movies and TV shows without commercials as long as they have working internet. This entertainment app subscription allows you to download movies and TV shows on Windows 10, Android, and iOS to watch offline.
The content varies depending on your location, and it can change with time. There are a plethora of shows to choose from; for instance, you can watch award-winning documentaries, movies, TV shows, and Netflix originals.
The more entertainment app videos you watch, the more Netflix recommends shows you might like. Any internet-connected device like smart TVs, set-top boxes, game consoles, tablets, smartphones, streaming media players, and other devices that support the Netflix app.
https://pixabay.com/photos/netflix-computer-snacking-cushion-4011346/
Spotify
Spotify was launched in 2008, and ever since, it has grown into one of the most popular music streaming app. Spotify is an entertainment app music and video service that allows you to access songs and content from global content creators. There are a variety of artists, genres, podcasts, and music. If you seek an entertainment app for free, Spotify allows you to access its content for free. You can subscribe to the premium plan or enjoy the free plan with ads.
The free version has several minor drawbacks like frequent advertisement breaks. You can upgrade by investing in an entertainment app subscription if you don't like an intrusion. There are no advertisements, whether banner or audio ads. There is better quality. Did you know that Spotify upgraded its premium services from 160kbit/s to 320kbit/s for all the audiophiles out there? It also lets you download songs to listen to offline.
There are unlimited skipping and not forced shuffling, unlike the free one that shuffles playlists and adds single songs to this playlist with only 6 skips per hour. The more you use Spotify, the more it customizes your experience. It also creates a recently played list. If you want this entertainment app discount, choose the family plan. Although there is no discount, this plan is affordable and cost-effective.
YouTube
YouTube is a free entertainment app example where people share and watch videos. It is one of the most popular platforms used globally. You can find videos about anything on YouTube. This platform is popular because it focuses on user-generated content; you will find relatable content on YouTube. You can also share your videos. It is one of the best entertainment app ideas because anybody can create and share videos. However, not all videos are appropriate for everyone. The good thing is you can earn money by uploading your videos. You don't have to have any computer skills to use YouTube; you'll also find many tutorials about how to upload videos.
https://unsplash.com/photos/8LfE0Lywyak
Amazon Prime Video
Amazon prime video is a streaming video service by Amazon. It works like Netflix or other streaming services. It is an entertainment app for iPhone or Android by downloading it from the entertainment app store. You can watch on-demand TV shows and movies through your web browser, television streaming device, TV with a gaming console, or your phone. You can watch your favorite programs or learn different things like best bookmakers in uk.
Although Amazon Prime shows videos available on other services, it also has exclusive TV shows and videos. There are also original television shows and videos; the movies are released in theatres before they are available for streaming. Amazon originals are only available for streaming. How do you get Amazon Prime Video? You need to sign up for Amazon Prime; this way, you can access prime videos. You can also check out this service through the free trial; however, there is no way to watch premium videos without Prime. There are thousands of videos on Amazon Prime to stream. Like other streaming services like Hulu and Netflix, there are television programs and movies from big networks and studios and their original work.
Most of the content is on-demand; you can stream it any time or day. Although there's no live TV, you can watch a limited number of live content and sports games from premium add-on channels. Amazon Prime Video allows you to stream television shows and movies on your computer with a web browser like Edge, Firefox, or Chrome. Ensure that your computer can stream videos and an internet connection. You can also watch on your phone on the Prime Video App. It is an entertainment app android or iOS phones can use. Ensure that you get the right app because Amazon has many apps.
Twitch
Most people love entertainment games app because they are easy to use. Twitch is one of the best apps to stream and watch digital content. It was created for games but now accommodates music, artwork, occasional TV series, and talk shows. You can view Twitch on official Twitch websites through the Twitch apps on entertainment app play services on Android and iOS, Sony's PlayStation 3 and 4, Xbox One, Xbox 360, Google Chromecast, NVIDIA SHIELD, and Roku. You can watch videos and broadcasts, and it does not require you to log in.
Creating an account allows you to add your favorite channels to a list and engage in each stream's chatroom. You can easily find Twitch streamers to watch; it recommends streamers on the front pages of its apps and websites. You can browse the Games Category to discover new channels to watch.
You can access this option on all Twitch websites and apps; it is easy to find a live stream in relation to a specific video game series or title. Explore other categories like Discover, Popular, Communities, and Creative. These are in the Browse section on the main site.
Apple Music
Like Spotify, Apple Music is an entertainment app for iPhone. It has millions of songs to stream; you can blend your personal music catalog with live radio and on-demand streaming in one place. Apple Music offers a 3-month free trial after this period; you can choose a subscription plan. Apple Music tracks use the AAC format, a compressed file type with many benefits than MP3. You can sign up to Apple Music through the Music App; Android users can access this app via the Apple Music for Android. Follow the instructions by setting up an individual or family account.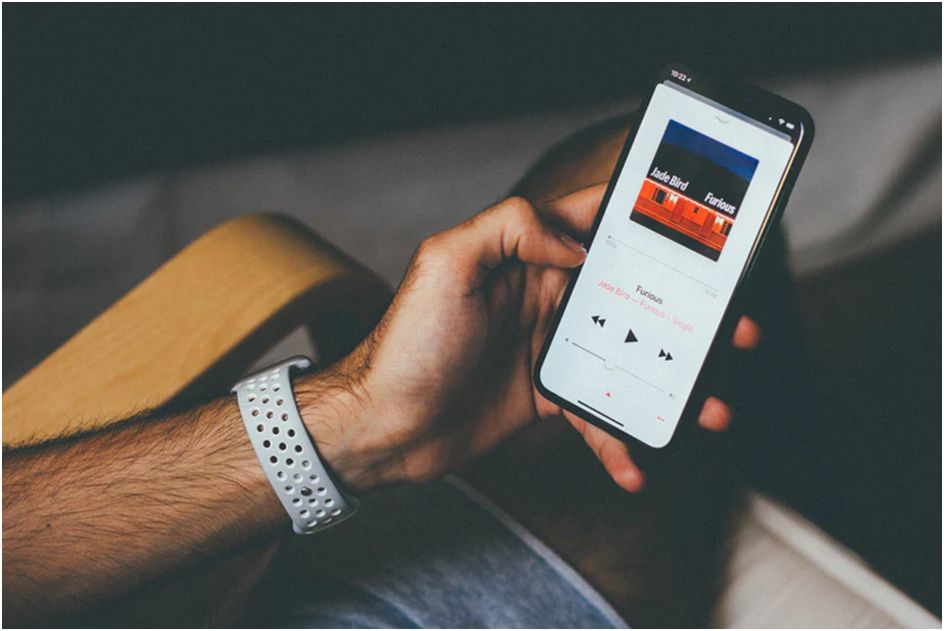 https://unsplash.com/photos/gFU1ba7ygtI
Book Apps
Sometimes all you need is an entertainment book app to pass and enjoy the time. You'll find everything from spooky ghost stories, supernatural thrillers, classic novels, collections for kids, novels for youngsters to pop-up for children. If you are a book reader, you know you can be lost in stories all day, but sometimes it can be challenging to find the books you want in physical stores. For book lovers, it can be annoying to be caught up somewhere like at the beach or on vacation without something to read.
However, you should not despair because there are many book apps to rescue you. Whether you use iOS, Android, or tablet, you can access various apps. You will find free entertainment app download, and you will always have something to read. One of the most popular free apps is Wattpad; you can download this entertainment app from App or Play Store on your phone or tablet to access it.
TED
This is a non-profit organization that spreads ideas via short, powerful talks. Although they post videos on their social media pages, they have a mobile app that allows you to watch numerous videos on the go. The talks are educative and enlightened.
TED content is original, and it includes videos and podcasts by various speakers. These entertainment app ideas include all kinds of entertainment topics. You can download the TED app via Apple Store and Google Play. The talks are under 18 minutes to capture the audience's attention because people's minds tend to wander.
Conclusion
Technology has allowed us to access various apps to make work easy. Most industries have apps to help you access their services; however, the entertainment sector has many apps to entertain you. If you like books, music, talks, or games, there is an app for you. Some applications are free, while others require a subscription plan.
Which is your favorite entertainment app? Please share with us!
Jeremy Ambrose started his own small business on the Internet a few years ago. After many failures and difficulties passed, he decided that he wanted to share his experience and knowledge with other people.