You can frame SEO policies depending on the trends and latest updates. But, with the help of the right SEO tools, you'll reach the right people. SEO tools are specially formulated to increase your website ranking and give you good exposure in the webspace. As a result of which most SEO experts swear by SEO tools that are not only user-friendly but also efficient.
The Internet has evolved with time, and Google keeps changing its SEO policies frequently but what remains constant is using the right SEO functions for your website. How will you target keywords on sales pages? How your website will capture leads and targeted traffic?
Using the right SEO tools will help you to dominate your search rankings. The best tools will provide reports about how you can measure up with your competitors and where your opportunities lie. It can help you access your site performance and help you to save efforts to generate accurate reports. It saves you from data analytics and tedious keyword research, which plays the most important part in optimization.
Here's a list of the best tools you can use to get started:
1. Google Search Console
It's free, and one of the top SEO tools which help to monitor your website's presence in Google search. It is a great buy for beginners as it also offers free support.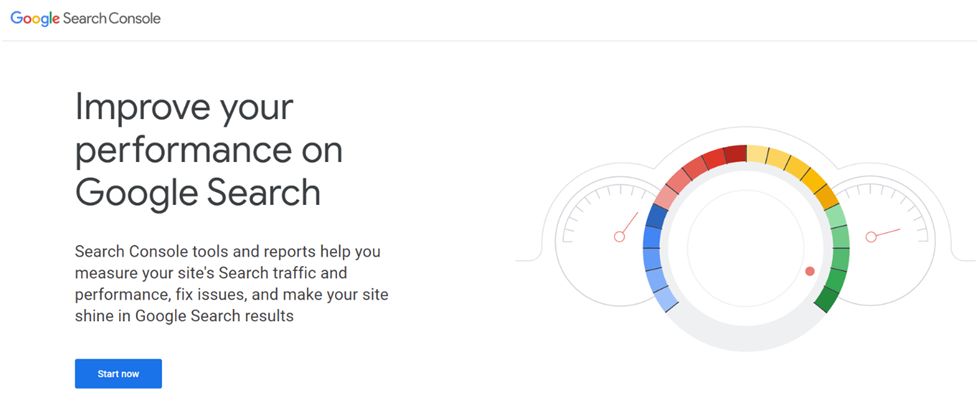 Benefits of using Google Search Console:
It gives a complete overview of your website performance and observes issues, which you can troubleshoot later.
It lets you observe spammy links and ensures that your website remains clean.
In case your website has incurred a penalty, you'll be able to request a reconsideration.
Search console feature updates frequently, you can use new features for quick access.
When you go through Google Analytics, submit your sitemap for indexing. With this, you will be able to control what is indexed and how your site is presented.
SearchConsolehelps you understand how Google views your website so that you can optimize it for better performance. It is most useful for new websites.
SEMrush SEO toolkit
SEMrush SEO toolkit tool is widely popular in the SEO community. You'll be able to access your website rankings and identify the changes made in the new ranking positions through the tool.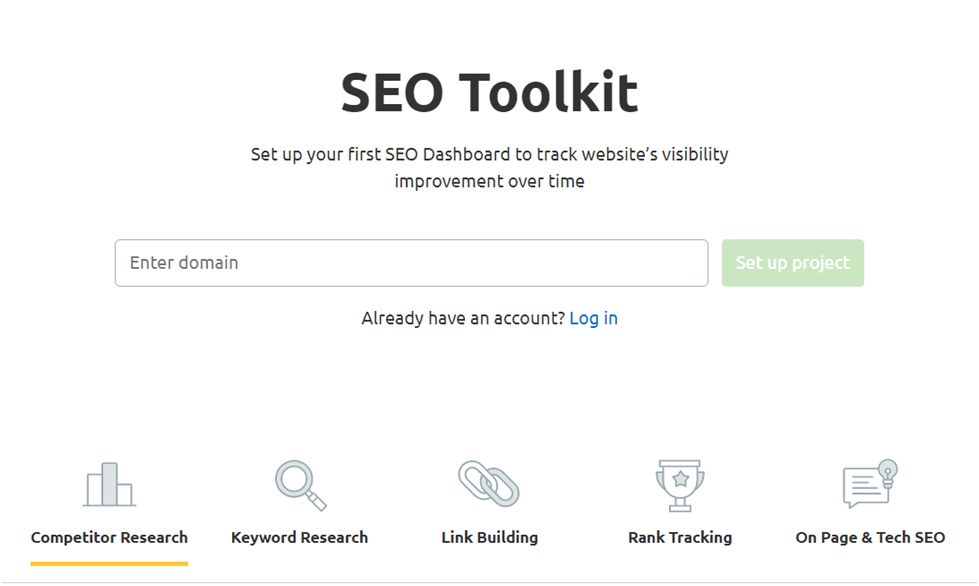 Benefits of using SEMrush SEO tool:
It helps you to analyze competitor's metrics and provides an informative robust dashboard.
You can view the detailed keyword analysis report from the tool, which helps you manage and use keywords according to your content.
It allows you to make a comparison of web pages according to rank. It lets you analyze competitors' backlinks to yours.
With traffic analytics, you'll be able to analyze your competitor's web traffic updates. It enables you to make a note of site details and measures you can take for improvement.
Traffic source comparison features will provide a complete overview of different digital marketing channels.
Domain overview feature provides a complete summation of your competitor's SEO strategies.
It provides a traffic-boosting tool with a pro subscription.
Moz Pro
Most experts use the Moz Pro tool for keeping a tab on the website. The SEO tool updates itself according to changes in the Google algorithm, which makes it the most accurate one.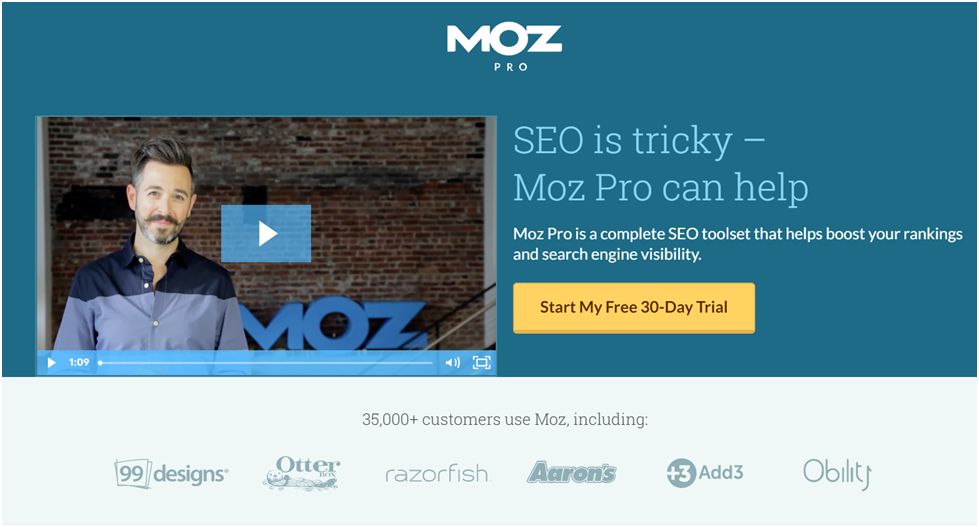 Benefits of using Moz Pro tool:
It offers a wide range of features and can analyze a huge amount of data on the website. Its main aim is to help increase traffic, ranking, and search visibility.
It audits the website using a pro finder that highlights all the issues and suggests actionable insights.
It tracks your website ranks for hundreds and thousands of keywords providing you with the best in the list. With a keyword research tool, you can determine which keywords are the best to target.
The backlink analysis tool mixes a combination of different metrics that includes domain authority and anchor text.
It helps you with complete insight, which can enhance the performance in one go. It also has a special toolbar that you can download for website metrics.
SEO Spider
Screaming Frogeffective web crawler tool, but you won't get all the features in the free version. For using additional features, you'll have to buy the paid version of the tool.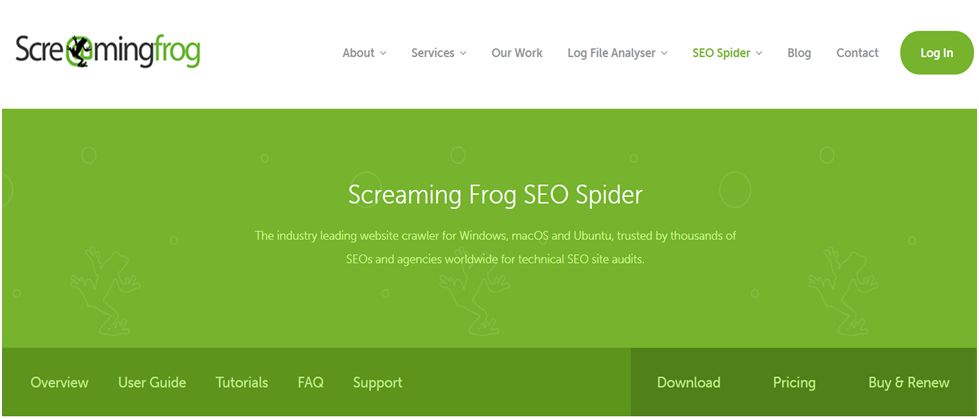 Benefits of using SEO Spider tool:
It offers excellent crawling features which makes sure that your website gets the right head start in the web space.
It can perform a quick search of your website URL. It crawls your website to check for broken links and pages. You can prevent 404 errors with the feature.
It allows you to check for all the pages with the missing title tags and Meta tags. You'll also be able to check duplicate tags and tags of the wrong length with the tool.
The free version allows you to crawl using redirects, but that is limited to 500 URLs. The light version is most suitable for smaller domains.
The paid versions not only offer advanced features for crawling but also free tech support.
Ahrefs SEO tool
Ahrefs the fastest-growing SEO tool that offers many features and functions. With the tool, you'll be able to research your competitors and monitor the niche of your website.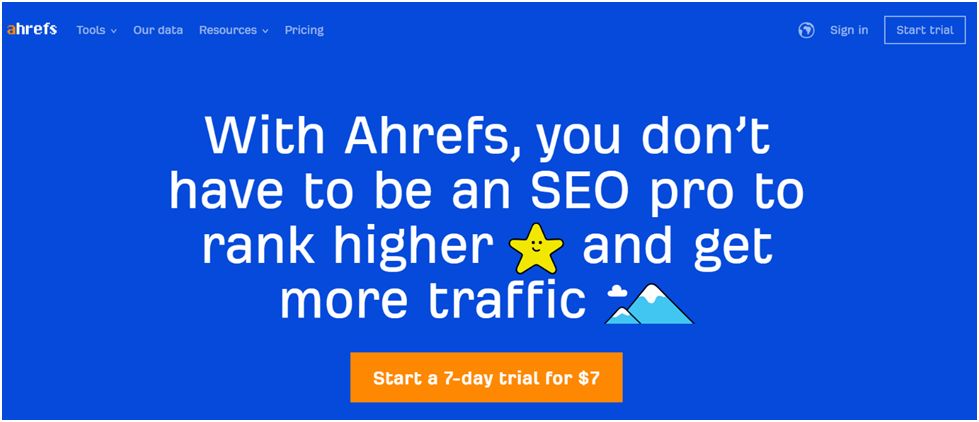 Benefits of using Ahrefstool:
It has one of the best SEO analytics features that highlight what parts of your website need improvements, once you are aware of the issues, it will be easier to work on them.
Using the competitor's analysis feature, you'll be able to know about your competitor's backlink and use them to improve your SEO strategy.
The SEO tool will let you find the content, which is useful within your niche.
It lets you check for all the broken links on your site and helps you to know about the best-performing pages.
With the keyword research tool, you'll know about the keywords that rank well.
It offers a rank tracking feature with a complete SEO audit. With viral content research, you will be able to improve the quality of your content.
It has one of the largest backlink indexes with more than 17 trillion known links. It provides a complete snapshot and overview of your website.
Final words,
Before you download an SEO tool for your site optimization, you'll need to consider many factors.
– Do you need an SEO plugin for technical SEO or keyword research?
– Do you need an SEO tool for content optimization and backlink analytics?
– Do you need a free plugin, premium, or paid?
Whenyou'reclear of all the factors, you can compare the various features and functions the tools offer. It is important to invest in an SEO plugin that helps you make the right choices for your website.
For example, if your website has content or articles, your focus should be on a tool that offers keyword analysis and content suggestions & best time to publish. The right plugin matters a lot as it helps to scale your website in the web space. With so much competition, you need to make the correct choice. Once your terms are clear, it will help you to reach your target. Your website may rank higher in SERP.
Sudhir Bhushan is a Tech & Social enthusiast. He is also a Web Entrepreneur by Profession and loves to write about the latest trends on Social Media & SEO. You may also follow him on Twitter