There are 3.196 billion social media users worldwide in 2018, which is 13% up year-on-year. What's more, 63% of customers want companies to provide customer support via social media, and 90% of social media users have already employed social media to connect with a business, according to SmartInsights.
So my friend, love it or hate it, you cannot ignore social media if you want to make a big in today's social media savvy world. Though most businesses use social media to build awareness, grow brand, and increase sales, only a small number of businesses are successful in harnessing its true power.
If you are someone who is struggling to get the most out of your social media efforts, the help is here. In today's post, I am going to tell six tips to run social media like a pro.
Without further ado, let us dive in:
1- Know Your Audience
Managing social media without knowing your audience is like flying in the dark and shooting randomly to hit the target. To ensure that your social media efforts bring success, you need to understand your audience first and create a personalized social media marketing strategy.
How can you know your audience?
The only way is to conduct audience research. Social media audience research can look tedious, but it is essential to your social media success. Ideally, you should know age, location, gender, spending power, pain-points, goals, objections, and personality traits of your target audience.
Much of qualitative data such as customers' pain points you can easily find on social media platforms if you carefully scan these platforms.
Here are some practical steps that can help you further:
Identify your buyer persona
Figure out the size of your social media audience
Survey your customers
Run quizzes to collect essential data
The next time, when you are going to create a social media campaign, conduct audience research first.
2- Figure out the Best Time to Post
You have understood your audience, and you have worked really hard to create engaging social media posts. But do you know how to reach a larger audience to get more likes and shares?
Knowing the best times to post is one way to catch a larger audience on social media.
As the best times to post on social media is not the same across networks and you might not be focusing on all the networks, it is imperative that you know the best times to post on your chosen social media network.
Facebook, with 1.52 billion daily active users, is the king of all the social media platforms.
The following is the Facebook Global Engagement report, according to Sprout Social: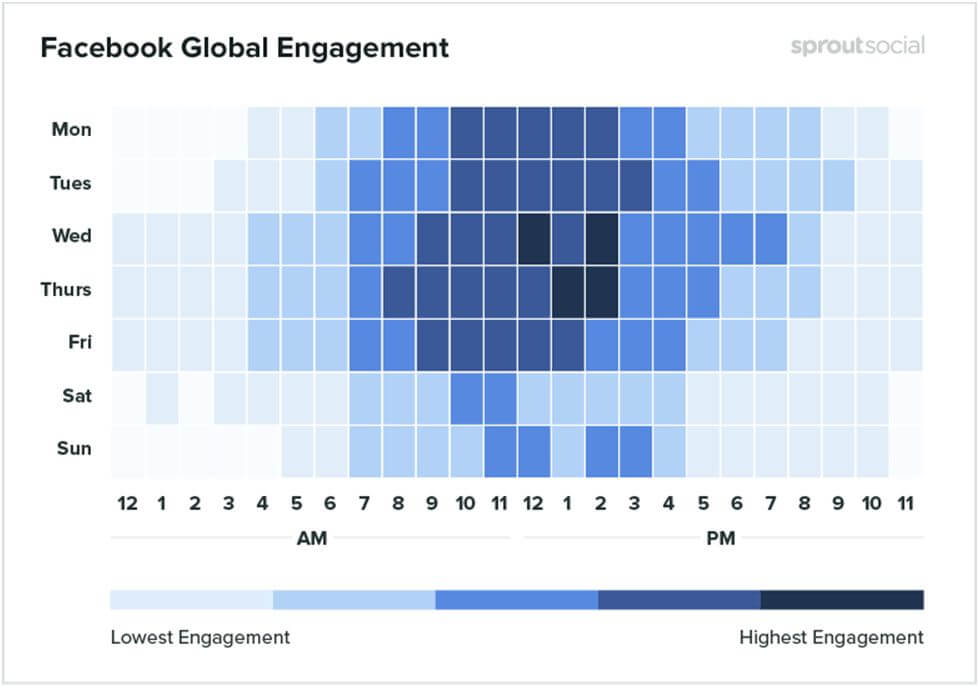 You can access the complete report on the best times to post on social media here.
3- Use Images in Your Social Media Updates
A picture is worth a thousand words. It has been found in many studies that social media posts with images generate more traction than that of without images.
BuzzSumo analyzed over 1 million articles and found that posts with images generate 2.3 times more engagement than those without.
So, if you want to gain more likes and shares, you should start including images in your social media posts.
Here are some tips on including images in social media posts:
Include images that show body parts (hands and ankles preferred)
Use bright, clear, and lively images
Choose images with lots of whitespace
Go for images that visualize data
Use customizes images (Avoid stock images)
If you have don't have resources to hire an in-house designer, you can hire a freelance designer. But start using images in your social media updates.
4- Create Content that Your Audience Wants
Social media is a lot more than creating content and dumping it on different social media platforms. It's more like helping your audience, connecting with people, and having meaningful discussions.
So if you want people to like and share your content, you should create the content your audience wants.
Below are the five types of content that convert on social media:
Interactive content
eBooks
Positive content
Visual content
User-generated content
If you carefully do social listening, you can easily understand the mood of your target audience on any social platform. In case you are not able to figure out the type of content you should produce for social media, you should start solving your audience's pain points.
Problem-solving content is an evergreen type of content that always performs.
5- Engage with Others
All the social media networks, in the end, are community building platforms. People use social media to interact with like-minded people, share what they feel, and make virtual friends. So, if you want to increase likes/shares on your posts, you should start interacting with other people's content.
Make a list of people relevant to your niche, and start interacting with them. Initially, it might happen that they don't pay any attention, but eventually, they will notice you and start engaging with your content. After building a rapport, you can also reach out to them to request for liking/sharing your content. If your content is relevant, they are more likely to grant you a favor.
If you are too busy to engage with your audience, you can hire a virtual assistant to delegate this task.
6- Use a Powerful Tool to Analyze Your Success
A successful social media strategy is not the one that is fixed in stone. You need to tweak your social media plan off and on to maximize the success based on your observations. And to carry out a thorough analysis of your social media efforts, you can use any tool to make your task easier. Some popular social media tools are, Buffer, SproutSocial, and HootSuite.
Using social media tools not only help you better analyze your efforts but also save you tons of time. So a pick the best social media tool that fulfills your needs.
Gone are the days when social media used to be a vanity for businesses. Now, it has become a necessity. Though most businesses are using social media these days, not all of them get the same success.
If you know your audience, post on the right time, include images in your posts, create useful content, engage with others and use a powerful tool to analyze your success, there is no reason why your social media wouldn't yield good results.
What about you? Do you want to share any other tip to run social media like a pro? Please leave it in the comment section. I would love to know about it.