Could you imagine that one day we would be able to buy groceries with just one click? One day we would not have to go to the local pharmacy to buy medicines but our medicines would be delivered to us at our doorstep. Today we can buy & sell almost anything and everything online. Whether it be the latest fashion clothes, jewellery, branded watches, home decor items, stationery, or even a house!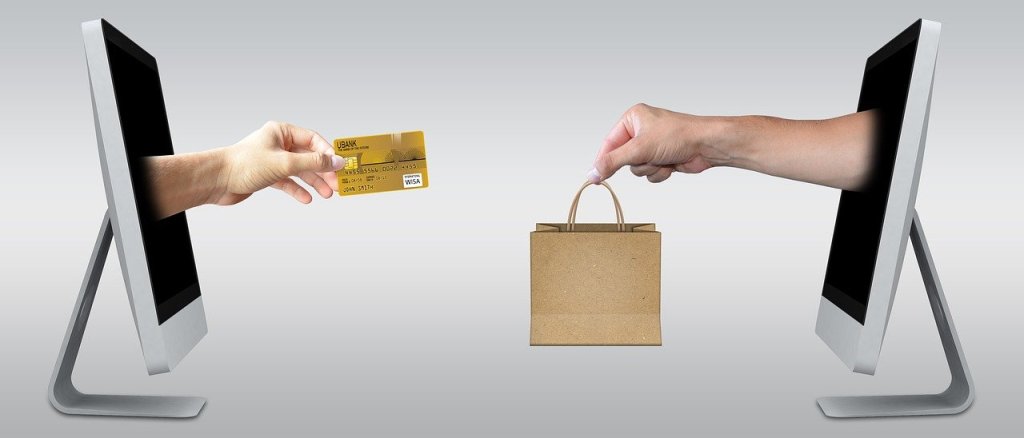 Source: pixabay.com
The Ever Growing E-commerce Industry
The ecommerce landscape is growing at a fast pace. In 2016, there were almost 1.66 billion global digital buyers. But by 2021, this number has risen to over14 billion!
Moreover, e-commerce sales have increased noticeably during the pandemic. Research shows that the number of items per order increased by an average of 60%.
Not only the customers were buying more items online, but they were also trying out new brands and products.
Arlington Research states that almost 44% of the consumers tried new brands in the pandemic. Even many businesses started operating online during the pandemic because it was necessary.
So if you are planning to start an ecommerce business, now is the right time. People have become used to buying things online. They are willing to try out new products that cater to their requirements. Online shopping has become more than just a trend. But starting an e-commerce business is not a walk in the park. Naysayers often point out the tough competition, and the unlimited efforts required to start a business from scratch as some of the basic reasons to not begin an e-commerce business at first. Nonetheless, starting an ecommerce business is not an impossible job.
"The way to get started is to quit talking and begin doing." – Walt Disney
7 Killer Tips on Starting an Ecommerce Business that will help you make way for success
Know the 'Why'
First things first. You must know 'why' you want to start an ecommerce business. The reason you choose must be strong enough to keep you going even when the sales are low or when you are facing certain difficulties in establishing your business. If you are just planning to start an ecommerce business just because it is popular and it is easy to find customers online, think again.
You will be investing your time, money and resources in setting up an online store. You might be manufacturing the product yourself or keeping an inventory. There must be a strong reason why you are willing to do all this.
Time for solid research
Now that you have decided why you want to begin this path of selling goods online. It is time to begin your research. You need to find out about the latest trends in your niche. If you are still unable to decide what you want to sell. Research popular products that customers buy or think of something that will cater to their needs. Brainstorm ideas and finalise your selling area.
You also need to research the potential audience, customers or consumers that you are targeting. How old are the consumers? What are their buying trends? What lifestyle do they follow? What do they like? What would appeal to them? You may use social media to find answers to all such questions. All this information will help create your marketing strategies.
An appealing website
Since we are talking about selling online, a compelling website is a must for a successful business. First of all, make sure your website design is super-attractive and engaging. It does not need to be all bold, glamorous and colourful. You could create a minimalistic yet attractive website. Using high-quality images, including product videos, client videos, live chat options, minimal yet intriguing headlines is the key to attract customers.
Pay more attention to user experience. Trends reveal that a better UX design can yield conversion rates up to400%! Even customers are willing to pay more if your website provides them with a better user experience. Along with this, make sure that your checkout page is a breeze. It should be super-easy to fill, simple and quick! The more you will delay the customer from placing the order, the more likely they will not buy anything from your store.
Where are your customers?
One thing that you will have to pursue throughout your e-commerce business is reaching out to your potential customers. You have to go and find them. Make them aware of your business, your ideas and your products. For instance, nowadays people are highly active on social media. According to Hootsuite,1.3 million new users have joined social media in 2020. So, you can find your potential customers over these platforms.
This is why most business experts suggest that businesses must create a social media presence of themselves so that they can attract new customers and create trustworthy relations with the existing customers. There are many other ways to find your potential customers such as:
advertisements (google ads)
through local newspapers
giveaways
sponsoring events
influencer marketing
partnering with other creators or businesses
Marketing is crucial, my friend!
Since e-commerce relies on the internet, digital marketing becomes a crucial factor for its growth. Digital marketing can not only help you find new customers but also create brand value. So start with making your SEO game strong. Create unique product descriptions. Target the right keywords. Put more effort into guest posting and PR outreach.
You can also use email marketing to keep your customers engaged with what's happening at your store. Provide your customers the latest updates about new products, upcoming sales or share your customer reviews, collaboration news with them.
Moreover, you may also include a content marketing program featuring your e-commerce business. Create blogs, podcasts, or video-based content to share your story with others. Make people aware of your products, what value you are going to bring with your products in their lives and why they should buy your products.
Don't be afraid to tell your 'Story'
Every business has a story. You might also have one which would define your mission, the driving force behind the business, the story about your products, and how your products are making a difference in people's lives. The main idea behind this is to showcase your e-commerce business in a bigger context to prove your point.
For instance, if you are selling the best cookies in the world, you will not be able to prove that just by saying that on your website. You have got to show it to your customers. So you can share the story about how you created the recipe (do not share the recipe though!), what's so special about your cookies. Talk about the effort that is put in creating a snack that is loved by all and you will win hearts.
Here are a few things to keep in mind while creating your story:
Focus on how people would feel using your products
Show what your product can do
Show that you care about the customers, their problems
Highlight what efforts you have made to bring the product across the market
Blend your story with simplicity and hard work to gain an appreciation
Keep your message simple, never exaggerate your message
Ensure mobile-friendly business
Here we are at the last, yet the most important tip of this article. Keep your e-commerce business mobile-friendly. Although this is quite obvious in today's time when most people own a smartphone. Yet, many newbies do not consider this as a mandatory task and suffer later.
This generation is known to be a generation of mobile shoppers. Do you know why? Just check out these amazing statistics about m-commerce!
Out of all Google searches made every day, 58% are done via mobile devices
Almost 60% of the consumers use social media to search about a brand
More than 43% of people from age 25-34 make online purchases using a smartphone
40% of the Black-Friday Sales are done via mobile
Therefore, make sure that you create a responsive website that can adjust itself based on the device that your customers are using. Along with this make sure that your site loads quickly, supports smart research and has a simple checkout process for every device.
Final Thoughts
It is absolutely possible to create a successful e-commerce business. All you need is a strong reason to keep you going, in-depth research of the market, complete understanding of the customer behaviour and strategies to market your products the right way. It is also important for you to be where your customers are and ensure that you have a mobile-friendly website.
Emma Jackson is specialist in content writing, blogging and exploring new topics. Emma is also a part contributor of GoAssignmentHelp that provides marketing assignment help. She loves to write topics like marketing, education and assignment services.