Once you have built and launched your app, the next fundamental step is to get your app Windows Phones and other platforms, it can be extremely challenging to stand out with your app.discovered. This may not be as simple as it may sound. With millions of apps across Android, iOS,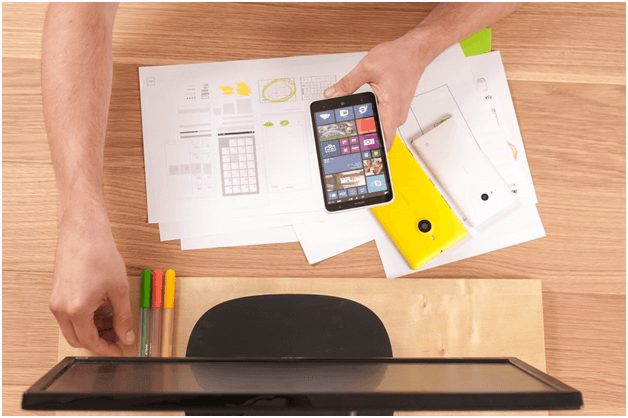 Even though every app marketer faces this primary challenge, only a successful marketer will pursue a well-defined, comprehensive app marketing strategy that promotes the app pre-launch as well as post-launch. The effective strategies will include both paid and organic app marketing channels.
So if you are a beginner, then we have compiled everything you need to know about Step by step guide to create your first mobile app.
Pre-launch marketing strategies
Do not wait until your app goes live. An effective strategy for marketing your app should begin well before the app is launched. Just like with any other product, finding your target audience and understanding them is the key to resolve the marketing puzzle for your app.
Speaking of the target market, if you are a business of fashion, it is essential to market your business to a relevant audience that is interested in the type of business you run. So before your retail fashion app hits the app store, here are some critical marketing strategies you can put to use:
1. Pay attention to the keywords
Don't forget about the content. Just because it's an app and not a product you are selling through your website, do not underestimate the importance of using the right keywords. In this case, a keyword is something that a potential customer would use to recognize your app and its features. For instance, the most important keyword for a ludo game would be 'ludo,' and a video maker would be 'video maker.'
Use the secondary keywords wisely too to make sure your customers know where to find you on the app store.
2. Select the right name for your app
As obvious as this point is, not every marketer pays attention to it. The right name is all that matters for your customers to find you in the app store. Whatever name you pick should be memorable and unique. However, it should also perfectly represent what your app offers.
Carry out detailed research to ensure the name you have chosen doesn't infringe with other apps or it will be rejected.
3. Keep an eye on your competitors
If your competitors have already reached the market before you, be smart and use their information to take one step ahead. Make the most out of the effort and time they have invested in their app and do better to leave them behind. Always start with researching your competitors.
Which apps are doing well in the app store? What keywords are used? What's the feature set like? What are the secondary keywords they are targeting? And what are their marketing strategies?
Once you find an answer to all of these questions, it will be easier for you to come up with better marketing strategies to take your app ahead of the competition.
4. Pick the right category
To make sure your app ranks highly in the Top Charts on the app store, it is crucial to pick the right category to place your app in. As simple as this may sound, it can be quite challenging to make your decision.
This is mainly because not all categories are the same. For instance, the Lifestyle category may drive more downloads as compared to the Social category – even though it includes similar apps. So decide wisely.
5. Don't forget the icon
The icon is the image of your app that represents what it is about. What icon you choose conveys its style and purpose. It's the first impression your user will get about your app.
Having an eye-catching icon will likely bring more visitors to your app. It should stand out and have an interactive appearance that instantly catches the eye. If you are planning to launch your app on the Apple store, make sure you put additional effort in this department or Apple wouldn't even feature your app.
Post-launch marketing strategies
Congratulations, you are through with the first step and have successfully launched your app. While most developers think the deed is done, only marketers know it's just the beginning.
Here are some marketing strategies for a retail fashion app – both organic and paid – to help you get started:
1. App store analytics application
The best way to keep track of your distribution progress is to sign up for an app store analytic application tool. This will not only help you keep track of your app but also your competitors to help you design marketing strategies that take you to the top of the search ranking.
There are many tools out there that you can try out for this.
2. Get your app featured on a review site
To gain more downloads, get yourself featured on a review website or other media outlets such as mainstream media, tech news, niche-related press, etc. The more positive reviews you receive on those platforms, the more chances for your app to get noticed and downloaded.
3. Boost social sharing
Word of mouth marketing is a traditional yet most effective way to go viral. This method helps users find your app. You must ensure providing excellent service through your app to your existing users,so they share your app and its content with their social circles.
Next, you must also make sharing your app as easy as it could be. Give options for sharing app content via SMS, Facebook, Twitter, email, etc. If sharing your app is just a button away, users will effectively engage in the sharing process.
4. App review
After an app has been launched, its success lies pretty much in the hands of the users. And that's decided by the ratings and reviews it receives from its existing customers. Therefore, it is critical that you encourage your users to give as many positive reviews and ratings to your app as possible.
There are many ways to encourage the users to do this. The most simple one is to ask for the rating with a pop-up window within the app while the users are using it. Just make sure you do not annoy your customers by forcing them to review your app.
5. Calculate the downloads you will need
Depending on which category you have chosen for your app, you may need a certain level of downloads to get into the top charts. Do your research and use the tools to calculate the number of downloads you will need in a day to achieve your goal.
Final word
Building an app is a difficult procedure but marketing it can be even more challenging. If you are a newbie and have just developed your fashion retail app, make sure you adopt a multi-faceted approach and follow a coherent marketing strategy.
After you have successfully created a great app, you need to promote it on a consistent basis and on multiple channels to guarantee success in the app store. With the right mindset, approach, effort, and some luck, you can definitely build a successful mobile app for your fashion retail business which will drive it to a whole new level of success.
Alma Causey is a Freelance writer by day and sports fan by night. She writes about tech education and health-related issues. Live simply, give generously, watch football and a technology lover.